| | | |
| --- | --- | --- |
| | THE TRIBUNE INTERVIEW | |
'We will attack the trust deficit with Pakistan'
SM Krishna, External Affairs Minister
by Raj Chengappa, Editor-in-Chief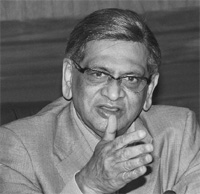 India's External Affairs Minister S.M. Krishna is always nattily dressed and has an air of calm that disarms most people that he meets. Krishna, 78, may be mild in his manners but when it comes to dealing with complex foreign policy issues or engaging with political leaders, he exhibits the right amount of gravitas, sincerity and sobriety with occasional flashes of flamboyance and humour. The former Chief Minister of Karnataka and Governor of Maharashtra is always careful not to overshadow Prime Minister Manmohan Singh and keeps a relatively low profile. It is for these reasons that the Prime Minister chose him to be the chief interlocutor in India's dealings with Pakistan, India's most important foreign policy issue. Krishna announced last week that he would be travelling on his maiden visit to Islamabad on July 15 to resume the dialogue process with Pakistan Foreign Minister Shah Mehmood Qureshi. In his first in-depth interview after the announcement, Krishna spoke at length with Editor-in-Chief Raj Chengappa in Tehran about the rationale for re-engaging with Pakistan. The minister was there to attend the G-15 summit. Excerpts:
India has now agreed to hold talks at the ministerial level and you plan to go to Islamabad in July? What has changed in recent months that prompted this decision?
During the recent SAARC Summit at Thimphu, Prime Minister Yousuf Raza Gilani and Prime Minister Dr Manmohan Singh had free and frank discussions. They felt the only way forward to settle all outstanding concerns between our two countries was to get back to the negotiating table.
But what made India change its position?
Well, when Mumbai was attacked,we had to respond to the popular sentiment, which was also the government's sentiment. We wanted to tell Pakistan that the conspiracy for the attack was hatched in Pakistan, was executed by Pakistanis and we had clinching evidence which we provided to them to prove our point of view.. So we had to call off the composite dialogue. The government felt that under the circumstances, it was neither desirable nor acceptable for it to talk to Pakistan. Now, a year has passed and we know that Pakistan has certain difficulties internally. About Mumbai attacks, they have arrested a few persons and their trial is going on.There are many more from our list who are absconding.
What is Pakistan's explanation for not moving fast enough to take action against the perpetrators of the Mumbai attacks?
The argument put to us by Pakistan was that the executive does not have any control over the judicial process. We understand and respect that. Even in India, we cannot tell the courts what to do. And we have known that the judiciary in Pakistan has been fiercely independent in recent times.
Was that the main reason?
We also thought of alternatives. What were the alternatives open to India? Shall we wage a war, a limited war, localised war or go after those suspected of the Mumbai attacks? Then it would become a full-scale war. What will then happen to the subcontinent? Let us remember that we are two nuclear powers and this fact heavily weighed on Dr Manmohan Singh's mind. So when the two leaders met in Thimphu, the tone and tenor of Pakistan created enough confidence in us. That they are serious and they do have difficulties. So we felt it was necessary for us to resume the talks. We thought political-level talks were more effective, productive and convincing than the talks at the bureaucratic levels.
India doesn't seem to have defined the parameters of the talks?
The parameters of the talk are very clear and obvious. There is total distrust between our two countries. We won't trust them, they won't trust us. So the question arose as to what we can do to eliminate this distrust. That is the reason why Dr Manmohan Singh and Prime Minister Gilani said that we need to attack the trust deficit and they mandated that the Foreign Ministers would address this distrust, work out how to reduce it and eliminate it. And my attempt to go to Islamabad on July 15 is to make an effort to eliminate this trust deficit.
Wouldn't India be diluting the terror issue by agreeing to talks with Pakistan?
No, terror will continue to be the core issue for us even when I go to Islamabad. I will be talking to Foreign Minister Qureshi on terror, on terror instrumentalities and how those terror instrumentalities are operating from the soil of Pakistan. But at the same time, Pakistan also says they are afflicted by terror. The Taliban and other terrorist outfits are active even in Pakistan against the establishment. So, that has to be factored while making an assessment of the impact of terror on India and Pakistan.
Do you see the Pakistan government making sincere efforts to dismantle the terror apparatus and cut off establishment links?
In the light of the terror attacks they have been experiencing in their own country they are in a position to assess what terror is all about. Terrorists can strike any country anywhere and they can do it at will. That is what they have proved in Rawalpindi. That is what they have proved in Swat and various other areas. So I am sure, Pakistan would be looking at terror perhaps in the same prism with which India views it in.
But Pakistan is yet to prosecute Hafiz Sayeed?
We have been telling them that we have given you enough evidence to prosecute Hafiz Sayeed who is the mastermind behind the Mumbai attacks. We have the evidence and that evidence is provable in a court of law; so I think they should proceed against him. To that their answer is that they took Hafiz Sayeed in custody and tried him twice. But both the times it was the court of law which let him out of custody. But we still insist that Hafiz Sayeed is the brain behind the Mumbai attacks and he has to be brought to justice.
Would your talks include ways to tackle the Kashmir issue?
Well, I will not certainly at this point of time go into the details as to how we are going to solve the Kashmir problem. The Kashmir problem has been marooning us for so long and it will rather be too simplistic on my part as Foreign Minister to say that we are going to solve the Kashmir problem. But our efforts will certainly be to eliminate the prevailing distrust. The central theme of my visit to Pakistan is to make an effort to eliminate the distrust among us. I think if we succeed, something would have been achieved.
So are we willing to talk on all aspects of the Kashmir issue?
We have said that we are going to discuss every issue which can be raised by Pakistan and which can be raised by India.
The former Pakistan foreign minister K.M. Kasuri claims that India and Pakistan were close to a solution on Kashmir when Musharraf was in power. Is that true?
During the Shimla talks, it was said that something was clinched but early that morning it did not materialise. So there are so many ifs and buts, turns and roundabouts. I will certainly not like to dwell on that.
What will be our thrust on Kashmir? We had talked of making borders irrelevant.
With reference to Kashmir, India's position is very clear. We do not have to repeat our stand which is that it belongs to the Indian Union and that the Pakistan is in illegal possession of certain parts of Jammu and Kashmir, which really belong to India according to the Constitution. That is our stated position.
But we have been talking to Pakistan about making the borders softer. Is that something we would still pursue?
I am going to Islamabad in about a month's time so it is rather delicate to spell it out.
Are you planning to discuss Siachen?
It is too early in the day for us to be looking at tension points. It will be on the table if Pakistan raises it.
Pakistan has been saying that water too is becoming a contentious issue?
Well, we have the Indus Water Treaty and the Indus Water Commission. The experts met recently in Delhi. If Pakistan has any concerns, those can always be referred to the Commission or to the committee of experts. So that is why we have said that on water, or anything else, we are willing to talk. According to me, with reference to water issues, there is already a mechanism which is in place and this can always be applied.
Pakistan had talked about India's involvement in Balochistan. Is that still in an issue?
I do not think Balochistan is an issue any more. They have not given us any proof about India's involvement in Balochistan. In the absence of proof, it would not be fair to accuse India. The Indian Government's position is that we will not interfere in the internal affairs of Pakistan..
The Opposition especially the BJP charges your government of going soft on Pakistan and says you are willing compromise India's national interests in doing so?
Safeguarding India's national interest, safeguarding India's security, safeguarding India's sovereignty is supreme in our minds. It is beyond any compromise and I do not think that anybody could make that kind of a charge against us. But at the same time, we would like to have friendly relations with our neighbours. This is our twin approach towards Pakistan. One is that India's
national interest will be intact and secondly we would have friendly and cordial relations with Pakistan and with all the neighbours of India.
The BJP president in an interview to The Tribune said India should not be talking to Pakistan. What is your reaction?
I think when NDA was in power they did talk to Pakistan and they took a lot more days talking to Pakistan then we have done in the six years of UPA rule. So they need to look at it from the larger perspective of our neighbourhood. The larger perspective is how long are we going to keep on fighting? I think we will have to talk to Pakistan and come to an understanding with them because that will be in our interest and that will be in their interest and in the interest of all our neighbours as well.
Watch the interview with SM Krishna on video at Tribune TV