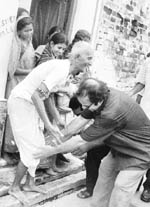 Berhampore Congress MP Adhir Chowdhury seeks blessings of an elderly man during the MC election campaign for a party candidate at Jiaganj in Murshidabad district of West Bengal on Friday. — PTI
Left leaders meet PC, object to Mamata's remarks
New Delhi, May 21
Senior CPM leaders Sitaram Yechury and Basudeb Acharia yesterday dared Trinamool Congress chief Mamata Banerjee to make pubic her "secret information" that the Left Front in West Bengal would use police forces to stoke communal riots in the state in the run-up to municipal elections there.
Wage Board
Scribes threaten stir
New Delhi, May 21
The Confederation of Newspapers and News Agencies Employees Organisations today warned the government of a nation-wide agitation from May 24, if no announcement is made regarding the extension of wage boards for journalists and non-journalists by that date.
27 of 1,846 encounters fake, says NHRC
New Delhi, May 21
As many as 27 out of 1,846 encounters by the police of different states were fake, as disposed of by country's premier human rights watchdog National Human Rights Commission (NHRC).
MHA to decide on Afzal's plea, says Dikshit
New Delhi, May 21
Delhi Chief Minister Sheila Dikshit today said the Union Home Ministry would decide on the file pertaining to Parliament attack convict Afzal Guru's mercy petition.
Tributes paid to Rajiv Gandhi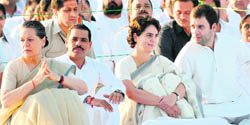 New Delhi, May 21
President Pratibha Patil led the nation in paying homage to former Prime Minister Rajiv Gandhi on his 19th death anniversary on Friday.
Congress president Sonia Gandhi along with her son-in-law Robert Wadhera, daughter Priyanka and son Rahul at Veer Bhumi, the memorial of former Prime Minister Rajiv Gandhi, in New Delhi on Friday. Tribune photo: Mukesh Aggarwal
Judge recuses from hearing case against Sajjan Kumar
New Delhi, May 21
A Delhi judge hearing a 1984 anti-Sikh riots' case involving senior Congress leader Sajjan Kumar recused himself from hearing the case, citing personal reasons.
Stalemate persists in Jharkhand
BJP clueless l Congress hesitant l 'Chinks' in JMM
New Delhi, May 21
Even as the Congress is maintaining a wait and watch policy on Jharkhand, the BJP appears clueless on the happenings in the state, with reports emanating from Ranchi indicating a split in the ruling JMM over supporting a BJP-led government.
Maoists threaten to blow up Rail Bhawan
New Delhi, May 21
The Railway headquarters here has received a letter purportedly written by Maoists threatening to blow up the Rail Bhawan along with other vital railway establishments, prompting authorities to step up security.
Dantewada fallout: CRPF DIG, 2 officers transferred
New Delhi, May 21
In the first fallout of the Dantewada massacre of CRPF by Maoists, the CRPF today shunted out Deputy Inspector General Nalin Prabhat and two other officers for their alleged lapses.
Delhi court denies bail to Madhuri Gupta
New Delhi, May 21
A Delhi court today denied bail to the Madhuri Gupta, a junior diplomat posted at the Indian High Commission in Islamabad and arrested for allegedly spying for Pakistan and passing classified information to its officials. Giving no relief to 53-year-old spinster Gupta, Chief Metropolitan Magistrate Kaveri Baweja dismissed her bail application saying the charges leveled against her were very grave in nature.
CBSE results: Girls leave boys way behind
New Delhi, May 21
Girls have done it again. They outscored boys by a big margin in the Class XII results announced by the CBSE today even as the overall pass percentage of students went down about 1 per cent compared to last year. The pass percentage of girls stood at 85.28, leaving boys way behind at 75.90 per cent, according to the statistics released by the board. The pass percentage for regular students is 81.95, while it is 41.99 per cent for those who pursued studies through correspondence.
Now, babus to give ear to SAD cadres, officially
DCs to be get names of party workers they must listen to
Chandigarh, May 21
With an eye on next Assembly poll, the Shiromani Akali Dal (SAD), which is into its fourth year in office, has come up with a novel idea to please party cadres. It may, though, not please the babus.
Notice to hotel for landing Hrithik's chopper on its lawn
Nashik, May 21
Bollywood actor Hrithik Roshan has found himself in the middle of another controversy as a Shirdi hotel has run into trouble with the authorities for letting the actor land his helicopter on their lawn.
BJP MLA held in murder case
Bhopal, May 21
Former Madhya Pradesh Revenue Minister and BJP MLA Kamal Patel has been arrested by the CBI here for allegedly destroying evidence related to a murder case in which his son's name figured, CBI officials said today.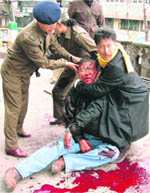 Gorkha League chief killed, Darjeeling tense
Kolkata, May 21
Akhil Bharatiya Gorkha League (ABGL) president Madan Tamang was stabbed to death allegedly by Gorkha Janamukti Morcha (GJM) supporters around 10 am at a public meeting in the busy Chakbazar area in Darjeeling today. The news of the death led to a spontaneous shutdown in the region.



President of the Akhil Bharatiya Gorkha League, Madan Tamang, being assisted by cops and a supporter after he was repeatedly stabbed with swords in Darjeeling on Friday. — AFP
4 rhino poachers killed in Kaziranga
Guwahati, May 21
Forest personnel in Kaziranga National Park (KNP), the famous abode of one-horned rhinoceros, gunned down four poachers in the wee hours today and recovered a .303 rifle and five rounds of ammunition from their possession.
Laila heads for Orissa; AP toll 23
Hyderabad/Bhubaneswar, May 21
At least 23 persons were killed and normal life was thrown out of gear as coastal Andhra Pradesh reeled under the devastating impact of the tropical cyclone Laila, which is now headed for Orissa.