PUNJAB
HARYANA
JAMMU & KASHMIR
HIMACHAL
REGIONAL BRIEFS
NATION
OPINIONS
LETTERS
BUSINESS
SPORTS
WORLD
Every Wednesday & Saturday
SGPC to observe martyrdom of Banda Singh Bahadur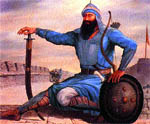 Amritsar , May 25
The SGPC would observe the martyrdom of Baba Banda Singh Bahadur as per the Sikh customs and traditions in all gurdwaras under its control on June 9. SGPC President Avtar Singh said all arrangements had been completed to observe the occasion with religious fervour and devotion.
Syndicate Decisions
Four BEd colleges lose affiliation
Amritsar, May 25
The candidates placed in the compartment in their Class XII examination have been given relief for one more time. The Guru Nanak Dev University authorities, at its Syndicate meeting held yesterday, have decided to allow them to seek admission in various courses for the 2010 academic session.
Amritsar shootout: Witnesses yet to come to terms
May 22, 2010
Speak less, do more
May 19, 2010
Parking, traffic woes tarnish city charm
May 15, 2010
MC provides no public toilet for women in city
May 12, 2010
GND varsity spares a thought for city's mental health
May 8, 2010
Sanitation work outsourced; GNDH inks pact with Sulabh
May 5, 2010
GND varsity gets first course with Army in mind
May 1, 2010
PUDA detects 343 illegal colonies in city
April 24, 2010
Beggars back on streets, admn's 'kind gesture' fails to work
April 21, 2010