PUNJAB
HARYANA
JAMMU & KASHMIR
HIMACHAL
REGIONAL BRIEFS
NATION
OPINIONS
LETTERS
BUSINESS
SPORTS
WORLD
Sangla valley falls prey to commercial tourism
Shimla, May 25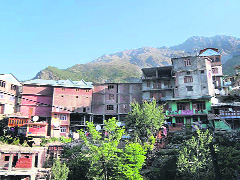 The picturesque landscape and serene environs of Sangla valley in Kinnaur district, which made it a favourite destination for foreign tourists, has become the latest victim of unregulated commercial tourism.
Concrete structures like these have come up all over the Sangla valley. Tribune photo

Hue and cry over divesting trust of Dholera temple control
Bilaspur, May 25
The state government has virtually stirred up a hornet's nest here by "secretly" deciding to take out the popular local Dholera temple of the purview of the Temple Trust functioning under the chairmanship of the Bilaspur Sadar SDM and supervised by the Temple Commissioner-cum-Deputy Commissioner for about four years now.
Problems multiply as tourists throng Shimla
May 19, 2010
Encroachments choking rivulets
May 12, 2010
Power company wreaks havoc
May 5, 2010
Illegal colonisers have a field day in Una, Kangra
April 28, 2010
Rs 162-cr plan to replace old sewerage in Shimla
April 21, 2010
'Killer' bridges of Bilaspur
April 14, 2010
Rs 21 cr spent, faulty pillar design hits work
April 7, 2010
Traffickers unleash cruelty on cattle
March 31, 2010
Simians scare away farmers
March 24, 2010
Villagers want Army firing range shifted
March 17, 2010
Overloading, roof travel go unchecked
March 10, 2010