M A I N N E W S
General fudged Kargil reports, showed bias: Tribunal
11 years on, Armed Forces Tribunal grants relief to Brigadier serving under him
Vijay Mohan
Tribune News Service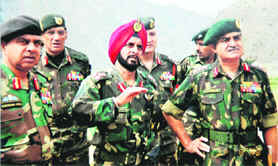 Lt Gen Krishan Pal (left) and Brig Devinder Singh with Gen VP Malik, then Army chief, in Batalik sector during the Kargil conflict in 1999.

Chandigarh, May 26
Exactly 11 years after the Kargil limited war and controversies in its wake took the nation by storm, the Armed Forces Tribunal has held that a key Lieutenant General overseeing operations in that sector fudged reports of the conflict and showed bias towards a senior field commander.
The Tribunal has directed that relevant records and documents pertaining to operations by 70 Infantry Brigade in Batalik written by Lt Gen Krishan Pal, then General Officer Commanding (GOC) 15 Corps, be corrected and put in correct perspective. This includes portions of the After Action Report of 15 Corps, extracts of Op Vijay -- Account of War in Kargil, written by Army Headquarters. It also directed that in view of the GOC's bias, all annual confidential reports (ACR) of Brigade Commander Brig Devinder Singh by him be expunged.
Operations to evict Pakistani intruders along the Line of Control in Kargil were launched in mid-May 1999 and wound up towards the end of July. Srinagar-based 15 Corps had the responsibility of clearing intrusions. The 70 Infantry Brigade, part of 3 Infantry Division under 15 Corps, had played a key role in the conflict, and according to Army Headquarters' publications, faced the toughest challenge and earned the conflicts first and finest victories.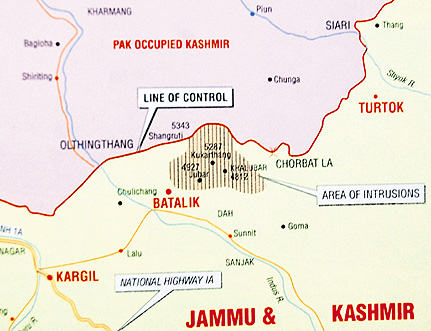 The Brigade Commander, however, was overlooked for promotion and was awarded a Vishisht Seva Medal, a non-gallantry award, even though he had been cited for the Mahavir Chakra. Lt Gen Krishan Pal retired as the Quarter Master General, one of the eight Principal Staff Officers at Army Headquarters, responsible for overseeing the Army's entire logistics and supply operations.
Brig Devinder had contended that the After Action Report written by Lt Gen Krishan Pal had falsely shown four of his most successful battalions under a fictitious headquarters commanded by the then Deputy General Officer of 3 Infantry division, Brig Ashok Dugal, which reflected a lopsided picture of his command and battle performance to Army HQs. Though a brigade comprises three battalions, 11 units were placed under his command, out of which seven received battle and theatre honours for their performance.
Playing the role of an enemy commander in a war game held at 15 Corps in April 1999, he had forecasted the pattern of the Kargil intrusions, but his projections were summarily dismissed by the GOC. Later, during actual operations in mid-June 1999, his assessment of the enemy in his sector was 600 regulars, whereas the GOC projected it to be only 45 militants.
Directing that the balance of all the said ACRs be expunged, the Tribunal observed that because of the operational differences between them, the GOC was not favourably motivated towards the petitioner and he had made attempts to tailor reports, thus belittling his achievements. "It is obvious that the reports of Lt Gen Pal are not an objective assessment and more so, the government has already expunged more than 50 per cent of his remarks A person who writes an ACR is a biased manner cannot be allowed to sustain," the Bench said.