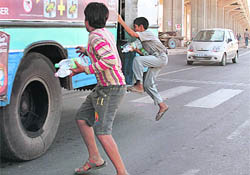 Children put their lives in danger by selling mineral water on the Chandigarh-Ambala highway in Zirakpur. Tribune photo: Nitin Mittal
Tribune Impact
HC seeks info on action taken on damaged hillocks
Chandigarh, May 26
The functioning of a Punjab vigilance bureau official, a subdivisional officer and a Mohali-based BJP leader today came under the scrutiny of the Punjab & Haryana High Court, after the latter took suo motu cognisance of a Tribune report on their role in the ecological degradation of hillocks in the city's northern region.
Rathore seeks B-Class facilities
Chandigarh, May 26
Used to a life of luxury, former Haryana DGP SPS Rathore, jailed in the Ruchika Girhotra molestation case, is finding it hard to adjust to his new life, with minimum facilities, at the Burail jail here.
'Better content in newspapers need of hour'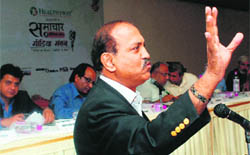 Chandigarh, May 26
In this era of expansion of media one has to concentrate on the content and print media has to give special attention to this aspect when the world has gone complex. This was stated by Raj Chengappa, Editor-in-Chief, Tribune Group of Publications, here today.

Raj Chaengappa, Editor-in-Chief, Tribune Group of Publications, addresses at the samachar4media conclave on "Expansion of media: Healthy or sick" in Chandigarh on Wednesday. Tribune photo: Vinay Malik

UT Defence scientists honoured
Chandigarh, May 26
The Director of Terminal Ballistics Research Laboratory (TBRL), Dr Satish Kumar has been conferred with the Special Award for Strategic Contribution-2009, while the laboratory's Associate Director, Dr Manjit Singh received the DRDO Scientist of the Year Award-2009.



Prime Minister Manmohan Singh presents an award to Dr Manjit Singh, Associate Director, TBRL, Chandigarh, at a function in New Delhi on Wednesday. A Tribune photograph
Health dept takes samples of food item
100 cases filed against those selling substandard edibles
Mohali, May 26
Officials of the Health Department are on a spree to collect samples in order to check quality of food. Computerisation has also been introduced to register record related to births and deaths. As many as 100 cases had been filed in the courts by inspectors where food items were found to be of substandard quality, he added.
DC sees red in Pink Rose
Chandigarh, May 26
The Pink Rose Cooperative Housing Society in Sector 49-D is in the news again. In the wake of alleged malpractices in the management of society affairs, the Deputy Commissioner-cum-Registrar Cooperative Societies (RCS) has appointed a new administrator to manage its affairs.
Mercury scales new peak for May
Chandigarh, May 26
Normal life in the city and its adjoining areas was thrown out of gear today as mercury wreaked havoc by recording 43.2 degree Celsius, making a season's new record and highest for May.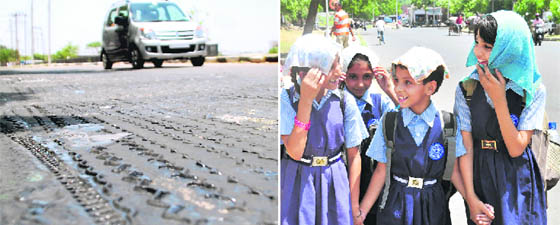 A road seems to be melting due to the rise in temperature; and (right) students try to beat the heat by covering their heads in Chandigarh on Wednesday. Tribune photos: Vicky Gharu
Dead fish in shallow lake raise a big stink
Chandigarh, May 26
After the garbage dumping ground in Dadumajra, the historic Guru Dronacharya Sarovar located in the village is gradually becoming another source of stench for residents in the area.




Dead fish float on the surface of the Guru Dronacharya Sarovar at Dadumajra on Wednesday. A Tribune photograph
School board stumps students
Unique way to tell time is money
Mohali, May 26
The examination scheduled for classes X and XII, released by the Punjab School Education Board (PSEB), under the newly introduced semester system, has left lakhs of students in a tizzy.
Kaushalya dam way behind schedule
Project cost shoots up to Rs 180 cr
Panchkula, May 26
Delay in the construction of the Kaushalya dam project that was conceived to supply potable water to Panchkula is costing the Haryana government dear.
Pak artistes to perform at Sufi fest
Chandigarh, May 26
"The activities of Punjab Sangeet Natak Akademi, relating to the preservation and promotion of rich Punjabi cultural heritage, music and dance were hitherto confined to the city beautiful alone. But ever since Sufiana folk maestro Padmashri Hans Raj Hans has taken over, the focus of promotional activities has shifted to other cities and villages," observed PAC chairperson Harjinder Kaur and Akademi secretary Kuldip Tiwana at the Punjab Kala Bhavan here recently.


Their silent prayers have been heard
Chandigarh, May 26
They did not sleep last night but the IITJEE results today compensated that.

IIT Delhi computer course a hot favourite with students
Boys rule the roost

Parents celebrate the success of their wards in the IITJEE. A Tribune photograph
F&CC okays Rs 17-cr agenda
Chandigarh, May 26
The Finance and Contract Committee (F&CC) of the Municipal Corporation approved agenda of Rs 17 crore in a meeting held today. Members of the committee approved the agenda, including rough cost estimate for providing and fixing 60mm-thick paver blocks around parks in pocket A in sector 38, rough cost estimate for providing and fixing 40mm-thick rubber mould interlocking paver blocks on road berm from Shivalik Hotel to Taj Hotel, sector 17, and rough cost estimate for providing and fixing 40mm-thick cement concrete interlocking paver blocks on walkway inside green belts, sector 32.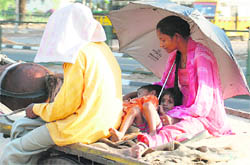 A woman shields her children from sunrays under an umbrella on a cart in Chandigarh. A Tribune photograph
Suicide by law student
Six months on, justice yet to be delivered
Mother seeks help from SSP
Mohali, May 26
Six month after Priyanka Singh, a 25-year-old law student of Army Law Institute, committed suicide at her hostel, the victim's mother Shakuntla is knocking at the doors of the Mohali Senior Superintendent of Police (SSP) for justice.
Who will open, that's the question
Chandigarh, May 26
The inauguration of a green belt in Mauli Jagran by MC Commissioner Roshan Sunkaria tomorrow has sparked a controversy between the ruling Congress and the opposition BJP-SAD combine.
Rathore's house wears deserted look
Panchkula, May 26
The house of former Haryana DGP SPS Rathore here wore a deserted look today. There was hardly any movement at his house the day after he was sentenced in the Ruchika Girhotra molestation case.
Rs 32,000 goes missing from car
Zirakpur, May 26 Cash Rs 32,000 of a Dera Bassi resident went missing from a car under mysterious circumstances while he parked his car outside the Best Price here late this evening.
A perfect blend of love, revenge
Chandigarh, May 26
Punjabi play Pinjar was staged on the opening day of Adakarian- 2010 at Randhawa Auditorium.
Another illegal land transfer comes to light
Mohali, May 26
Even as the Forest Department is probing the case of levelling of eco-fragile Shivalik hills in Majri block, another case of forestland being illegally transferred in the name of an individual by revenue official at Khadri village has come to the notice of the Forest Department.
Cocaine Case
DGP marks inquiry to Ambala IG
Panchkula, May 26
The Director General of Police (DGP) here has marked an inquiry into the Ambala cocaine case to the IG, Ambala, for which a memorandum was submitted by Ambala Cantonment MLA Anil Vij last week.
Wage Board Intervention of PM sought
Chandigarh, May 26
Newspaper employees have sought the intervention of Prime Minister Manmohan Singh in allowing Justice GR Majithia Wage Board to complete its report at the earliest and submit it to the government.
Sanitation
MC fines two contractors
Mohali, May 26
Two contractors looking after the town's sanitation work have been fined Rs 40,000 for violating the terms and conditions of agreement.
Charred remains of car eyesore for commuters
Zirakpur, May 26
Although five months have passed since a fatal accident took place on the Chandigarh-Ambala highway near the sales tax barrier, yet the vehicles involved in the mishap has not been removed. The sight comes as an ugly reminder of the fatal accident.

The charred vehicles along the Chandigarh-Ambala highway near the sales tax barrier. A Tribune photograph