M A I N N E W S
'I've been in mourning since that fateful night'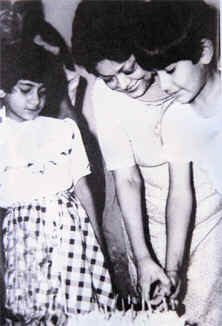 A file photo of Ruchika on her birthday.

A day after former DGP SPS Rathore was sent behind bars for molesting Ruchika, her father SC Girhotra reminisced her childhood days, his dreams for her and her death. During a conversation with our Principal Correspondent Geetanjali Gayatri, he oscillated between joy and grief. At times he stopped midway, trying to recollect his thoughts and, perhaps, strength.
"She's my first thought in the morning and the last before I drift into slumber. Her memories crowd around me in my solitude. Her last words keep echoing in my mind, as much in sleep as in wakefulness.
I'm in mourning and have been so since that fateful night of December 29, 1993, when Ruchika died on the hospital bed in the emergency ward of the PGI after a two-day struggle for life.
It was nearly two years after her tormentor, former DGP SPS Rathore, had stepped into our home uninvited on the pretext of providing extra (tennis) coaching classes to Ruchika. And, then, the molestation happened. Ruchika's determination to stand up to the injustice infuriated the man and he went about messing up our lives, using everything in his power to make us yield.
We didn't and he made us pay for it in all possible ways he could — by stationing hoodlums outside our house who passed snide remarks at my daughter each time she stepped out, by slapping fabricated cases against my teenaged son Ashu and by threatening me and my family with dire consequences. He made one demand time and again, that molestation case against him be withdrawn. At 13 years, when other girls her age were enjoying a carefree life with a spring in their gait, chalking out careers, aiming at the stars, Ruchika bottled herself up, confined herself to home, battling with the demons of fright.
The no-holds-barred attack left us broken but Ruchika stood by her decision to bring him to book for his act. Unable to reconcile to the fact that we refused to succumb to pressure, the police was sent to "pick up" Ashu.
We were staying in Sector 6 at that time. He was paraded naked in our street by the police( Rathore has denied this charge) that made one last attempt to have us withdraw the complaint. As they left, they ridiculed her, "Look what's happened to your brother. The same fate awaits your father."
Already disturbed on being expelled from school at Rathore's behest, lest the it embarrassed his daughter who was Ruchika's classmate, the incident sent her into depression. She never came out of it.
She was very close to her brother and began to blame herself for the misfortune that had befallen the family. For the next two days she refused to eat and was unusually quiet. She cried, at times screaming: "Why can't the police register an FIR? Why can't they investigate my complaint?"
I remember that evening when she decided to end her life. Ashu was in police custody and being tortured. (This charge has been denied by the police). It was a Monday and I went to the temple. I'm a staunch devotee of Lord Shiva and visit the temple every Monday, returning only in the wee hours, around 4 am the next day.
Ruchika would be ready with breakfast by 7am. That Tuesday, it was well past 7 am and there was still no sign of any activity in the house.
I went to Ruchika's room only to find her lying unconscious. I rushed her to the PGI where the doctors washed her stomach and informed me that she had consumed insecticide.They did whatever they could, but couldn't save my daughter. I stood there by her lifeless body, stunned at the turn of events, even as Ashu continued to be in custody.
I brought her home one last time before I lit the pyre. The next morning after her cremation, I found Ashu lying in semi-conscious in the garage. A few days later, the police "dropped by" again and asked me to leave the house and the city if I wanted Ashu's life to be spared.
I sold my Rs 1 crore house for a paltry Rs 18 lakh and shifted to Shimla. I came back about six years back when I heard from Aradhana's mother, Madhu Prakash, that she had managed to get a copy of the inquiry report and the High Court had ordered registration of an FIR.
This gave me confidence. For months I chose to commute from Shimla whenever required. As the case began to progress and I was needed more and more, I shifted back to the city.
Today, nearly 17 years after Ruchika's death, she still continues to run my life for me. I am an early-riser and begin the day with prayers. I have faith in God and He knows what I want. He will grant me my wish if I deserve it. My job is limited to providing documents and holding consultations with my lawyer.
After a hard day, when I'm back home, I still long for a meal cooked by Ruchika, to hear her calling me out. I reflect on my unrealised dream of seeing her as a police officer. She definitely would have been an international tennis player, given her interest in the game. If she was alive today, she would have been married and settled like her friend Aradhana. I would have been a grandfather. But it was not to be.
At times, these thoughts gnaw at me, leaving me enervated, even frustrated. Then, I shake myself up, think of my daughter's dying wish for justice, and I think it's dangerous to abandon myself to grief.
I realise it will deprive me of courage and even of the wish to recover. At this juncture in my life, I can't afford any of that. The battle has just begun. I'll know no rest till Rathore is booked for abetment to suicide. That's my commitment to my dying daughter.