Lone woman heading DRDO high-altitude lab awarded
Chandigarh, May 31
Defence Research and Development Organisation's only woman scientist to head a high altitude research laboratory, Dr Shashi Bala Singh, has been conferred DRDO Scientist of the Year Award by Prime Minister Manmohan Singh. Dr Shashi Bala Singh


WINNER ALL THE WAY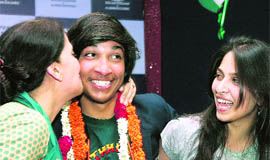 Arjun Vajpai, the youngest Indian to scale Mt Everest, gets a warm welcome at his home in Noida on Monday. Tribune photo: Manas Ranjan Bhui
Samba Spy Case
Tribunal tells Army to produce GCM papers
New Delhi, May 31
About 35 years after five soldiers were sacked and jailed in the Samba Spy Case, the Armed Forces Tribunal today asked the Army to produce their court martial documents, raising their hopes of clearing their names in the infamous scandal.
NAC finalises 11 members
New Delhi, May 31
The recently reconstituted National Adivsory Council (NAC), headed by Congress president Sonia Gandhi, has inducted 11 eminent persons as its members.
Bullet not for Sri Sri, he had already left, says K'taka DGP
Probe properly, don't jump to conclusions: AOL founder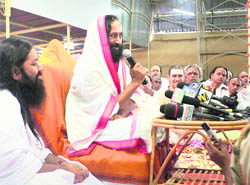 Bangalore, May 31
Karnataka Director General of Police Ajai Kumar Singh today said that the firing at Art of Living founder Sri Sri Ravi Shankar's convoy in his ashram here yesterday evening was not an attack on his life.The DGP's claim, however, did not go down too well with Sri Sri, who said the police should not hastily jump to any conclusion without proper investigation.
Art of Living founder Sri Sri Ravi Shankar addresses a press conference in Bangalore on Monday. — PTI

Scared & scarred, Mirchpur Dalits won't return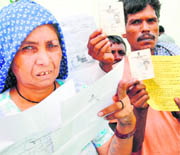 Demand rehabilitation at a safe place
New Delhi, May 31
It has been over 16 days since many Dalit families from Hisar's Mirchpur village arrived in the National Capital after bearing the brunt of caste violence. Despite government claims that the situation has "normalised" and there is no threat from the upper caste, these families are living in impoverished conditions, demanding rehabilitation to a safer place.
Dalit families from Mirchpur (Hisar) showing their identity proof in New Delhi on Monday. Tribune photo: Mukesh Aggarwal


Now, college trouble for Big B
Lucknow, May 31
In what could mean fresh trouble for Amitabh Bachchan, the Barabanki district court today asked the police to investigate allegations that the Bollywood star along with five others had "cheated" people by delaying the college he had promised to set up at Daulatpur village in the name of his daughter-in-law.

No relief for Rathore, bail hearing today
Chandigarh, May 31
Disgraced Haryana cop SPS Rathore failed to get any relief from the Punjab and Haryana High Court today and stays behind bars for at least one more day.
Sivanandan supersedes Gafoor to be M'rashtra DGP


Mumbai, May 31
The Maharashtra government has elevated Mumbai Police Commissioner D Sivanandan as state's new Director General of Police (DGP). Sivanandan supersedes Hassan Gafoor and PP Srivastava, who are both senior to him and hold the post of DGP (anti-corruption) and DGP (housing), respectively.

D Sivanandan

Be ready for more Maoist strikes: Expert
Raipur, May 31
The country should be prepared for more deadly blasts by the Maoists as the guerrillas are planning to use some 19 tonnes of explosives before the ammunition expire by the end of this year, a senior de-mining expert of the Chhattisgarh Police claimed today.
Left wary of MHA's ULFA strategy
Guwahati, May 31
The Left parties have raised eyebrows over the Ministry of Home Affairs' (MHA) recent decision to put Assam Chief Minister Tarun Gogoi and his Cabinet colleagues on job of taking care of political process to solve the vexed ULFA problem. The CPI and the CPM said there would be a very slim chance of talks materialising with the banned outfit unless the Centre take a key role in initiating the political process.