by Raj Chengappa, Editor-in-Chief

'No breakthrough soon in climate change'—Jairam Ramesh
Jairam Ramesh is not your archetypal Union minister or politician. He brings to his job as Minister of State for Environment and Forests a combination of erudition, understanding, zest and wit. At times he does get carried away and can be indiscreet in his statements as it happened in China. But he still remains one of India's best brains on the subject and has brought a new vigour to his Ministry. As the world observes Environment Day today, Ramesh spoke extensively to Editor-in-Chief Raj Chengappa on a range of critical issues. Excerpts:
Do you see any breakthrough in the climate change negotiations
post Bonn?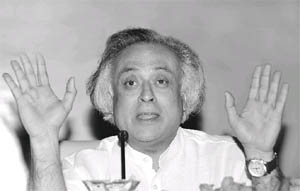 Jairam Ramesh
No, I don't see any great breakthrough in the climate change discussion. We are no closer to any international agreement now than we were six months ago in Copenhagen. The triggers for success are lying not with the developing world but with the developed world. At the Copenhagen accord they made a commitment of 30 billion dollars over the next three years, which is 10 billion dollars annually. This is for small island states, the Least Developed Countries and the vulnerable economies. Now the money has to start flowing. Countries like India and China have ruled themselves out of such aid. We have said let this money go to the truly poor countries. But we are already six months gone in 2010 and there it does not seem to be any clarity on where the money is going to come from, how it is going to be raised, where it is going to be spent and how it is going to be monitored. That is the most important trigger because the credibility of the international system is at stake. So I am not very optimistic about any great international agreement.
Is that the only reason for your lack of optimism?
There is also the continuing failure of the United States to make credible commitments on its part. The earlier climate bill that the US moved in the Congress is dead now. The Administration has now introduced a new bill which is very conservative in its targets for the year 2020. I think the combination of their inability to have clarity on the financing issue and of course the inability of the United States to get legislation through has meant the 2010 also will be somewhat like 2009.
So the Copenhagen agreement is being slowly undone?
The Copenhagen accord is a good step forward. It sets a global goal and we limit the temperature increase to 2 degree Celsius by the year 2050. It acknowledges that the burden sharing has to be equitable. How the Kyoto Protocol has to be determined is left for negotiations. But it acknowledges that Kyoto is one of the cornerstones of carbon budgeting. This will be an important thing as we proceed. I think there is a logjam on the transparency issue and on the measurement, reporting and verification issue.
Has there been any change in our position since Copenhagen?
Our position is that we didn't cause the problem of climate change but we want to be the solution to climate change. Because we are very profoundly affected by climate change and its various dimensions so we need to work out an international regime with which India can be comfortable. We have announced an energy intensity to GDP decline of 20 to 25 per cent by the year 2020 on 2005 reference levels. We are not going to cut our ambitions in absolute terms but we will moderate the growth of ambitions and we will certainly improve our energy efficiency. We also want to be part of the solution that does not impose constraints on an 8 to 9 per cent rate of economic growth for us. For us economic growth is paramount. But as the Prime Minister has repeatedly said it's ecologically sustainable development we are talking about. We are not talking about 9 per cent economic growth that destroys the environment, pollutes the air, pollutes the water and destroys the forests.
Why is the Copenhagen accord floundering?
We are not negotiating a new agreement. We already have an internationally legally binding agreement in the UN Framework Convention on Climate Change (UNFCCC). What we are negotiating is the second commitment period, as the first expires in 2012. Many countries would like to abandon the Kyoto protocol, The Europeans say if the Americans are not going to make comparable commitments why should they make such commitments. Then America says if the world's biggest emitter China does not take on commitments why should it do so. So this merry-go-round goes on.
Do you see the resolution at the Cancun meeting in Mexico later
this year?
I half jokingly said the other day that of the three Cs in UNFCCC, the first C stands for Copenhagen, the second for Cancun and the third for Cape Town which is where the 2011 meeting is scheduled for. You will have to go through all the CCCs before we get the agreement the world is looking for.
The US is now talking of international scrutiny of India's plans to reduce energy intensity?
At Copenhagen, we did not use the word scrutiny, we did not use the word review, we used the word international consultation and analysis and I still stick to that. Incidentally in Para 5 of the Copenhagen accord it says international consultations and analysis that respect national sovereignty. So you would not have inspectors going and inspecting every chimney. So it is consultation and analysis. I am very clear that this is international consultation and analysis must have a multilateral framework which is the UNFCCC. India has signed the Copenhagen accord and we have no intention of going back on it. Whatever is there we will take forward.
What action has India taken on climate change since you took over as environment minister a year ago?
We must delink what we do in the country from international negotiations. We must have an autonomous policy; we must have a policy of our own because climate change profoundly affects us. We have a national action plan on climate change. We have announced the national ambitions on the energy efficiency which makes the energy savings certificates a trade-able commodity. We are doing a number of other missions as part of the national action plan of the climate change. We have set up an Indian national climate change network of over 128 research institutions and 250 scientists across the country who are monitoring the impact of climate change. A 4x4 assessment will be ready by November of the impact of climate change on agriculture, water, health and forests and in the Himalayas, the western costal area and the northeast. We are speaking from a position of leadership and not from a defensive position- only after having done something.
Where does the controversy over the Himalayan glaciers now lie? Is there an agreement over whether they would disappear or not?
The situation of the Himalayan glaciers is complex rather than simplistic. There are 9,000 to 12,000 glaciers on the Indian side and most glaciers are in retreat and some others are advancing but at a decelerating rate. The Siachin glacier and the Gangotri glacier are still advancing but at a decelerating rate. But the health of many other glaciers is very poor. We should understand what is happening to our glaciers. We should have a manual of governance of best practices to all the Himalayan states as to what needs be done in energy, tourism and agriculture fields in order to adapt to climate change. The Himalayan glaciers are different from European glaciers and I think we don't have a premature epitaph as some of the popular writings on which the IPCC seems to have depended on for its reports. We need to do our homework on the glaciers - that is the main lesson that I draw from the entire exercise.
Why did you not clear genetically engineered Bt. Brinjal?
The evidence before me was not overwhelming enough that we should go in for commercialization. There were many doubts about its safety and all that. I spoke to scientists and wrote to 60 scientists abroad. Civil society wanted me to do this. I adopted a middle path. I must tell you that no state government supported the Bt. Brinjal, including the three states of West Bengal, Orissa and Bihar which account for 60 per cent cultivation. So in the light of this I had to move cautiously. In the process I lost some friends who said I have sold out to some specific lobby. Biotechnology is one option for increasing agricultural production and productivity. But we should also understand the risks of certain elements of biotechnology particularly in so far as transgenic crops are concerned. Once we have put up a risk assessment and a regulatory system in place and a system of public communication we will be able to address many of these issues.
What is your Ministry doing to conserve the tiger?
One decision which the Prime Minister took on March 18 is to set up separate forest and wild life departments within the same ministry of environment which we are about to do soon. We have a Wildlife Protection Act of 1972. Not only for the tiger but all species whether the elephant, the rhino, the lion, the snow leopard and even the dolphin - all wild life species are under threat. We have a huge challenge in front of us.
But are you doing anything for the tiger specifically?
We are doing a census now and we are using a figure between 1,200 and 1,600 tigers. About 50 per cent of the wild tigers are under threat because of mining projects, because of power projects, because of poachers. because of demand from China. So we are looking at a very serious situation. But I think we have been able to galvanise the machinery we have been able to put more funds, we have been able to decentralise the functioning of the national tigers conservation authority and more importantly we have been able to stop encroachments in to the tiger areas, stop coal mining, stop power projects which are very close to this tiger areas and are destroying their habitats. So we have a long long way to go to create inviolate spaces for the tiger which is really the only answer for ensuring the long-term survival of the tigers and other magnificent species.
What did you learn in the first year of your term as Environment Minister?
I am trying to run the ministry transparently and efficiently. It is a thankless job. It is difficult to make a balance between environment and development. I am always under attack-if I clear any project, environmentalists turn against me and if I hold back some project, then my ministerial colleagues go against me. And if environment and development are expected to go hand- in-hand, then there is "yes" in some cases but a "big no" in other cases and in some it is like "yes, but, a no". Forest and environment should not be allowed to be taken for granted.
And from the Chinese controversy?
Keep quiet at international forums.