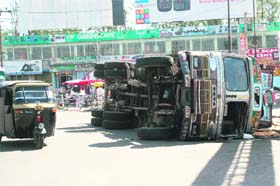 A truck overturned after its driver lost control over it at Sawatri Chowk in Jammu on Sunday. Tribune photo: Inderjeet Singh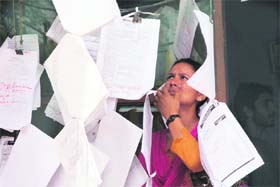 A job aspirant goes through application forms at a book shop on the Canal Road in Jammu on Sunday. Photo: Inderjeet Singh
Evolve mechanism to end discrimination with Jammu region, parties to PM
Jammu, June 6
On the eve of Prime Minister Manmohan Singh's visit to Srinagar, the Jammu-based political groups have cautioned the Centre against succumbing to the pressure of separatists and other mainstream political parties. The Prime Minister is scheduled to visit Srinagar tomorrow.
Farooq fumes at poor services of Indian Airlines
Arrives at function two hours late due to delay in flight
Jammu, June 6
Union Minister for New and Renewal Energy Dr Farooq Abdullah today expressed his anguish over the poor functioning of India Airlines, after he reached Jammu two hours late due to delay in the flight of the airlines.
PM's relief package
Nationalist movement releases report
Jammu, June 6
The Jammu and Kashmir Nationalist Movement (JKNM) yesterday released a report of its Review Committee on the relief and rehabilitation package for victims of the Kashmir militancy announced by Prime Minister Manmohan Singh on April 24, 2008, at Akhnoor.
Talab Khatikan residents set example of communal harmony
Jammu, June 6
Heartening scenes of communal harmony and brotherhood were witnessed when BJP MLA from East Jammu Ashok Khajuria inaugurated a water cooler installed at Talab Khatikan near the Jama Masjid. Khajuria installed this water cooler from his constituency development fund, as it was a long-pending demand to people of the minority community.
Skin diseases rampant in Baramulla village
Mattipora (Singhpora), June 6
Skin diseases and poor oral hygiene are rampant among people in Mattipora village in Singhpora town in Baramulla district, about 25 km from the city centre. The diseases are more prevalent among women and children. Unhygienic surroundings and polluted water are believed to be mainly responsible for these.
Army help changes woman's fortunes
Srinagar, June 6
The training provided by the Army to Hamida Khatun, who belongs to Skampari village in Leh, turned the wheels of fortune in her life. Married to Bashir Ahmed, she had very limited resources to sustain her children. The Army came forward for Hamida's help and offered her training in stitching at its women empowerment centre in Leh.
'Clean Devika Drive' launched
Udhampur, June 6
To make surroundings of the sacred Devika rivulet in Udhampur town a pollution free zone, the Udhampuer-Reasi Range Police, the Civil Defence Organisation and the Municipal Committee today launched the 'Clean Devika Drive'.


Comedy play 'Bemaar' staged
Jammu, June 6
Bemaar, a play written in Urdu by Sadat Hassan Manto which was adapted and directed by Sumeet Sharma, was staged here at Natrang Studio theatre in its weekly Sunday theatre series. It was only last week that Natrang completed 300 performances of Sunday theatre series at Abhinav Theatre.
A scene from a play,"Bemaar", staged at Natrang Theatre in Jammu on Sunday. A Tribune photograph
District status for Bhaderwah demanded
Jammu, June 6
The Jammu and Kashmir Milchar Front (JKMF) has demanded district status for Bhaderwah for the development of this backward belt. In a statement issued here today, JKMF general secretary Kuldeep Kumar Rao said the district status for Bhaderwah was a long-pending demand of the people of this region.
MC drive to beautify Temple City on fast track
Jammu, June 6
The Temple City will soon acquire a beautiful look as the process of painting the city walls by removing defacements made on them is going on a fast track. The Jammu Municipal Corporation started the drive in May.
Protecting environment a challenge: Vohra
Srinagar, June 6
Governor N. N. Vohra released a special issue of "ICELA Message", a monthly magazine, at a function at Raj Bhavan yesterday. The magazine has been brought out by the Indian Council for Enviro-Legal Action (ICELA), J&K Chapter, to spread awareness about the need for environment conservation.
3 soldiers die in road mishap
Jammu, June 6
Three Army personnel were killed and 33 others injured when a vehicle in which they were travelling skidded off the road and fell into a nullah at Paloura yesterday. The incident happened when the Army vehicle (04D15712H) of the 20 Grenadiers was on its way to Jammu from a firing rage in Akhnoor.
Drive against unlicensed medical shops
Kathua, June 6
The administration has intensified its drive against unlicensed medical shops operating in far and remote areas of the district.
Cloudburst claims five lives
Srinagar, June 6
At least five persons, including two girls, were killed and two others injured due to a cloudburst in Kupwara and Baramulla districts of north Kashmir yesterday.