M A I N N E W S
Punjab's paddy farmers suffer labour pangs
Jangveer Singh
Tribune News Service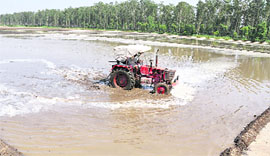 An agricultural field being prepared in Ludhiana ahead of the paddy transplantation season that would begin in the state today. Tribune photo: Himanshu Mahajan

Chandigarh, June 9
Punjab farmers have been struck a double blow on the eve of the paddy transplantation season, which starts tomorrow. Reliant on migrant labour to transplant paddy on 26 lakh hectares, they are witnessing a few arrivals on trains coming in from Uttar Pradesh and Bihar. Farmers also do not have the option of falling back on mechanised transplantation with the experiment launched with full fanfare by the state government last year falling flat on its feet this season.
Farmers are caught between the devil and the deep blue sea. Their transplantation inputs are set to see a whopping increase with the few workers who have come in demanding a rate of Rs 2,000 per acre. Paddy transplantation had started at around Rs 700 per acre last season before ending at around Rs 1,500 per acre. The mechanised transplantation scenario is even bleaker. Chinese transplanters introduced last year are not attracting farmers at all due to indifferent results while Japanese transplanters introduced this year are asking for a steep rate of up to Rs 3,500 per acre. Due to these reasons and also the fact that at many places the paddy nursery has not matured fully because of the ban on sowing it before May 10, the plantation season may take some time to pick up.


Punjab farmers in for a difficult transplantation season
Govt's mechanised transplantation drive fails
Only 37 farmers apply for subsidy on mechanised transplanters this year
Farmers, however, are not taking any chances and many have already started camping at railway stations in order to hire migrant labourers. Most of them are disappointed. Baghel Singh of Dulandi village in Nabha told The Tribune that he was camping at the Rajpura railway station since yesterday but had failed to hire any workers. He said the few workers who had alighted at the station had already been contracted in advance and that he had failed to attract them despite offering facilities like "Dunlop" beds and fans. However, a new trend this year has been the arrival of Assamese Muslims in the Malwa region. Inderjeet Sekhon, a progressive farmer of Fatehgarh Channa in Sangrur, said traditional migrant workers were getting ample work in Bihar and Uttar Pradesh under the NREGA scheme. He said Assamese Muslims had alighted in large numbers at the Dhuri and Barnala stations.
Bharatiya Kisan Union (Rajewal) president Balbir Singh Rajewal said the state was in for a crisis with labour arrivals at an all-time low. He said a large number of farmers might have to go in for the basmati variety, which is transplanted in the beginning of July if this trend continued. Rajewal claimed the state Agriculture Department had failed to provide appropriate extension services due to which mechanised transplantation had not taken off in the state.
State Agriculture Director BS Sidhu said mechanised transplantation had suffered last year due to delayed sowing of the paddy nursery needed for transplanters. He said this year the state had ordered 10 heavy-duty Japanese transplanters to demonstrate the technology again. These transplanters would arrive in the state in 10 days' time. Meanwhile, what is disturbing is that farmers have failed to respond to mechanised transplantation. The Agriculture Department has received only 37 applications for subsidy for the transplanters. Farmers had bought more than 450 transplanters last year. The state gives a subsidy of Rs 75,000 on each machine. Farmers who have purchased Japanese transplanters are quoting lease rates of Rs 3,500 per acre, which is not attracting their brethren.