PUNJAB
HARYANA
JAMMU & KASHMIR
HIMACHAL
REGIONAL BRIEFS
NATION
OPINIONS
LETTERS
BUSINESS
SPORTS
WORLD
Thursday, June 10, 2010, Chandigarh, India
Updated at 3:00 am (IST)

Tamils will get their due, says Rajapaksa
Lanka backs India's case for inclusion in an expanded UNSC
New Delhi, June 9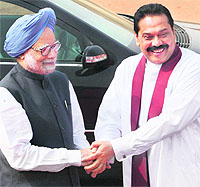 Sri Lankan President Mahinda Rajapaksa today sought to cool down tempers in India over the plight of Tamils in his island nation by promising to quickly resettle displaced Tamils and expedite a political solution to the ethnic issue.
Prime Minister Manmohan Singh with Sri Lankan President Mahinda Rajpaksa during a ceremonial welcome at The Rashtrapati Bhawan in New Delhi on Wednesday. Tribune photo: Mukesh Aggarwal

Seven pacts signed
Nation page:

Anderson's 'Great Escape'

Coming, new law for industrial disasters

CAST YOUR VOTE
Should the execution of Ajmal Kasab's death sentence be put on fast track?

EDUCATION
JOBS & CAREERS
HEALTH & FITNESS
SCIENCE & TECHNOLOGY
REAL ESTATE

SPORTS & WELLNESS
Fresh request possible for Anderson's extradition
New Delhi, June 9


The UPA government at the Centre, at the receiving end of widespread criticism for mishandling the trial of the Bhopal gas tragedy, on Wednesday scrambled for cover and announced a slew of steps at damage control. The Government reconstituted a Group of Ministers to be headed by Home Minister P Chidambaram to go into a range of issues related to the industrial disaster.
Tribune Exclusive
State's job to fix quota, says minority panel chief
New Delhi, June 9


At a time when the tussle between UT Administration and St John's High School in Chandigarh has raised a significant legal question on whether institutes with small percentages of minority students can claim minority status, the National Commission for Minority Educational Institutions has said it is the responsibility of state governments to fix percentages of minority students to be admitted to certified minority institutes within their jurisdiction.
UNION BUDGET 2010-11
RAILWAY BUDGET
2010-11
NDA 60 Glorious Years
1857 The First Challenge
E - Revolution 2005:
A Two-day IT conclave
Assembly Elections - 2005
Turbans
Chandigarh is 50
125 Years of The Tribune
India: The Tasks Ahead
India at Sixty
A Tribune Supplement
EARLIER FEATURES
On Sundays
On Saturdays
Modi, Varun not to address Patna rally
Assembly Polls: Nitish prevails upon BJP
New Delhi, June 9
Bihar Chief Minister Nitish Kumar appears to have succeeded in prevailing upon the BJP not to field Gujarat Chief Minister Narendra Modi and BJP national secretary Varun Gandhi, red rags for secularists and sections of Muslims, as speakers for the forthcoming "Rashtriya Swabhiman" public rally at Gandhi Maidan in Patna on June 13.
TRIBUNE IMPACT
Patil: Look into St John's case
Chandigarh, June 9
Taking cognisance of the allegations levelled by St John's School, Sector 26, against UT Home-cum-Education Secretary Ram Niwas for his undue interference in school matters, UT administrator Shivraj Patil has asked the adviser to investigate the matter.
Punjab's paddy farmers suffer labour pangs
Chandigarh, June 9
Punjab farmers have been struck a double blow on the eve of the paddy transplantation season, which starts tomorrow. Reliant on migrant labour to transplant paddy on 26 lakh hectares, they are witnessing a few arrivals on trains coming in from Uttar Pradesh and Bihar.
The blame game is on
June 9, 2010

Keshub, 7 others convicted
June 8, 2010

Army suspends Major in fake encounter case
June 7, 2010

Post-regret, Canada has little new to say
June 6, 2010

Obama to keep his November date
June 5, 2010

Krishna pitches for access to Headley
June 4, 2010

Sukhna is dying, save it!
June 3, 2010

Optimistic PM pegs growth at 8.5 pc
June 2, 2010

Rail mishap takes political hues
June 1, 2010

US rehearses strikes on Pak
May 31, 2010
New education draft has states smiling
May 30, 2010