PM's visit a success: Soz
Srinagar, June 10
Jammu and Kashmir Pradesh Congress Committee (JKPCC) president and MP Saifudin Soz has described Prime Minister Manmohan Singh's two-day visit to the state as a great success.
Rain brings down mercury in valley
Srinagar, June 10
Moderate to heavy rain lashed Kashmir today with temperature further dipping in hilly areas and the famous hill resort of Gulmarg witnessing an unusual cold in the month of summer.
Work resumes for world's tallest rail bridge
Udhampur, June 10
The resumption of work for the tallest rail bridge being built across the Chenab in Reasi district in the wake of safety clearance by a team of experts has rekindled hope of getting jobs among the residents of this backward area.
PM's visit was focused on valley: Vision Kashmir
Jammu, June 10
Members of the Vision Kashmir have expressed dissatisfaction over the visit of Prime Minister Manmohan Singh to the valley.In an executive committee meeting held at its office today, the convener of the organisation, Sunil Fotedar, alleged that the visit was focused upon the valley to appease the people of the Kashmir region by ignoring the Jammu region.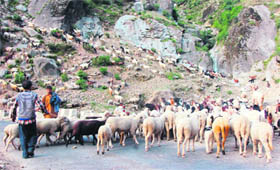 Nomadic shepherds return with their goats to Paddar, a remote area of Kishtwar, even as a large number of their community members are stranded in higher reaches due to snowfall. Tribune photo: Anand Sharma
Boy killed, 15 hurt in mishaps
Srinagar, June 10
A boy was killed while 15 others, including two boys, were injured in road accidents across the Kashmir valley today. A boy, Sajid Tanveer Khan, a resident of Kulangam in Handwara, was injured when a Tata Sumo vehicle hit him at Kulangam. He was shifted to hospital, where he died. The vehicle driver, Tariq Ahmad Bhat, was arrested.
Higher grades demanded for promoted teachers
Jammu, June 10
The Retired School Education Officers Association today demanded higher grades for teachers who were promoted in 1998 and afterwards. It held a meeting under the chairmanship of Chaman Lal Suri at Sunder Bani today and formed an executive committee comprising Mangat Ram Sharma as convener, Madan Mohan Sharma as president and Ram Lal as cashier.
Industry opposes Jammu bandh call
Jammu, June 10
The Chamber of Commerce and Industries (CCI) has opposed a bandh call given by some organisations against, what they alleged,a decision of the state government to impose tax during the annual Amarnath yatra.
IT exhibition train to reach Udhampur on June 26
Udhampur, June 10
The mobile exhibition of the vision and achievement of the country in Information Technology (IT) on train, which is jointly launched by the Department of Information Technology and Ministry of Railways, is reaching Udhampur railway station on June 26. It will be open for public from June 27.
Jammu boy among top 10 dancers in reality show
Jammu, June 10
A 12-year-old boy from the city is creating ripples in a dance reality show, Chak Dhoom Dhoom, which is going to be telecast soon on Colors Channel.Piyush Bhagat has been selected among top 10 dancers in the reality show.
New post office schemes launched
Jammu, June 10
The Department of Posts formally launched a new pension scheme (NPS) and money transfer schemes Money Order Videsh (MO Videsh) and Instant Money Order (IMO) at a media conference here today.
Only one post of Dogri lecturer
Candidates resent being called to Srinagar for interview
Jammu, June 10
In a classic case of too little too late, the Jammu and Kashmir Public Service Commission (JKPSC) will hold interviews for a post of Dogri lecturer in higher education at its Srinagar office this month.