Mehbooba stopped from meeting Tufail's family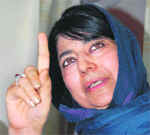 Srinagar, June 17
PDP president Mehbooba Mufti today went to the residence of teenager Tufail Ahmed Mattoo who died in clashes in the Rajouri Kadal area last week to pay condolences to his family. A PDP spokesman said Mehbooba and her colleagues were, however, denied meeting with the family. They were told not to attempt to meet the members without assigning any reason. Although some women in the house tried meeting Mehbooba but were apparently prevented from doing so, the spokesman added.
Shalin's birthday turns mournful for family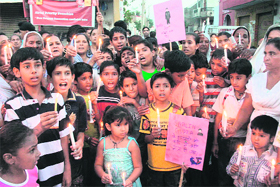 Jammu, June 17
Just a week ago, Shalin Gupta's family was making plans for his 11th birthday that falls today. Rather it turned out to be a mourning day following his murder for ransom on the night of June 11. His parents used to organise a jagran on his birthday every year but this time, Shalin's family was found mourning outside their residence here.
On the 11th birthday of Shalin Gupta, residents of Nai Basti carry out a candlelight procession in Jammu on Thursday. A Tribune photograph

Chinese Incursions
Set up parliamentary group for border issues: BJP
Jammu, June 17
The BJP today demanded that the recommendations of the China Study Group on border infrastructure development to be made public and implemented expeditiously. The party also demanded the setting up of a parliamentary group for the detailed study and overseeing of border issues.
Race for PYC chief post hots up
Jammu, June 17
Battle to capture post of the Pradesh Youth Congress (PYC) chief has been intensified as some aspirants, with the help of their political mentors, have approached senior leaders in Delhi to garner support. Both the factions within the Pradesh Congress Committee (PCC) have been working to get their man appointed as the PYC chief.
Rajouri Kadal — the new protest zone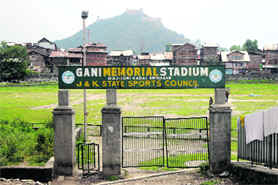 Srinagar, June 17
Almost every Friday the Rajouri Kadal area, in the heart of the old city of Srinagar, becomes the centre of activity between stone throwing youths and security personnel, resulting in injuries to several persons.
The Gani memorial Stadium in the Rajouri Kadal area in Srinagar where pitched battles between stone throwing youths and the security forces have become common. Photo by the writer

Kashmiri migrants meet relief commissioner
Submits memo for redressal of demands
Jammu, June 17
A deputation of the Kashmiri migrants living in Two Room Tenements, Nagrota, headed by PL Dhar today called on Relief and Rehabilitation Commissioner (Migrants) Vinod Koul seeking his attention towards their demands.
Antony to visit Ladakh
New Delhi, June 17
Inspecting an IAF advanced landing ground on the India-China border will be high on the agenda of Defence Minister AK Antony during his two-day visit to Ladakh next week.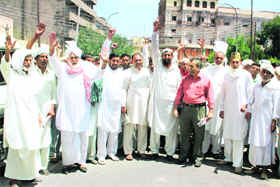 Members of the J&K Gujjars United Front protest in support of their demands in front of the Divisional Commissioner's Office in Jammu on Thursday. A Tribune photograph

Rise in Crime
PDP's allegation baseless: Sadhotra
Jammu, June 17
Taking a serious note of the statement of PDP chief Mehbooba Mufti regarding increase in crime, especially in the Jammu region, senior NC leader and former minister Ajay Sadhotra today termed such allegations as baseless, concocted and false.
Amarnath yatra arrangements reviewed
Srinagar, June 17
Divisional Commissioner, Kashmir, Nseem Lankar today reviewed the arrangements being made for the annual Amarnath yatra which begins from July 1 in South Kashmir via the Pahalgam-Chandanwari axis and the Sonmarg Baltal axis.
Mirwaiz prevented from going to UN office
Srinagar, June 17
The police prevented APHC chairman, Mirwaiz Umar Farooq, and his senior colleagues from proceeding to the United Nations Military Observers Group office here today when they were going to submit a memorandum on the alleged human rights violations in Kashmir.
Students block Poonch-Mandi road
Jammu, June 17
Nearly 50 students of a government school of Timbra village in Poonch district today blocked the Poonch-Mandi road for about an hour in protest against the absence of teachers from the school.
16 hurt in accidents
Srinagar, June 17
At least 16 persons were injured in separate road accidents in Kashmir today.