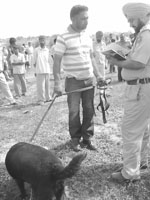 Mutilated body of woman found
Kharar, June 21
A mutilated body of a woman in her late forties was found at Bar Majra village, near Balongi area of Kharar today. Some passerby informed the police about the body, which was lying under the bushes, in the wee hours. Police officials, who reached the spot, said the woman was apparently murdered and her body was thrown after badly hacking her face with rocks.



Police and the dog squad at the site where the body was found near the Balongi area on Monday. A Tribune photograph
Youth drowns
Dera Bassi, June 21
A 19-year-old boy, Santosh, drowned in the reservoir of a tubewell at a flower farm on the Gulabgarh Road, here on Monday. Santosh reportedly drowned in the reservoir under mysterious conditions.
Solid waste mgmt plant in limbo, yet again
Kalka, June 21
The solid waste management project for Kalka and Pinjore, which had been hanging fire for over three years due to the apathetic attitude of the district administration and had shown some signs of revival of late, has again hit a roadblock.
Railways to demolish two houses
Kalka, June 21
The department of railways, Kalka, would demolish two residential quarters in wake of safety measures. Subhash Sharma, branch secretary of Northern Railway Men's Union (NRMU), Dhulkot-Kalka-Shimla branch, said the NRMU, Kalka, had recently sent a letter to the assistant divisional engineer (ADEN), Shimla, and had sought to demolish two residential quarters, T-16-I and T-16-H, near railway gurdwara.


HC notice to PGI Registrar over non-compliance
Chandigarh, June 21
The Punjab and Haryana High Court today issued a notice to the Registrar of the PGI here to show cause why contempt proceedings not be initiated against him and members of a board of doctors for non-compliance with orders.
Graft case: Two powermen suspended
Panchkula, June 21
Two officials of the Uttar Haryana Bijli Vitran Nigam (UHBVN) were suspended for allegedly taking bribe through a cheque for rectifying the fault in one of the societies in the town.
Accident victim succumbs to injuries
Zirakpur, June 21
Shiva Sharma, a resident of Saini Vihar, Phase V, Baltana, who was injured in a road accident on Saturday late night, died this morning at the PGI, Chandigarh.
198 cases of liquor seized
Panchkula, June 21
The police has impounded a truck carrying 198 cases of the Indian made foreign liquor worth Rs 2 lakh and arrested its driver.
10 held in two cases of assault
Chandigarh, June 21
The police arrested 10 persons who were involved in two incidents of assault in different parts of the city here yesterday.
Labourer killed in accident
Chandigarh, June 21
A 50-year-old labourer died after being hit by an unidentified truck near the transport light point here yesterday.


Awards get meatier for UT sportspersons
Chandigarh, June 21
In an effort to boost sports as well as sportspersons in the city, the Chandigarh Sports Council has decided to hike the cash award for sportspersons.


Ground Reality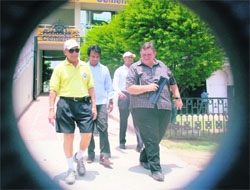 ICC's pitch consultant Andy Atkinson (right) at the PCA Stadium, Mohali, to inspect the pitch and outfield for the World Cup-2011 matches. Tribune photo: Vicky Gharu
Chandigarh Phoenix rise
Panchkula, June 21
With his superb bowling spell, Jashpreet Singh (4 for 16 including a hat-trick) enabled his Chandigarh Phoenix Cricket team beat Hansraj Cricket Academy (Blue), Panchkula, by six wickets in the league match of the First Under-10 Category Cup League Cricket Tournament at Hansraj Public School Cricket Ground, Sector 6, here today.
Abhishek scripts CCC win
Panchkula, June 21
A brilliant bowling spell by Abhishek (four for 15) guided the Cricket Coaching Centre (CCC), Sector 3, Panchkula, to register a five-wicket win over MCA, Mohali, in the Sardar Harpal Singh Cricket Tournament (under-15) at Tau Devi Lal Stadium, Sector 3, here today.
C'wealth Games
Tourism police to get new avatar
Chandigarh, June 21
After a two-year hiatus following the rape of a German woman in the city on the World Tourism Day (September 27), the UT administration now wants to cash in on the upcoming Commonwealth Games by reinventing the concept of tourism police.
Sodhi bags TT trophy for Press Club
Chandigarh, June 21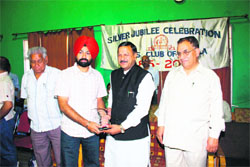 The Chandigarh Press Club bagged the table tennis singles trophy in the Inter-Press Club Tournament organised by the Shimla Press Club as part of its silver jubilee celebrations at Shimla on June 19 and 20.



Sukhwinder Sodhi of the Chandigarh Press Club receives the trophy from Himachal Pradesh health minister Dr Rajiv Bindal at Shimla. A Tribune photograph

Dipanshu gets better of Manoj
Chandigarh, June 21
Dipanshu Garg, a CLTA trainee, defeated second seed Manoj Sheoran by 7-6 (4), 6-3 on the third day of the AMUL-AITA Talent Series Tennis Tournament being held at the CLTA, Sector 10, today.


Sefali Vohra returns a shot during a tennis match in Chandigarh on Monday. Tribune photo: Pradeep Tewari
P'kula Moons beat P'kula Warriors
Panchkula, June 21
A brilliant half century by Jatin Sandhir helped Panchkula Moons to beat Panchkula Warriors by four wickets in the inaugural U-16 Cricket League Championship organised by the Hansraj Cricket Academy, Panchkula, on the school premises.