Finance finesse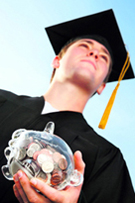 MBA in finance can be your ticket to a lucrative career, writes Anvay Bhargava
Globalisation has created an environment of fierce competition in which companies are trying hard to reduce their overhead costs in order to maximise their profits. This, in turn, has led to search for professionals who can manage finances properly to maintain the financial viability and soundness of the companies. The financial managers with a specialised MBA (Finance) degree can achieve this Herculean task. The roles of a financial manager are to supervise the preparation of financial reports, guide investment activities, and execute cash-management strategies.
Career Hotline
Spa space


Q. I have completed my Plus II in arts stream this year. I don't want to do full-time graduation for three years. Instead, I want to start earning as soon as possible while pursuing my graduation through correspondence. I am looking for an off-beat career, which offers good money. I have been doing yoga since childhood and have an inclination towards alternative healing. Are there any options you can suggest?
Careercature
Sandeep Joshi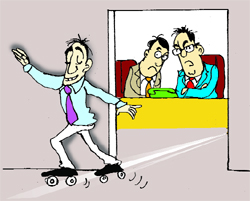 Someone told him that moving from one job to another is the key to self growth.

On equal footing
Denying the chance of an interview to a candidate on the basis of the institution from where he passed out is unfair and it is time to weed out this bias, writes Varun Aggarwal
The other day, I was visiting a friend for dinner, when I got into a conversation with his younger brother Rohit, a fresh engineering graduate. He was having a tough time getting a job. Not that looking for a job was putting him down, but he was quite depressed with the replies that he was getting from various IT companies.

Gearing up for green jobs
Recognising the importance of jobs that contribute to environment protection, Government and the ILO have come together to organise the first national conference on 'green jobs' in New Delhi later this week to discuss emerging trends and policy options.
Happiness @ work
Gems of ancient wisdom
Nobody is indispensable
Some of us take our work too seriously and that is the cause of their misery and of those around them.