M A I N N E W S
Col killed in Kupwara encounter
Ehsan Fazili
Tribune News service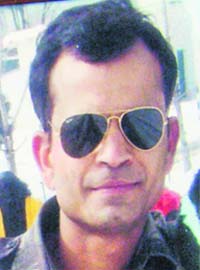 Srinagar, June 23
An Army Colonel was killed in an encounter with militants in a remote forest area of Lolab in Kupwara district in Kashmir yesterday.
The incident took place when the troops launched a search operation in Chalwan forest area. Col Neeraj Sood, Commanding Officer of 18 RR, received bullet injuries and was rushed to a hospital, reports said.
He died on the way. Sood was in the area to carry out counter-insurgency operations.
The unit had laid two ambushes in the area in early hours of last night and one of them made contact with militants, an Army statement said. "On getting information about the encounter, Col Sood, along with his Quick Reaction Team, being the closest, at the Company Operating Base, rushed to the site. In the ensuing firefight, the officer sustained a gun shot wound on his head and succumbed to his injuries," it said.
The Army was continuing its operations through the day in the area, they said. Additional forces have been rushed to the spot and search operations launched. Col Sood, a resident of Delhi, was commissioned into 8 Rajputana Rifles in December 1992, and is an alumni of the National Defence Academy.
The officer had extensive experience in counter- insurgency operations and also served as an instructor at the Army's Counter Insurgency and Jungle Warfare School at Variengte. — PTI