Haley wins Republican nomination
If elected, she will be the first Indian-American and the first-ever female guv
Ashish Kumar Sen in Washington DC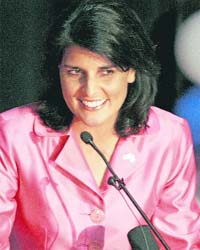 Growing up in Bamberg, South Carolina, in the early 70s, Nimrata Nikki Randhawa Haley belonged to the only Indian-American family in the small town with a population of approximately 3,000.
Now, Haley, whose parents Ajit and Raj Randhawa left Amritsar in search of the American dream, is on the brink of becoming the most important Indian-American in her state and some political pundits breathlessly predict the Republican Party's likely vice-presidential nominee in 2012.
Haley easily won the Republican Party nomination for the gubernatorial race on Tuesday night. With nearly all precincts reporting, she led Representative Gresham Barrett, a four-term Congressman, 65 per cent to 35 percent in the party's primary. She will face Democrat Vincent Sheheen in November. Her victory is expected to be a formality in the predominantly conservative state. If elected, she would be the first Indian-American female governor and the first ever female governor of South Carolina. The first governor, Piyush "Bobby" Jindal, is the governor of Louisiana and also a Republican.
"This is really a great night because South Carolina just showed the rest of the country what we're made of," an exuberant Haley said in a victory speech to supporters in Columbia, South Carolina.
Racial slurs began to fly against Haley as she steadily became a serious contender for the nomination.
State Sen. Jake Knotts, a fellow Republican, called Haley a "raghead" in a derogatory swipe at her Sikh heritage. He also questioned whether she was a true Christian. A lobbyist and blogger, both, claimed to have had affairs with the 38-year-old mother of two.
According to the Washington Post, "Fundamentalist Christians compose a large slice of the Republican base, particularly in the South."
It said Haley raised a Sikh and Jindal raised a Hindu, "converted to Christianity at relatively young ages. Judging from the effort by some Haley detractors who questioned her faith, it is not clear whether these voters would have looked as kindly on her if she were still a practicing Sikh."
Facing a barrage of questions about her religious beliefs, Haley, who was baptised in the Methodist church in her 20s, insisted she was a good Christian.
Her campaign website, in a section titled "Truth in Facts," fine-tuned its message over the last few months to underscore her Christian credentials. In April, in response to the question "Is Nikki a Christian?" the website said: "Nikki is a Christian." In her words: "I believe in the power and grace of Almighty. I know, and have truly experienced, that with Him all things are possible. I have looked to Him for leadership throughout my career and will continue to do so as governor."
This month, the website posted a modified message. It said: "In Nikki's words: My faith in Christ has a profound impact on my daily life and I look to Him for guidance in every decision I make. God has blessed my family in many ways and my faith in the Lord gives me great strength daily. Being a Christian is not about words, but about living for Christ everyday."
Stephen Prothero, a Boston University religion scholar and author of "God is Not One: The Eight Rival Religions that Run the World," wrote in a blog on CNN, "I don't know what Haley is thinking when she gets down to pray, but it seems she has felt pressurised in recent years to stand up for her Christian faith over her Sikh heritage... when Haley was running for the state legislature in 2004, she described herself as attending both Methodist and Sikh services. Her website now emphasises her 'faith in Christ."
Why would she do that, Prothero asked, and then answered his own question: "Because apparently Haley isn't the only voter in South Carolina who thinks (as Knotts put it), "we need a good Christian to be our governor".
"Some day, Indian-Americans will not feel that they need to convert from Hinduism to Christianity (as did Louisiana Governor Bobby Jindal) or from Sikhism to Christianity (like Haley) if they want to run for high office. Some day, they will not feel any need to change their names - Jindal's given first name is Piyush; Haley's is Nimrata - in order to get elected. Unfortunately, that day has not yet come," Prothero said.
Haley's spokesman insists she still attends Sikh services once or twice a year out of respect for her family.
"Like many, she honours her mother and father and has great respect for their faith and the way she was raised," Haley's spokesman Tim Pearson told CBN.
Others, more prominent political candidates, have had to prove their Christian credentials. In his campaign for the presidency, Barack Obama, bent backwards to refute allegations that he was a Muslim. Obama, too, is a Christian.
Growing up in South Carolina, Haley was often made aware of the fact that she and her family were different. In recent months, her campaign scolded reporters for using Haley's full name -Nimrata Nikki Randhawa Haley. Her own website notes that Haley "has always gone by Nikki".