Queen honours Lalvani, 18 other NRIs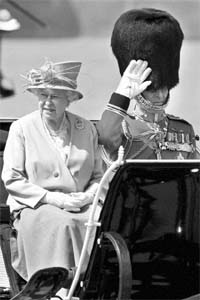 Britain Queen Elizabeth II rides in an open horse-drawn carriage to the Horse Guards Parade for Trooping the Colour ceremony, to mark her official birthday in London on Saturday. — AP/PTI
London, June 12
Kartar Singh Lalvani, founder of pharmaceutical major Vitabiotics in Britain, has been awarded an Order of the British Empire (OBE) by Queen Elizabaeth II in her Birthday Honours List announced today. Lalvani, whose family fled to Mumbai from Karachi during Partition, has been chosen for the honour for his services to the pharmaceutical industry and charity in London.
He had recently established 'Indali Lounge', recognised as the 'healthiest curry house in world'.
TV Channel 4 listed Indali lounge as UK's No. 1 among the top 10 healthy restaurants. "I am happy that the work done by an Indian in the pharmaceutical field in the UK has been recognised," Lalvani said.
Besides, 18 other NRIs also figure in the Honours List - 10 OBEs, 8 MBEs and one LVO. The Queen's Honours List includes several other Indian-origin people making meaningful contributions in different walks of life.
Anil Kumar Bhanot has been honoured for services to the Hindu community and to Inter-Faith Relations, while Janti Champaneri figures in the list for services to Local Government in Birmingham, and Kailash Chand Malhotra for services to healthcare in Cheshire.
Sukhbir Singh Kapoor, Vice-Chancellor of the World Sikh University, has been honoured for services to community relations in Harrow.
Deepak Lakwani, who is the India director at London stockbroker Astaire and Partnersm is also among the awardees.
Inderjit Kaur Sandhu, Headteacher of the Launde Primary School, has been honoured for services to education in Leicestershire.
Reading-based Prem Dutt Sharma is included in the list for services to Community Relations, while Baljit Ubhey has been honoured for services to the Crown Prosecution Service.
Daljit Singh Ahluwalia has been awarded the OBE for voluntary service to community and inter-faith relations in Derbyshire, and Prakash Daswani, founder and CEO of Cultural Co-operation, for services to the arts.
Preihdath Joyram, who is involved with the Cruse Bereavement charity organisation that offers free, confidential help to bereaved people, in Lancashire, figures in the list.
Also honoured in the list is Veena Kumari Mohindra, who is the Executive Officer of Jobcentre Plus, in Eastleigh, Hampshire.
Also hnoured are Mukesh Patel, administrative officer, Revenue and Customs in Leicestershire, and Balvinder Singh Sokhi, for services to the community in Nottingham.
The list, drawn up independently of government, was seen in draft form by former Prime Minister Gordon Brown and cleared by successor David Cameron before being approved by the Queen.
Deepak Lalwani said: "I am humbled to receive this honour. I am grateful for the recognition of my contributions beyond stock broking, and in particular for my passionate contribution to two great countries: the UK, my country of adoption and India, my country of origin." Deepak Lalwani, who joined Astaire & Partners Ltd over 15 years ago, authored the influential and globally distributed "India Report" for 15 years, telling the unfolding Indian economic story in the UK and helping investments bilaterally. — PTI