IAEA suspects Iran's N-programme has military dimensions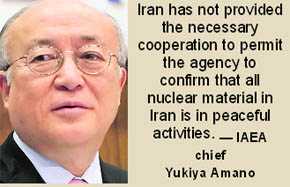 United Nations, June 8
Ahead of a key UNSC meeting to tighten sanctions on Iran today, the chief of the global nuclear watchdog has described the country as a "special case" because it is suspected of having a nuclear programme with military dimensions.
International Atomic Energy Agency chief, Yukiya Amano, told the body's 35-member Board of Governors in Vienna: "Iran has not provided the necessary cooperation to permit the agency to confirm that all nuclear material in Iran is in peaceful activities." "Iran is a special case because, among other things, of the existence of issues related to possible military dimensions to its nuclear programme," he noted.
The UN Security Council was due to meet to discuss a package of new nuclear-related sanctions against Iran.
The powerful UN body would consider a draft resolution to impose a fourth round of sanctions on Iran. The voting is expected later this week.
Iran insists its case should be treated as a routine matter by the IAEA, as is the case with any other member state.
Amano called for implementation of relevant resolutions of the IAEA and Security Council as well as the "clarification of issues related to possible military dimensions of Iran's nuclear programme."
The draft resolution creates new categories of sanctions and includes: banning Iran's investment in nuclear activity abroad, banning all ballistic missiles activities, blocking Iran's use of banks aboard, asset freezes for members of the Revolutionary Guard Corps and setting up a UN panel of experts to enforce sanction implementation.
The US needs nine votes in total for the resolution to pass in the Security Council providing none of the permanent members exercise their veto.
Both Russia and China, which have previously raised objections against such sanctions, have conveyed that they are, so far, satisfied with the text of the resolution.
The US case for sanctions is further strengthened by the report of the International Atomic Energy Agency that found Iran has enough fuel, which if further enriched would be enough to build two nuclear weapons.
Another development in May saw Turkey and Brazil organising a fuel swap deal. Iran would ship 1,200 kg of its low-enriched uranium to Turkey to be exchanged for 120 kg of 20 per cent enriched nuclear fuel rods to power the Tehran research reactor, which produces radioisotopes for cancer treatment.
The swap was similar to a deal brokered with US, Russia and France - that was originally supposed to happen in October 2009.
The big powers are still sceptical about the new deal. The US is pushing for a fourth round of sanctions against Iran.
At the meeting, Amano pointed out "differences" in the situation since the first offer was made, including the fact that Iran's uranium stockpile had double and it was pursuing higher-grade nuclear enrichment. The IAEA chief, however, did not say whether he was for or against the deal.
The US and its Western allies along with Israel fear that Iran is trying to build a nuclear bomb.
Tehran, denying these allegations, insists that its nuclear programme is only for peaceful purposes.