Heritage Golconda diamond put up for sale
Bangalore, June 8


The famous 17th century Archduke Joseph diamond, which is in Europe for the past 200 years, is up for sale and stands a fair chance of being brought back to India if enough money can be raised to buy the 76-carat Golconda gem valued at Rs 250-300 crore.
Showers grace region
Flash flood catches Jaisalmer napping
Chandigarh/Jalandhar/Jaipur, June 8
Moderate to heavy rainfall across northern India has brought temperatures down, providing much-needed relief from one of the hottest summers in recent times, cheered up farmers and caused flash floods in desert districts of Rajasthan.

Jethmalani's road to RS gets tough
Jaipur, June 8
Noted lawyer Ram Jethmalani may have filed his nomination papers for the Rajya Sabha elections from Rajasthan, but with former Union Minister Santosh Bagrodia jumping into the fray as an Independent his road to the Upper House will not be easy.
NIA to book Army Major
New Delhi, June 8
The Union Home Ministry has sent out a serious poser to the Army, as it has asked the latter to carry out a probe as to who were the sources of the sensitive documents and presentations found on the personal computer of a Major, who is being probed by the National Investigating Agency (NIA).
Gen Nanda to face CoI over 'misconduct'
New Delhi, June 8
The Army today ordered a Court of Inquiry (CoI) into the charges of sexual misconduct levelled against Lt Gen AK Nanda by the wife of a junior officer. "A Court of Inquiry has been ordered to investigate the charges levelled against Lt Gen Nanda by the wife of a Colonel," officials at the Army headquarters here said. During the course of the CoI, Nanda would continue to remain in the present post — Engineer-in-Chief.
Manipur puts price tags on rebels' heads
Guwahati, June 8
Responding to a directive by Imphal Bench of Gauhati High Court, the Manipur government has put a cash award of Rs 1 lakh each on the heads of two influential Naga leaders responsible for the ongoing economic blockade of NH-39 and NH-53, the key supply routes to the state.
Gyaneshwari Train Mishap
Another arrest
Kolkata, June 8
The police today claimed to have made a major breakthrough in the Jnaneswari derailment case by arresting a person they described as a "key conspirator". Samir Mahato was arrested from Kusumdinga village in Manikpara area of Jhargram last night, a CID source said.
Two more bodies found near site
Kolkata, June 8
In an inquiry done by the CBI into the Gyaneshwari train accident near Jhargram, west Midnapore, on May 28, two bullet-ridden bodies were found today on a road in the nearby Jamboni forest area.
RS Poll
BJP cold-shoulders woman candidates
New Delhi, June 8
The BJP has completed the selection process for the biennial Rajya Sabha elections, but not a single woman candidate was nominated. And this, despite the BJP National Council session at Indore in February ratifying an amendment to its constitution to firmly enforce 33 per cent quota for women at all levels.
Three years in office
Divine hand guiding me, says Goa CM
Panaji, June 8
Goa Chief Minister Digamber Kamat said a divine hand was guiding him in the governance that is helping him overcome the obstacles. Kamat, in a booklet "Golden Glow", released by the state government on the completion of three years, said, "I am conscious of the fact that the divine hand is guiding me to fulfill my mission of service to fellowmen and helping me overcome obstacles in my path."
Scribe narrates traumatic events of '84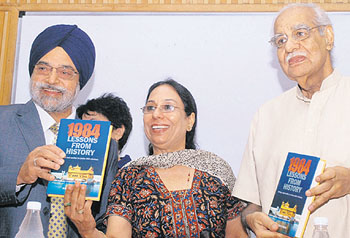 New Delhi, June 8
Twenty six years after the traumatic events of 1984, ranging from Operation Bluestar to the assassination of Prime Minister Indira Gandhi, anti-Sikh riots and a decade-long terrorism, journalist, author and filmmaker Harminder Kaur launched today her book, "1984: Lessons from History- Intrigue and conflict in Center-Sikh Relations".
Justice RS Sodhi along with noted journalist Kuldip Nayar at the launch of Harminder Kaur's book "1984: Lessons from history", in New Delhi on Tuesday. Tribune photo: Manas Ranjan Bhui

Sonia behind Pawar's troubles, says Thackeray
Mumbai, June 8
Shiv Sena supremo Bal Thackeray believes that Congress president Sonia Gandhi is behind Nationalist Congress Party leader Sharad Pawar's troubles over his association with the IPL.
SC okays Rs 6.1 lakh relief for negligence
New Delhi, June 8
The Supreme Court today dismissed a petition filed by an eye specialist challenging the Rs 6.1 lakh compensation awarded to a three-year-old boy who lost his left eye vision due to medical negligence.
Mumbai blast accused extradited from UAE
New Delhi, June 8
The CBI today brought Taher Mohammed Merchant, alias Taher Taklya, alias Taher Mohamed Dada, one of the prime accused of Mumbai blasts on March 12, 1993, from the United Arab Emirates to India on extradition.
Six to enter RS unopposed from TN
Chennai, June 8
Three candidates of the ruling DMK, two from the AIADMK and a Congress nominee are all set to be elected unopposed to the Rajya Sabha from Tamil Nadu with the nominations of all four Independents rejected by the electoral authorities.
Heat kills 14 in Orissa
Rourkela, June 8
The searing heat wave in Orissa's Sundergarh district has claimed 14 lives in five days with no sign of the mercury coming down from 46 degrees Celsius.
Abetment to suicide
Father accuses school principal
Kolkata, June 8
A father lodged a police complaint against the principal and four teachers of a missionary school here alleging they were responsible for his son's death.
Mohinder is NCMEI member
New Delhi: Mohinder Singh, an eminent Sikh historian, has been appointed a member of the National Commission for Minority Educational Institutions. Singh is a well-known scholar of Sikh history and started his educational carrier at Baring Union Christian College, Batala, in 1968. He later taught at S.G.T.B. Khalsa College, University of Delhi and the Punjabi University, Patiala. — TNS