Corporates behind tribal wars: Arundhati
Chennai, June 5
Drawing a parallel between the Sri Lankan conflict and the Maoist issue, social activist and Booker prize winner Arundhati Roy has alleged that the Indian corporates were behind both the "wars against the local people".
Fresh controversy over pay panel recommendations
Pre-2006 Majors receive pension lower than JCOs
Chandigarh, June 5
A fresh controversy over anomalies in fixation of pension has arisen, with officers who retired as Majors and equivalent claiming that their pension has not been fixed in accordance with the accepted recommendations of the Six Pay Commission (SPC) recommendations. Consequently, their pension has been fixed at the minimum scales applicable to a Lieutenant, two rungs below, thereby not only lowering their status, but also causing them a loss of several thousand rupees per month.
Rajya Sabha Polls


Anand Sharma Congress nominee from Rajasthan
New Delhi, June 5
The Congress today finally announced the candidature of Union commerce and industry minister Anand Sharma from Rajasthan for the Rajya Sabha biennial elections, thus putting an end to the prolonged suspense over his renomination.
BCCI chief blasts Modi, says Amin not part of Pune bid


New Delhi, June 5
BCCI president Shashank Manohar today launched a scathing attack on Lalit Modi, accusing him of "tarnishing" the image of the board and making misleading allegations that interim IPL chairman Chirayu Amin was part of a failed bid for the Pune franchise.

Shashank Manohar

Planning Tirupati darshan? Be decently dressed
Dress code for devotees soon


Hyderabad, June 5
The authorities at Tirumala, the country's richest temple, are planning to introduce dress code for pilgrims visiting the hill shrine.The idea is to maintain spiritual ambience in the temple premises and discourage devotees from wearing indecent and vulgar dresses," said IYR Krishna Rao, the Executive Officer of Tirumala Tirupati Devasthanams (TTD), an autonomous board managing the affairs of the popular shrine.
Varun copter 'not allowed' to land in UP
BJP cries foul; Pilibhit MP addresses rally over phone
Lucknow, June 5
Firebrand BJP MP Varun Gandhi today addressed a mammoth public meeting in Hathras over the telephone after the Mayawati government allegedly refused permission for his helicopter to land there.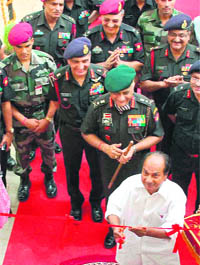 Defence Minister AK Antony inaugurates a housing project as Army chief VK Singh and other officers look on at Army's Central Command in Lucknow on Saturday. — PTI
UP woman assaulted, paraded naked
Aligarh, June 5
A woman has charged six persons, including district BSP president, of assaulting and later parading her naked in a market, following which a case has been registered against them by the police.
'Attack' on Sri Sri
Farm owner fired bullet to scare away dogs: DGP
Bangalore, June 5
Ending the nearly week-long mystery over the firing incident at Art of Living founder Sri Sri Ravi Shankar's ashram here, the police today said it was a stray bullet fired by a nearby farm house owner to scare away dogs.
Mid-air collision averted
Chennai, June 5
A near-collision between an Indian Airlines aircraft and Jet Airways flight over Tiruchirappalli airspace was averted today by timely alertness of pilots of both planes, together carrying 242 persons, airport sources said.
Name in selection list no guarantee for job: SC
New Delhi, June 5
The Supreme Court has ruled that aspirants for government jobs cannot stake their claim to appointment just because they have made it to the "select list" containing names in excess of the number of vacancies.
Army chief to visit Bhutan
New Delhi, June 5
Indian Army chief General V.K. Singh will be visiting Bhutan on a five-day trip starting June 7. This will be Gen Singh's first official visit abroad after he took over as the Army chief on March 31, a spokesperson said.
NIC member quits over Thackeray's inclusion
New Delhi, June 5
The inclusion of Shiv Sena executive president Uddhav Thackeray to the recently reconstituted National Integration Council (NIC) has sparked off a row with a member even resigning from the body.
Determined to green Thar on his own
Pali (Rajasthan), June 5
Inspired by the green cover in the desert area of Israel, a man here is determined to transform the Thar desert by undertaking massive plantation on his own.
All's not well with Rajasthan's flora, fauna
Jaipur, June 5
Even as the World Environment Day is celebrated across the country today, a close look at flora and fauna of the desert state presents a gloomy picture.
'Letter' cloud over ULFA peace talks
Both govt, rebel group await formal invitation from the other side
Guwahati, June 5
Who will make the first step in the form of a formal letter to set the ball rolling for the peace process with the banned United Liberation Front of Assam (ULFA)? This big question has clouded the peace overtures as announced by Assam Chief Minister Tarun Gogoi before the media here on May 26 last.