Mirchpur: Jats seek CBI probe
Hisar, June 5
Jat residents of Mirchpur village in this district have demanded a probe by the Central Bureau of Investigation (CBI) into the violent incident that left two Dalits dead a few weeks ago.
PIL on doctor's selection dismissed
Chandigarh, June 5
The Punjab and Haryana High Court has made it clear that physicians are resourceful enough to fight their own battle against wrong and illegal appointments. The assertion came while dismissing a PIL petition, alleging faulty selection of a doctor by Haryana.
Youth stabs girlfriend to death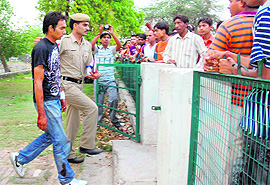 Karnal, June 5
In a gruesome act, a girl in her late teens was allegedly stabbed to death by her lover while they were on a date at Karna Lake here today. The accused identified as Maninder allegedly attacked Renu with a sharp-edged weapon inflicting multiple injuries on neck and other parts of the body. Eyewitnesses said she died on the spot.
The accused, Maninder, in police custody in Karnal on Saturday. Tribune photo: Ravi Kumar

Garima, the cloned buffalo, turns 1 today
Karnal, June 5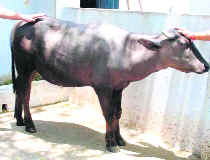 Enthused by successful experiments on India's first cloned buffalo "Garima", scientists at the National Dairy Research Institute (NDRI) have decided to celebrate her first birthday tomorrow. The cloned buffalo was kept under close supervision and its growth was monitored on a daily basis. Garima, who weighed 43 kg at the time of birth, added 800 gm weight everyday and was 300 kg on the eve of her first birthday. She was keeping good health and will be ready for breeding in the next few months once its weight increases to 350 kg, Dr Shiv Prasad, cattle yard in charge, said.
2 cops booked for barbarism
Fatehabad, June 5
The police today registered criminal cases against two cops for barbaric torture of a youth in the Nagpur police post here earlier this week. The police has also booked two members of the family of in-laws of the victim, Ninder Singh, who allegedly utilised the services of these cops for settling a marital dispute with the youth.
3 prisoners held for jail inmate's murder
Karnal, June 5
In a major breakthrough, the Karnal police today solved the mystery behind the death of jail inmate Pratap Singh on May 27 and arrested three prisoners, undergoing sentence in the same jail. The three accused, identified as Sandeep, Anil and Sunny, were produced in the court of Alka Malik, Civil judge, Senior Division, who remanded them to one-day police custody.
Khap panchayat hails CM's remarks
Jind, June 5
The Sarva Jatiya Khap Panchayat has welcomed the statement of Chief Minister Bhupinder Singh Hooda on the issue of marriages in same Gotra recently. It has asked the Chief Minister and the ruling party to bring a resolution in the Assembly and ban the marriages within the same Gotra and the same village in Haryana.
Drive against same-gotra marriages
Yamunanagar, June 5
Members of Sarva Jatiya Khap Panchayat will soon launch a campaign to mount pressure on the government to frame a law to prevent same-gotra marriages. The members of the panchayat will campaign in all villages to get support of the public, said members of various organisations during the khap panchayat meeting held in Punjabi Dharamshala in Jagadhri here today.
Storm claims life
Yamunanagar, June 5
Strong winds coupled with rain claimed one life while a large number of trees were uprooted in different places here last night.
Youth held for raping 70-yr-old
Rewari, June 5
The Bawal police has arrested Dinesh (21) of Jhabua village, who allegedly raped an 70-year-old woman of the same village on June 1.