Ethnic violence spreads, toll 86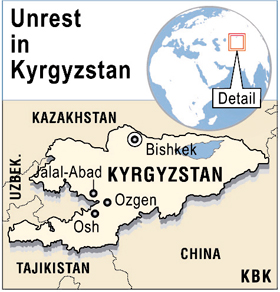 Moscow, June 13
Ethnic unrest spread to south Kyrgyzstan's Jalal-Abad region where emergency was clamped today, as violence continued unabated claiming 86 lives in three days of anti-Uzbek riots.
The violence between ethnic Kyrgyz and minority Uzbeks that flared up in the southern Osh city on Thursday has spread out to other southern regions, considered a stronghold of deposed President Kurmanbek Bakayev.
The death toll rose to 86 today, while over 1,000 were reported injured, according to the figures of Kyrgyzstan's health ministry.
A state of emergency was extended to a 24-hour curfew in the tense Osh city where street battles continued with no let up in violence.
The authorities also extended a state of emergency today across the entire southern Jalalabad region as heavy fighting spread there from neighbouring Osh.
Struggling to contain rampaging mobs, the government announced a partial mobilisation of reservists and urged persons under 50 subject-to-recall to report today, ITAR TASS reported.
The government decreed that lethal force would be authorised to repel attacks against authorities and civilians and to stop destruction of property. "If we do not take opportune and effective measures the unrest could become much more serious and descend into a regional conflict," it said.
Jolted by the violence, Kyrgyzstan's interim President Rosa Otunbayeva yesterday sought the help of Russian forces to quell the unrest, but Russia declined saying it was an internal conflict of the country.
The minority Uzbeks lined up to flee the city of Osh, which according to many accounts was black with smoke, with plumes emerging from residential and business quarters of Uzbeks.
Thousands of people are fleeing the fighting and looting and heading towards the border with neighbouring Uzbekistan, reports said.
In Jalal-Abad, a crowd of 3,000 to 5,000 people gathered, some of them carrying sticks and stones, and demanded that ethnic Uzbeks be evicted from the region, Interfax reported.
Medical brigades from Bishkek and other regions were being dispatched to the south to help the local doctors as hospitals overflowing with people.
Some witnesses said the situation in Jalal-Abad appeared to be more tense than in Osh as incidents of shooting, arson and looting were reported.
Local residents said they could hear blasts, and that the explosions led to fatalities.
The Kyrgyz interim government also authorised the military, policemen and vigilantes to apply combat weapons in emergency situations to control the spreading violence.
With international calls seeking calm growing, Kremlin spokesperson Natalia Timakova said President Dmitry Medvedev, as rotating president of CSTO collective security pact of CIS nations has called for national security councils-level consultations tomorrow to explore possibility of sending a joint force to Kyrgyzstan, a member of the post-Soviet military bloc.
Meanwhile, human rights groups have warned of a humanitarian crisis brewing in the region as the minority Uzbeks are fleeing to Uzbekistan using any means of transport. — PTI