People kept away from Zero Line
Zero Line (Chamliyal) June 24
On a day when India and Pakistan began the process of bilateral talks in Islamabad for improving relations, security forces of both countries kept the public away from Zero Line at the annual Baba Chamliyal Mela here today.
Colleges witness huge rush of admission seekers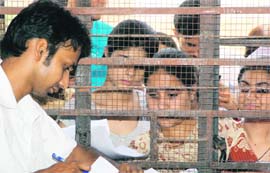 Jammu, June 24
Despite hot climate, colleges in the city are witnessing a huge rush of students seeking admission to various bachelors courses. The number of aspirants is increasing with every passing day. The last date for the sale and receipt of filled admission forms is June 26 and some colleges will declare the first selection list on June 30.

Students submit admission forms at Government College for Women at Parade in Jammu on Thursday. Photo: Inderjeet Singh
Abandoned baby girl in hospital, mother missing
Sunderbani, June 24
At the sub-district hospital here lies an eight-day-old abandoned baby girl whose mother, a minor, has been missing from her house in Makol village for the past few days.
Omar elected state Haj panel chief
Srinagar, June 24
The State Haj Committee has unanimously elected Chief Minister Omar Abdullah as its chairman at its meeting here today.
Sonia urged to withdraw support to Omar govt
Jammu, June 24
Bhim Singh, chairman of the Panthers Party (PP), has urged Congress President Sonia Gandhi to withdraw her party's support to the Omar Abdullah government in the interests of the party and the country. According to a handout issued by the PP, Singh has written a letter to Sonia Gandhi, urging her to take prompt and immediate action to withdraw the support.


Members of the BJYM protest at Maheshpura Chowk in Jammu on Thursday. Photo: Inderjeet Singh
Shalin Murder Case
Probe officers shifted under pressure: Father
Jammu, June 24
Naresh Gupta, father of Shalin Gupta, today broke his silence over his son's murder and raised questions over the transfer of an SP and an SDPO, who were investigating the case. He also appealed to people to raise the issue to ensure speedy justice for them.
4 months on, OBC board still without members
Jammu, June 24
Though more than four months have passed after the appointment of the vice-chairman of the Other Backward Classes (OBC) Advisory Board, the ruling coalition has failed to appoint other members of the board due to political reasons. The coalition partners, Congress and NC, was to give a list of 15 members each for the newly constituted advisory board but they have failed to prepare the lists.
All set for Mughal Road car rally today
Srinagar, June 24
All is set for the first-ever car rally, named as "Mogul rally---in the footsteps of Jehangir" via the historic Mughal Road in which 40 participants will be flagged off from the Royal Springs Golf Course (RSGF) here tomorrow. After traversing about 1,100 km, including the 84- km-long Mughal Road strip, the first group of rallyists will reach here on Saturday evening.
Power failure
High drama outside hotel
Jammu, June 24
High drama was witnessed outside a private hotel on the Residency Road late last night when a party was going on there and the generator stopped working.
Rutt-Rahade festival celebrated
Jammu, June 24
The World Women's Awakening Organization (WWAO), J&K Chapter, today celebrated Rutt-Rahade festival at Balika Niketan, Ved Mandir. In the festival, the young girls of Niketan were taught about the importance of "Rutt-Rahade".
2 taken into preventive custody over cow's death
Nowshera, June 24
Tension gripped the town this afternoon after the death of a cow in the border village of Jhangar yesterday.Shopkeepers at the main market put up the shutters when the villagers reached the town along with corpse in a tractor-trailer.
Unidentified body recovered
Jammu, June 24
An identified body of a middle-aged man was found from near the Peer Baba shrine at Industrial Area in Bari Brahmana today.
Narrow escape for journalist
Jammu, June 24
The Resident Editor (RE) of Amar Ujala here had a narrow escape this afternoon when an army vehicle hit his official car near Satwari Chowk.