Students arrested for looting food delivery boys
Chandigarh, July 3
A gang of five engineering students, allegedly involved in looting home delivery boys of various food joints of food items and cash in the city, today landed in police net.
GMADA accused of unfair trade practice
Chandigarh, July 3
Already drawing flak for encouraging "betting" on plots in Aerocity, the Greater Mohali Area Development Authority (GMADA) has attracted criticism from consumer rights activists for allegedly adopting unfair trade practice while inviting applications against the housing project. The activists have also highlighted the role of financial institutions in adopting "monopolistic and restrictive trade practice" while financing the plots.
Mercury rises again
Monsoon likely to be delayed: Met
Chandigarh, July 3
After a day's respite, the city again experienced sultry conditions today with the mercury rising by over six degrees from Thursday's 30.2 degrees Celsius to 36.3 degrees.


Ambala-Chandigarh Stretch
Illegal sewage lines along highway removed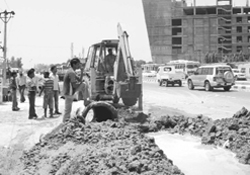 Zirakpur, July 3
The company undertaking maintenance of the Ambala-Chandigarh highway today removed illegal sewage lines connected to storm water RCC drains. However, the team had a tough time conducting the drive, as many residents raised objections.



A JCB machine removes an illegal drain connection along the Chandigarh-Ambala Highway on Saturday. A Tribune photograph
Chandigarh-Mullanpur-Baddi Stretch
Potholed road gives hard time to commuters
Mohali, July 3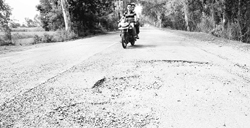 Despite assurance from the Punjab Public Works Department, the condition of Chandigarh-Mullanpur-Baddi road continues to be pathetic. Potholes on the road make the journey bumpy. "The entire purpose to open the Baddi-Siswan road has failed as the connecting road is in a bad shape", said Arvind Puri, a resident of Mullanpur.
Potholes on the Chandigarh-Mullanpur-Siswan road. Tribune photo: Vicky Gharu
Telegram delivered after 8 days!
Chandigarh, July 3
In this era of information technology, the telegraph wing of Bharat Sanchar Nigam Limited seems to be living in ancient times.


UGC Regulations
VC gives assurance to PUTA members
Chandigarh, July 3
Taking cognisance of the apprehensions expressed by the Panjab University Teachers' Association (PUTA) on the latest regulations issued by the University Grants Commission (UGC), the PU Vice-Chancellor today assured PUTA representatives that the interests of the teachers would be taken care of and the career advancement scheme (CAS) promotions would not suffer on account of the new regulations.
Class XI
Only 3 seek admission in medical stream
Mohali, July 3
Even as the admission process to Class XI in the Government College here draws to a close, only 5 per cent seats have been filled in the medical stream and 17 per cent in the non-medical stream till today.
More students admitted than available seats
Chandigarh, July 3
Leaving many a student, surprised, the UT education department has admitted more students than the total number of science seats in various renowned government schools.
Boys allotted seats in girls schools
Chandigarh, July 3
In a sheer display of the failure of the UT education department's Class XI online counselling, several boys were allotted seats in the city's all girls schools.
PU's B-school to get new syllabi
Chandigarh, July 3
It has been 10 years since the management, curriculum and teaching methodology at Panjab University's coveted University Business School were last revised.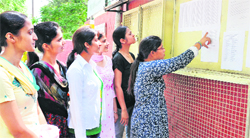 BBA most sought-after course
Chandigarh, July 3
With various city private colleges declaring their first cut off lists, Bachelors in Business Administration (BBA) has emerged as the most sought-after course. Having a flattering high merit, the course had an all time high number of applications with over 15 applicants per seat.
Students take a look at the admission list for the BCA, displayed at MCMDAV College, Sector 36, Chandigarh, on Saturday. Tribune photo: Parvesh Chauhan
BSc hospitality at Pbi varsity
Patiala, July 3
The department of tourism, hospitality and hotel management, Punjabi University, will start a three-year BSc course in hospitality and hotel management from the forthcoming academic session.