Bagauli for rain water harvesting during monsoon
Nainital, July 4
The district administration has drawn up an impressive road map to complete various water conservation projects by making optimum of the Mahatma Gandhi National Rural Employment Guarantee Act (MNREGA) during the monsoon. These projects include rain water harvesting, water conservation, storage facilities, etc.
DM for beautifying tourists spots
Dehradun, July 4
District Magistrate (DM) Santhiyal Pandiyan held a meeting of Tourism Advisory Committee officers at the Vikas Bhawan here yesterday to make sure that tourism-related projects and activities are carried out in an effective manner.
BJP falsely blaming Cong for all ills: Dhasmana
Dehradun, July 4
Senior Congress leader Suryakant Dhasmana today asked his partymen in Uttarakhand to give a befitting reply to the BJP misinformation campaign against the Congress-led UPA government at the Centre.
Ex-servicemen discuss pension issues
Dehradun, July 4
To discuss the pending issues of the pension below officer rank (PBOR), the Purv Sainik Welfare Association held a convention on the campus of Junior High School, Johri Gaon, here today.
School Van Assn burns PM's effigy
Dehradun, July 4
Agitated by the price hike of petrol, diesel and kerosene, members of the Uttarakhand School Van Association burnt an effigy of Prime Minister Manmohan Singh at the Clock Tower here today.
Uttarakhand to have disaster response force
Nainital, July 4
Owing to its being prone to natural disasters on account of its fragile mountainous landscape and high seismic activity, Uttarakhand will soon have two companies of the National Disaster Response Force (NDRF) posted in the state permanently.
First responder bulletin in Braille released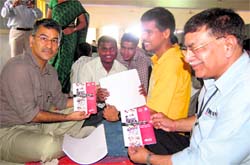 75 visually impaired learn emergency care techniques
Dehradun, July 4
GVK EMRI 108 Emergency Services yesterday provided training to visually impaired children at the National Institute for the Visually Challenged. A first responder bulletin in Braille was also released.


Anup Nautiyal, CEO of 108 Emergency Service, launches a manual in Braille in Dehradun on Saturday. A Tribune photograph

Afforestation drive gains momentum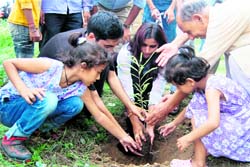 Dehradun, July 4
An afforestation movement in Dehradun gained momentum when 120 saplings were planted by the Kaash Society at Mohkammpur, near railway track No. 35, here today. Around 60 persons from the organisation and village participated in the noble cause. Through this drive, the Kaash Society has pledged to plant 1,000 saplings in and around the city by July this year.

Vounteers of Kaash Society plant saplings in Dehradun on Sunday. A Tribune photograph

Rudrapur hotelier found murdered
Nainital, July 4
The murder of a Rudrapur hotelier has sent across shock waves around the region. It is learnt that the body of 30-year-old Nazim Raza, who was a resident of Sirgotiya, was found from a sugarcane field behind a residential colony on the Kashipur Road yesterday morning.
ABVP to plant saplings on foundation day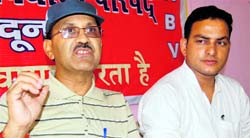 Dehradun, July 4
On the completion of 61 years, the Akhil Bharatiya Vidhrathi Parishad (ABVP) is commencing the Vidhyarthi Vriksha Mitra Yojna. July 9 is the foundation day of the association, where the programme will initiate with an aim to spread the awareness of saving environment and conserving trees.

Uttarakhand president of the ABVP Umed Singh addresses a press conference in Dehradun on Sunday. A Tribune photograph

Agitated villagers lock up mini bank
Annoyed at staff recruitment from another panchayat
Nainital, July 4
A newly opened mini bank at Chhoi village near Ramnagar has become a centre of controversy with villagers having locked up the bank immediately after its inauguration. The villagers are agitated over the deployment of a person from another panchayat in the bank.
Autumn Festival 2009 Scam
Govt should take strict action against offenders: MLA Gunsola
Mussoorie, July 4


The issue of Autumn Festival 2009 tender scam has raised the political temperature of the town with the demand for immediate action against the perpetrators of the scam after SDM Manoj Kumar submitted his report indicating major financial irregularities in organising the festival. Mussoorie MLA Jot Singh Gunsola has also joined the fray demanding immediate action on the report submitted by the SDM. Gunsola said reading media reports, it was evident that embezzlement of the public fund had been done by the Mussoorie Palika.
Jot Singh Gunsola