Snubbed by officials, champs feted by hotelier
Chandigarh, July 5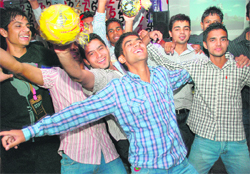 Atul Grover, a local hotelier, could teach a thing or two to the officials of the UT administration and the Chandigarh Football Association when it comes to acknowledging and encouraging sports achievers.





Winners of the 47th Junior National Football Tournament in a jubilant mood at a function in Chandigarh on Monday. Photo: Vicky Gharu
Partial bandh in city
Protests peaceful; transport normal
Chandigarh, July 5
On the nationwide Bharat bandh call given by the BJP against price rise, Chandigarh observed a partial bandh today amid tight security, with a substantial number of shops and commercial establishments closed.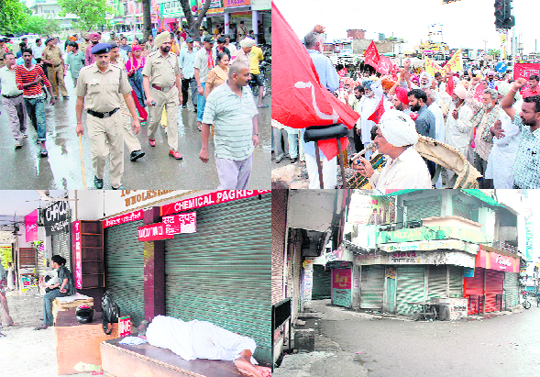 Clockwise: Men in khaki accompany protesters in Chandigarh; CPM leaders and workers block the Rajpura-Patiala road; deserted markets in Patiala and Chandigarh on Monday. Tribune photographs



Monsoon hits city, heavy rains expected
Chandigarh, July 5
After a prolonged wait the city as well as Punjab, Haryana and parts of Rajasthan and Uttar Pradesh today received the first monsoon showers, providing a welcome respite from the sweltering heat prevalent in the region for the past few days.

Schoolchildren enjoy the first monsoon shower in Chandigarh on Monday.
Tribune photo: Manoj Mahajan

MONSOON VAGARY: People wade through a flooded street following heavy rain at Baltana on Monday. Tribune photo: S Chandan
Sewerage gives way after downpour
Panchkula, July 5
Residents of Sector 28 had to face a lot of inconvenience today after freshly laid sewerage gave way due to heave rains that lashed the township here. People had to divert their vehicles to national highway-73 to reach their destinations.




Wheels of a car stuck in a damaged portion of a road following rain in Phase 3B1, Mohali; and (right) a flooded street of Dasmesh Nagar in Kharar on Monday.
Tribune photographs
No relief from power cuts
Chandigarh, July 5
Despite widespread rain today, power cuts left residents high and dry. Cuts affected several northern and southern sectors at a time when the humidity had increased after rain.
No light in sight for Night Food Street
Chandigarh, July 5
The pilot project of the municipal corporation (MC), the Night Food Street at Sector 14 here, is in a mess. Of the eight food kiosks, three have been shut down and two kiosk owners have not been paying monthly rent for the last two months, due to which corporation has been suffering losses.
PGI Founders Day Function Boycott
Authorities optimistic, faculty undecided
Chandigarh, July 5
Though the PGI Faculty Association is yet to finalise its decision to boycott the institute's Founders Day celebrations on Wednesday, the hospital administration has not given up hope and feels that the association and its office-bearers will see reason and participate in the function.
Exhibition on cancer awareness at PGI
Chandigarh, July 5
"Cancer is curable, if detected early with present day multi-modality approach," said Dr SC Sharma, head of radiotherapy department, PGI, while interacting with mediapersons in connection with a poster exhibition on "Cancer awareness, early detection and its prevention" to be organised as part of foundation day celebrations of the PGI on July 7.
Stress on prompt aid for accident victims
Mohali, July 5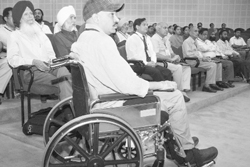 There is a general tendency among public not to help victims of accidents due to the fear of uninvited legal hurdles. There is a need to motivate people so that positive steps are taken to extend the best possible help in case of such eventualities," said Laxmi Kanta Chawla, Punjab health and family welfare minister during the opening of a two-day international workshop on road safety at the State Institute of Health and Family Welfare here today.
Delegates attend an international workshop on road safety at Mohali on Monday.
A Tribune photograph
Raids on to trace woman Married me, then my son, says complainant
Chandigarh, July 5
The Chandigarh police is probing a complaint lodged by a city resident against a woman of allegedly marrying both him and his NRI son to go abroad. The police has been trying to track the whereabouts of the woman.
Mahila Bhawan for empowerment of women
Chandigarh, July 5
The much-hyped Mahila Bhawan projected to be a big step towards empowerment of women in the city finally is to take off after Union Minister of Information and Broadcasting Ambika Soni laid its foundation stone on December 19 last year. The municipal corporation has floated the tenders for the building to be completed within 18 months.
Runaway couple's parents relent
Panchkula, July 5 A newlywed couple, who had married against the wishes of their parents, heaved a sigh of relief after their parents gave consent to their marriage here today.
Boy drowns in tank
Zirakpur, July 5 A 13-year-old boy, Simrerjit, drowned under mysterious circumstances in a water tank near a brick-kiln at Pabhat village here this afternoon. Santosh was a student of class VIII at the local GS Memorial School.
Cremation of accident victim
MC official keeps cops waiting for 6 hrs
Zirakpur, July 5
Municipal council staff failed to turn up at the cremation ground on time to perform the last rites of Jagir Singh, who had died two days ago in a road accident, here today.
Help disadvantaged, Patil tells Rotarians
Chandigarh, July 5
The Punjab Governor-cum-UT Administrator, Shivraj V Patil, has impressed upon Rotarians to enlarge the boundaries of their service and act as an instrument of change for the transformation of lives of the disadvantaged.


Adventure camps for govt school students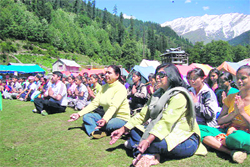 Chandigarh, July 5
In an effort to boost the spirit of adventure among schoolchildren, the UT education department has planned to introduce adventure sports activities.





An adventure-cum-sports camp, organised by the UT education department, in progress at Manali. A Tribune photograph
Admission Blues
GGDSD College shocker for outstation candidates
No admission without hostel
Chandigarh, July 5
In a surprising move GGDSD College, Sector 32, has refused to admit any student opting to stay in a paying guest accommodation.
GGDSD College commerce aspirants' favourite
Chandigarh, July 5
A perennial favourite among commerce students, GGDSD College, Sector 32, yet again emerged as the foremost choice of students at the centralised counselling for BCom course here today.
Recruitment: Guest teachers protest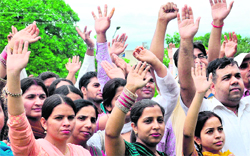 Chandigarh, July 5
Reacting to the advertisement for 1,200 posts of regular teacher with the UT education department, guest teachers protested at the Jama Masjid park, Sector 20, here today.



Guest teachers protest in front of the UT education department in Chandigarh on Monday. A Tribune photograph