M A I N N E W S
Ambala afloat, Army in
n Four persons electrocuted n Power switched off as precaution n Rail services severely disrupted n Flood alert in Punjab, Haryana
Yoginder Gupta and Suman Bhatnagar
Tribune News Service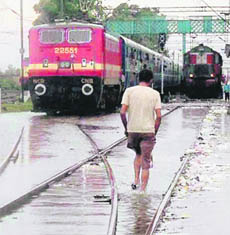 Ambala Cantt station, Tuesday.
Chandigarh, July 6
The Army has been called out in Ambala and Kurukshetra districts of Haryana, ravaged by floods following heavy rainfall in the past 24 hours.
At least four persons, including 10-year-old Rajnish of Naggal area, were electrocuted in Ambala, following which electricity was switched off. The supply was not restored till the time of reporting.
Ambala remained cut off from Chandigarh and Yamunanagar till late in the evening. Rail services were badly affected after the rail track at Ambala Cantt and certain other places was waterlogged.
The Delhi-Chandigarh Shatabadi Express, which should have reached Chandigarh at 11 am, was held up between Kurukshetra and Ambala. It reached Chandigarh at about 9 pm.
The passengers, including a number of senior Haryana bureaucrats, had a harrowing time. A resident of Panchkula, Mahesh Chandgothia, whose cousin, Nikunj Sanghi, was one of the passengers, told The Tribune that there was neither water nor food with the catering staff. It was only in the evening that the train reached Ambala and eatables were served. At least four passenger trains were cancelled today.
The Ambala DC said a breach in the Tangri river in the Jadhpur subdivision in neighbouring Punjab had added to the woes of the people. Even the Ghaggar was posing a threat. In Kurukshetra district, the SYL canal had been breached at point 36 near Jyotisar, flooding the low-lying areas of Shahabad.
A large number of localities in Ambala city and cantonment were under knee-deep water. Several roads to and from Ambala too were under water. With the Chandigarh-Ambala national highway flooded, traffic was diverted towards Banur from Haryana's border with Punjab.
Chief Minister Bhupinder Singh Hooda has directed the administration to launch rescue and relief operations on a war footing. Chief Secretary Urvashi Gulati is in constant touch with her Punjab counterpart to monitor the situation arising out of flood waters entering Haryana from the neighbouring state.
Financial Commissioner and Principle Secretary, Irrigation, SS Dhillon, is in Ambala to expedite the relief operations.
Bhanu P. Lohumi reports from Mohra village on the G.T. Road: The people of Mohra, the last village in Ambala district, and several adjoining villages had never imagined that the monsoons, for which they had been praying earnestly, would wreak havoc on them. The low-lying village along the GT Road was totally submerged in water. Even with trousers folded up to the knees, it was not possible to enter the village and people were virtually swimming their way to the road. "Since morning, the villagers have been trying to drain out water," said sarpanch Ajmer Singh. The misery had been compounded by the ongoing six-laning of the GT Road with all outlets for flood waters blocked, he added. The villagers rued that it was not for the first time that floods had wreaked havoc.
Punjab Deputy CM Sukhbir Singh Badal conducted aerial survey of marooned villages of Samrala sub-division. Later, he held a review meeting with district authorities, an official spokesman said here. Special pumps will be shipped into the affected areas to drain out flood water, he said. He said a statewide alert has been issued and officials were instructed to monitor water-level in all canals and rivers.
22 trains hit
Rail traffic was disrupted following flooding of railway yards at Ambala junction and Samrala. At least 22 trains were halted at stations en route the region as four others were cancelled and several diverted.
The trains running through Ludhiana-Ambala-Delhi section were diverted via Ludhiana-Dhuri-Jakhal-Rohtak-Delhi section while the traffic through Ambala-Chandigarh-Kalka and Ambala-Sharanpur sections had been suspended, Divisional Commercial Manager GM Singh said.
Ambala was wettest in the region at 190 mm of rains followed by Dera Bassi 130.4 mm, Rajpura 112.6 mm, Ropar 93 mm, Patiala 90.5 mm, Chandigarh 86.8 mm, Karnal 63 mm, Nangal Dam 59.1 mm, Sangrur 50.2 mm and Nawanshahr 30 mm.