THE TRIBUNe CAMPAIGN

SAVING SUKHNA: A BLUEPRINT
The Sukhna Lake has filled up with the recent rainfall, but all is certainly not well with it. We need to look beyond the immediate future and find out ways in which this landmark of Chandigarh can be salvaged, The Tribune canvassed experts and sought their advice. Here are suggestions that can become the basis of a blueprint for action.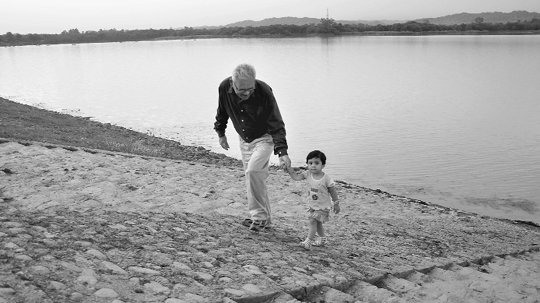 Do an ecological audit
R.K. Kohli
Professor and Chairman,
Botany Department,
Panjab University, Chandigarh

1. A thorough systematic 'Ecological Audit' of the wetland / catchment area and a thorough assessment of the soil texture, health, slope, above and below-surface water regime, apart from herbaceous and woody vegetation density, rhizosphere and biotic diversity of the whole catchment area and the wetland.
2. Watershed Management and Restoration Action Plan through gully control, vegetation contour 'bunding', water harvesting structures, etc.
3. Conservation of biodiversity and checking the introduction of Invasive Alien Species (IAS) of plants and animals.
4. Creation of permanent and active monitoring body of scientific experts for the maintenance of water quality and quantity.
5. Legislative and administrative measures with a mechanism of public participation.
Clean silt from lake-bed
Rajindra Singh
'Watermman' of Rajasthan

1. Check deforestation and plant more, particularly grass, to retain the water for recharging underground water reserves.
2. The project can provide better results under a single authority. Centre's intervention seems to be good option, in case of the Sukhna Lake.
3. The success story of silt dams in Aravari in Rajasthan has shown its impact on greening the catchment area.
4. The job of cleaning silt from the lake-bed, regularly, is of paramount importance in case of manmade lakes.
Be consistent & persistent
Medha Patkar
Narmada Bachao Andolan

1. Silt inflow will stop only if the soil is held together.
2. Vegetation holds the soil together and vegetation needs water. The process becomes complimentary after initial emphasis on plantation.
3. Silt retention dams are best suited for holding water sufficient for helping vegetation.
4. The catchment area of the lake is a forest area. So, instead of piecemeal handling, the project needs a comprehensive plan of action.
5. Once in a while efforts are not sufficient . The work and its implementation must be consistent, well-regulated and watched by the media.
Empty all check dams
S.P. Malhotra, former Engineer-in-Chief,
Irrigation Department, Haryana

1. There is no fear of excessive inflow of silt in the lake. Hence, the de-silting process is not required any more.
2. There should be a rule to empty all check dams by October 15, so that the lake's share of water is not retained in them.
3. A mechanism should be devised and be put on the lake to ensure silt-free water in the lake.
Ban urbanisation of catchment area
S.S. Virdi
Former Chief Engineer and Secretary Engineering, UT

1. Draw a master plan by team of experts suggesting a time-bound action plan
2. Total ban on urbanisation of catchment area, especially in the villages, including Khuda Ali Sher, Kansal, Kaimbwala and Saketri.
3. Dig out storage capacity and clear weeds from the escape channel.
4. Monitoring the programme of each department on regular basis by a senior officer from the Centre. Once the lake gets restored, the monitoring should still be done by the Adviser.
5. Spray chemical fertilisers and grass seeds after very monsoon.
Plant local vegetation
Sunderlal Bahuguna
Founder of the Chipko Movement

1. Care needs to be exercised in picking a right kind of vegetation for the catchment area. Only local varieties should be preferred and water guzzlers like eucalyptus need to be avoided.
2. Afforestation policy must ensure that only those species which regulated the hydrological cycle, produced maximum oxygen and absorbed maximum carbon dioxide, besides meeting needs of the local community for fodder, fuel and food, are propagated.
3. Water does not stop naturally and will not percolate into the ground unless stopped with grass plantation over the area.
4. Chandigarh needs to follow a comprehensive and unified plan of action for saving Sukhna by combining efforts of involving the states of Punjab and Haryana which sharing the catchment area. The Centre needs to take over the project.
Make slew walls, spillways
Arjun Singh
Former Additional Director,
Agriculture, Haryana

1. UT should spearhead a common centrally funded programme for the catchment area in totality irrespective of which state it falls into to start with.
2. The silted check dams in the catchment area should be desilted and surplus water in the check dams should be released by January every year, so that water level is maintained in the lake.
3. Spillways should be constructed for the free flow of water from check dams. Some mechanism should be devised to allow water to flow down.
4. At the regulator end of the lake, to avoid surplus water going waste due to heavy rainfall, slew wall should be constructed.
Check dams need de-silting
S.S. Grewal,
President, SPACE

1. The Society for Promotion and Conservation of Environment (SPACE) did a survey and found that one-third of the 150 water bodies, wherein check dams have been built, need immediate de-silting. A proper mechanism should be put in place so that water can be released.
2. These dams should be kept functional throughout the year and should be desilted and again prepared for retaining silt during the rains.
Ensure water channel management
G.S. Dhillon,
former Chief Engineer, Research-cum-Director, I
rrigation and Power, Amritsar

1. There should be water channel management, especially below the check dams, so that clear water when flows down the stream does not carry silt with it. Extend channel management to the entire catchment area..
2. A silt removal devise in the form of a channel should be made at the regulator end and the present flow of water from upstream should be shifted to the regulator end.
Centre should take control
Lt Col B. R. Paruthi
Member, Save Sukhna Forum, 2004
1. Declare Sukhna a property of National Heritage, with the Centre taking full control for its upkeep.
2. Rope in the World Bank for funding the 'Save Sukhna' plan and also for its upkeep.
3. A confluence pond needs to be dug up in the catchment area to prevent silt inflow. The lake needs to be divided into two parts-wet and dry. Dry dredging should be carried out in the dried-up portions.
4. Sand should be commercially disposed off. Silt could be dumped along the railway line.
5. Seek the Army's help in de-silting the area. The Army should have no trouble in intervening to save a national heritage.
6. Bamboo grown in a pattern of 'kila bandi' (fort erection) will be very effective in checking the inflow of silt from the catchment area.
De-weed the lake
Ashok Thapar, Chief Engineer,
BBMB, Bhakra Beas Management Board
1. The efforts that have been made by the UT Administration are commendable and are worth replicating elsewhere. However, in case, simultaneous efforts are also made at the source feeding the Sukhna Lake, no de-silting work would be required for at least 10 years.
2. The lake has been de-weeded manually. However, latest techniques for eradicating this problem such as adoption of micro bubble technology for aerobic decomposition of weeds naturally would be the right answer.