M A I N N E W S
On yatra, Jagan attracts huge crowds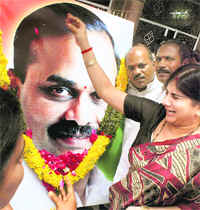 Supporters of late AP CM YS Rajasekhara Reddy pay tributes to him on his 61st birth anniversary in Hyderabad on Thursday. — PTI

Hyderabad, July 8
Ignoring the warning by the Congress leadership, party MP Y.S. Jaganmohan Reddy on Thursday began his 'Odarpu' yatra in Andhra Pradesh's Srikakulam district, attracting huge crowds.
Thousands lined up both sides of the streets and stood on rooftops to welcome Jagan at the start of his three-day campaign in Itchapuram town.
The Kadapa MP unveiled a statue of his late father and former chief minister Y.S. Rajasekhara Reddy on his birth anniversary and paid floral tributes to him at the site where YSR ended his 68-day 'padyatra' in 2003.
The young leader briefly addressed the massive crowds before setting out to console families of those who died of shock following YSR's death. Addressing people in a style which reminded of his father, Jagan was visibly impressed by the huge turnout. "I am not alone. My father has left behind such a huge family," he said. — IANS