Yes bose!
In the city to walk the ramp, Rahul Bose is at his candid best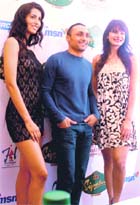 He is such a refreshing change…the profound statement needs a justification. Sure it does. With our copies surviving on the clichés - 'Oh, I am glad for the XYZ for giving me the opportunity', ' I am doing this for charity', 'My heart goes out for the poor children, 'I don't care about style as long as I am comfortable in my skin'…. most of them sincerely carried forward like the relay baton! But the short-statured, terse, occasionally smiling Rahul Bose was such a breather.




L-R: Manasvi Mamgai, Rahul Bose and Aanchal Kumar

ROB-ing the show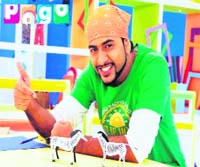 Harun Robert, aka Rob, of POGO's MAD art show spreads his MADness in the city
Here, art means picking up an old newspaper, an old piece of cloth, food or anything that catches your fancy, and creating your own masterpiece. Stunts would mean using your body as a paintbrush and learning musical acrobats. Fun means total MADness that comes with parent-approved tag!If you have a kid at home who is painting your walls, tablemats and anything that he can catch hold off, then you know what we are talking about.
koffee break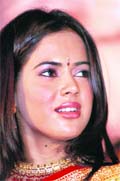 New look Sameera
The sultry Sameera Reddy, who first appeared in Ghazal singer Pankaj Udhas's Aur Ahista music video and debuted in Maine Dil Tujhko Diya in 2002, is enjoying her new look in Ananth Mahadevan's Red Alert, a film about naxalites from Andhra Pradesh. The viewers watched her in Buddhadeb Dasgupta Bengali film Kaalpurush in a non-glamorous role. Now, she is gearing up for the release of Red Alert where she plays a naxalite.


Sameera Reddy
Fashion and fitness
Bollywood actor Bipasha Basu has launched her own line of fitness clothing named BBloveyourself along with Reebok."I have launched my own line of fitness clothing called BBloveyourself with Reebok! Fun range, available at all outlets. Check it out," she posted on Twitter.
Friends, forever
Seventeen-year-old Sumrit Shahi joins the brigade of young, upcoming writers with his debut novel Just Friends
Sumrit Shahi deals with what, probably, every teen deals with — trying to make sense of the nomenclatures 'special friends', 'true friends', 'just friends'. To each his own!
Side Lanes
Support systems down under
When our son and daughter-in-law left a thriving medical practice at Chandigarh and re-located to Australia, a fear of the unknown plagued each one of us.