Friends, forever
Seventeen-year-old Sumrit Shahi joins the brigade of young, upcoming writers with his debut novel Just Friends
Manpriya Khurana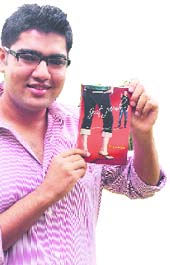 Sumrit Shahi deals with what, probably, every teen deals with — trying to make sense of the nomenclatures 'special friends', 'true friends', 'just friends'. To each his own!
"On Valentine's Day, I was sitting over coffee with a friend when we were tagged as seeing each other or something of the sort. I was like can't a boy and girl having conversations over coffee, be just friends?" the 17-year-old wallows in the 'wow' feeling of coming up with his first book and begins sharing the freak incident that acted as the trigger point for Just Friends.
Like we said, the author tackles the million dollar question — can a girl and boy just be friends or rather can a girl and boy be just friends? He knows everything about her…she knows everything about him…he has her picture…she has his number on speed dial…there's a big YET to the entire situation. They still don't love each other, they're just friends. Adds Sumrit, "The book is a journey of two characters who meet on a flight…decide to share coffee and end up sharing life…Can a girl and a boy liking, living, loving, lusting, losing…each other be just friends." Thrown in is spoken, colloquial lingo, generous use of slang (read yaar, hey, shut up)…the narration's dotted with situations forming a routine of any average adolescent. Coffee shops, group studies, et al… "I tried edging out characters and extracting things out of every situation, for example MSN chats," adds the St. John's alumnus. "Had I not been a part of the Crucible, creative writing club of my school, I don't think I would've been able to pen it."
Meanwhile, originally meant as a short story, the book just happened. He smiles, "As soon I had the urge I'd write, at times even on a tissue paper. Six months after the idea, I thought of writing a short story but even before I knew, I was writing a book," and adds, "I penned down the book in four to five months, but it happened in phases." As for now, what's on cards is class XIIth board exams. "Right now I'm just concentrating on my exams. As for making publishing a career, I have a couple of ideas in mind."
Back to square one, so can a girl and boy just be friends? He smiles, "Well, for that you have to read the 264 pages," and adds, "It all depends on how you define relationships, love and friendship."
manpriya@tribunemail.com