Breaches in Fatehabad; Army called in
35 villages marooned due to floods
Sushil Manav
Tribune News Service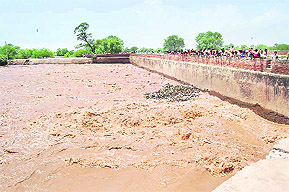 The Rangoi Nullah in spate in Fatehabad on Sunday. A Tribune photograph

Fatehabad, July 11
The authorities today called the Army for help with over 35 villages marooned due to floods caused by the Ghaggar and the situation turning worse with each passing hour. Men of the 33 Armoured Division from Hisar have reached the district under Col Russell D' Souza for plugging three major breaches in the Rangoi Nullah near Meond, Talwara and Shakarpura that have aggravated the flood situation since this morning.
"60 men from our division have come here. We will assess the situation today and start the plugging work tomorrow," D' Souza told The Tribune at the Chandpura head.
Flood waters are spreading to the fields from the Mamupur siphon of the Ghaggar under the Bhakhra Main Branch (BMB) and the Joiya stream that takes off from the south bank of the Ghaggar about 8 km north of the district boundary at Phulad (Sangrur in Punjab).
Lamba, Dhani Babanpur, Kamana, Alika, Ganda, Khai, Mehmadki, Teliwara, Nathwan, Kamalgarh and Mehmada falling under the Ratia subdivision and Haidarwala, Hindolwala, Lalluwas, Chillewal, Nathwan, Diwana, Dher, Shakarpura, Meond Khurd, Meond Kalan, Nadel, Chuharpur, Talwara, Talwari, Sadanwas, Chandpura, Kasampur, Sidhani, Udaipur, Himmatpura, Simbal and Puranmajra of Jakhal and Tohana areas of the district have been affected by the floods.
Most villages have been cut off from nearby towns. A road of the irrigation department on the BMB is the only mode of transportation for the villagers as well as the authorities.
A stretch of agriculture land running into several kilometres has come under 6ft to 8ft water.
The paddy fields are making the situation worse as the flood waters are flowing at a great speed without percolation into the soil.
Villagers had a tiff with the authorities at Diwana. They cut off the Kulan-Jakhal-Chandigarh road with JCB machines, despite directions of the authorities to the contrary, to make way for the water flow towards Ratia and Fatehabad.
The situation continues to be grim as the flow of water crossed 30,000 cusecs at Chandpura, much higher than its capacity of 22,000 cusecs. Similarly, the Rangoi Nullah is running at 12,000 cusecs, against 10,000 cusecs yesterday.
Chief Parliamentary Secretary Prahlad Singh Gillankhera, accompanied by the DC, SP, ADC and Superintending Engineer of the Irrigation Department toured the flood- affected villages.