Wheel of fortune
It's celebration time for the members of the club on International World Jawa Day
Of course there are many practical and emotional reasons to explain why old is gold. The razzmatazz remix music is no match to the soulful strings woven by Lata Mangeshkar and Mohammad Rafi.


— Photo: Vicky Gharu

Eat-o-nomics
Cafes, fine-dine restaurants, lounges, café-cum-bars; what's your pick?
Hungry kya? Looking to satisfy your hunger pangs, but not with the same dal makhani-panner… blah blah routine! One detailed food-hunting trip in Chandigarh will bring out the point that the eating out concept has changed in theory and practice.


Something fishy!
Kanika Dhillon's upcoming book Bombay Duck is a Fish takes a dig at the film industry
Film scriptwriter is a rare tag, but then so is assistant director. If you're a budding author, you're almost there. If Shah Rukh Khan tweets about you, you've more than arrived! Well, so has Kanika Dhillon. Come September and she's out to tell the world that Bombay Duck is a Fish.


Fine blend
Blessed with the intuitive power and love for North Indian classical music, Bangalore-based young exponent Koushik Aithal (26) has emerged as the youth icon in promoting the genre in Karnataka, the citadel of Caranatik music tradition. Initiated into music by her singer mother and maternal uncles, all into light music, Koushik, an MBA, opted for Indian classical and carved a niche for himself in the realm.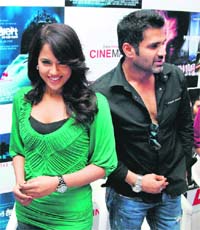 GIMME RED: Suniel Shetty and Sameera Reddy at a promotional event for their upcoming film Red Alert in Hyderabad on Thursday.
— PTI photo
A dig at society
Theatre festivals are very much part of the cityscape. And when one talks about theatre, street theatre is an instant hit with the audience. "In fact, the spectators are the real makers of a street play, who respond to the theme and presentation with a natural reaction which is encouraging and rewarding for any actor," opine Sumer Singh and Deepi of the Citi Entertainment Network (CEN).
Foot work
The traditional Punjabi juttis are going the cosmopolitan way
Now aren't they the Punjabi ballerinas? The legendary Patiala juttis, we mean. Punjabiat —a cosmopolitan outlook, an exhibition on designer juttis, tends to give a twist to the traditional gear. So, there's a pair in eclectic blue, fuchsia, hot pink, maroon, purple, royal blue, emerald green, black, silver, metallic gold and more.


Mane point
Rachit Malhotra, an upcoming hair stylist from the city, in association with Scharzkopf has come up with five latest looks that are going to be in this season. Adpating Schwatzkopf's Professional Essential Looks — Pure Collection'10, Rachit has created five styles to suit Indian tastes as well as looks. Uniform is a clean edged, military look to go with earthy ones, Cyber waves is for transition from teen to twenties.

SPICE UP
Face it!
After the arid conditions of summer, high humidity during the monsoon poses a problem, especially for those with oily or combination skin. Oily skins look even more oily and dull, due to sweat and oil secretions being deposited on the skin. Sweat on the skin and scalp also attract dirt and pollutants from the atmosphere more easily. Deep pore cleansing with facial scrubs is important, in order to keep the pores free of clogged oil and dirt. Use a facial scrub twice a week. Apply it on the face and rub gently on the skin, in a circular motion.


Joint effort
Are you trying desperately to tone your body? Take care or your joints might just give away! Joint injuries especially knee joint injury due to fitness activities are becoming common. Irrespective of the kind of exercise we do, our knee joint comes under lot of stress and pressure.
BODY WISE
Tread carefully
Treadmill is one of the most popular exercise equipment and is great for getting back into shape, improving health and cardiovascular fitness. It is not a difficult piece of equipment to use, however, many exercisers use it incorrectly. You have to learn how to use the treadmill properly to get the maximum benefits from your daily workout routine.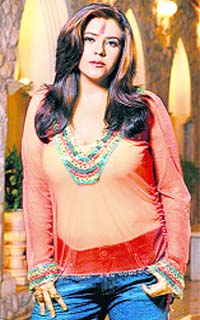 Game for big money
If the grapevine is to be believed, Indian television tsarina Ekta Kapoor might soon put her small screen knowledge to the test on Imagine TV's game show Big Money. The television heavyweight, who has produced iconic shows like Kyunki Saas Bhi Kabhi Bahu Thi and Kahaani Ghar Ghar Kii for the small screen, might be seen with her family members on Big Money, said a source.
In Monroe's shoes
Hollywood superstar Johnny Depp brought partner Vanessa Paradis a pair of shoes once worn by the legendary Marilyn Monroe. The singer-actor is a huge fan of the late fashion icon and was thrilled when the actor gave her the Ferragamo-designed footwear.
Hottest vampire
Brad Pitt has beaten new-age vampire Robert Pattinson in the hottest Hollywood vampire poll. Pitt's character Louis de Pointe du Lac from 1994's Interview with the Vampire has earned him the top spot in a new WENN.com monster list, putting him just ahead of Pattinson by a handful of votes.


Jolie good show!
Angelina Jolie says that her figure compliments the kind of action roles she does and she doesn't need to work out for them. The mother-of-six insists that she can anytime transform from family life to Hollywood action girl without even preparing for it. The slender actor has her bag full with good number of action flicks from playing Lara Croft in Tomb Raider and The Cradle Of Life and starring in Wanted alongside Scottish star James McAvoy.
Mean time
Lindsay Lohan, who is due to begin her 90-day prison term on July 20, is set to land in further trouble, it has emerged. The actor is facing financial ruin as Hollywood turns its back on her. The Mean Girls star recently denied that she is 400,000 pounds in debt as a result of wild spending and massive legal costs.
Snoop-ing around
Rapper Snoop Dogg is trying to convince "Coronation Street" producers to give him a cameo role in the TV soap. The hip-hop star wants to feature alongside English footballer David Beckham and actor Steven Arnold in fictional character Ashley Peacock's butcher's shop in the show.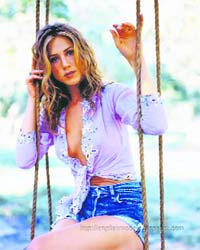 Desperate no more
Marriage seems to have brought along good luck for Brian Austin Green, the husband of Bollywood bombshell Megan Fox. He has just landed a role in the superhit TV series Desperate Housewives. In the drama series, the 37-year-old actor will play a man in his 30s who is not only handsome but a playboy as well, in the show's seventh season.
Puppy love
Hollywood actor Jennifer Aniston is in love with her latest obsession - a cockapoo, a cross between a cocker spaniel and a poodle. Aniston already has Norman, a 15-year-old corgi-terrier mix, and Dolly, a four-year-old white shepherd.