Thieves have taken away the chairs at a bus queque shelter in Sector 24


Chairs have gone missing from
a bus queue shelter opposite St John's School at Sector 26 in Chandigarh. Tribune photo: Manoj Mahajan
Father-in-law seeks lenient view
Chandigarh, July 12
Dr Kaura's aged parents appeared disturbed with the turn of events. The father shunned media and lost his temper many a time in the court.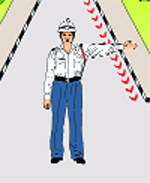 Disorder on roads: HC applies brakes
Chandigarh, July 12
Be ready to be more disciplined while driving on the city roads as the Punjab and Haryana High Court has issued a slew of directions aimed at applying brakes on unruliness on roads. The instructions to the motorists include sticking to their own lanes while accelerating, use of slow carriageways where required and stopping before the zebra crossings. The authorities concerned have also been asked to install walk sign at the traffic lights and to increase the number of pedestrian crossings in the city.
College principals in spot
Can't decide on attendance shortage
Chandigarh, July 12
In a bid to lend teeth to the norm declaring 75 per cent attendance as mandatory in city government colleges, UT higher education department has abolished the powers of principal to grant any relaxation in lecture shortage cases.
Three held for helping Pak spy
Chandigarh, July 12
The Chandigarh police today arrested three persons for allegedly helping Pakistani spy Kashif Ali in procuring a matriculation certificate and also filling his passport form.
22-year-old girl ends life, fiancé booked
Panchkula, July 12
A 22-year-old girl, Sandeepa, committed suicide under mysterious circumstances in Sector 7 late last night. A case of abetment to suicide was registered at the Sector 7 police station and the police is investigating the case. The body of the deceased was handed over to her parents after the post-mortem examination.
Taj directed to pay Rs 5,000
Chandigarh, July 12
Overcharging a consumer has cost Taj GVK Hotel and Resorts in Sector 17 dear.


Police, revenue depts top corruption list
Chandigarh, July 12
When it comes to corruption, personnel of the Chandigarh Police top the chart along with officials of the UT Revenue Department.
Transfer of Rehabilitation Colonies
Bone of contention between MC and admn
Patil convenes meeting today
Chandigarh, July 12
The issue of transfer of all the rehabilitation colonies from the Chandigarh administration to the municipal corporation would be discussed at a meeting convened by UT Administrator and Punjab Governor Shivraj Patil tomorrow.
Illegal selling of leasehold shops in Sector 17
Admn marks inquiry, DC told to submit report
Chandigarh, July 12
After nearly three decades, the UT administration has woken up to the alleged fraud by some shopkeepers who were running their businesses from leasehold shops in Sector 17.
Now, water becoming scarce in Zirakpur
Zirakpur, July 12
The water supply in Zirakpur is being affected due to long power cuts as only 10 out of 31 tubewells have generators while others run on power supply.
Polythene bags to be banned in Chhatbir Zoo
Zirakpur (Chhatbir), July 12
Chhatbir Zoo authorities today launched a cleanliness drive at the zoo and decided to conduct such a drive on every Monday. The zoo authorities are also planning to check and ban the use of polythene bags by visitors. The drive was conducted under the guidance of newly appointed Field Director Churchil Kumar.
Budanpur residents move court
Panchkula, July 12
In order to save their houses, residents of Budanpur village here today moved the district court against the notice served to them by the local Municipal Corporation (MC) to vacate the MC land.
Missing Youth
Kin accuse police of negligence
Mohali, July 12
Family of 28-year-old youth, Gurdeep Singh, who went missing on June 4, has alleged the police negligence in not tracking him down. Despite filing two complaints with the Mohali police, no action was taken to track down his whereabouts.
Now, health cards for aanganwari children
Chandigarh, July 12
The UT administration has decided to issue health cards to all aanganwari children and increase the number of centres from 423 to 500.
Cong sweeps Zila Parishad poll
Panchkula, July 12
The Congress swept the zila parishad polls. Of the total 10 seats, seven were won by the Congress-backed candidates. Even though candidates had not used the party symbol for contesting the polls, the Congress leadership claimed that the elected members were supported by them.
Two more succumb to injuries
Panchkula, July 12
Two more persons, who were seriously injured in a road mishap near Dhamala village on the Pinjore-Nalagarh national highway 21-A yesterday, succumbed to their injuries today.
Nurses' workshop at PGI
Chandigarh, July 12
A 10-day workshop on "Biotechnology for nurses" began at the National Institute of Nursing Education (NINE), PGI. The workshop is being funded by the GOI, DGHS (nursing section), New Delhi, for training of nurses working in different hospitals and educational institutes in North India.
Spreading AIDS awareness among councillors
Chandigarh, July 12
The Chandigarh State AIDS Control Society today organised a workshop to sensitise municipal councillors in the city on issues regarding HIV/AIDS.
Info on fake visa applicants sought from UK mission
Mohali, July 12
The local police has sought the help of the British high commission in New Delhi in ascertaining details on the four people who had applied for an immigrant visa for the United Kingdom on the basis of forged bank documents.


Striking distance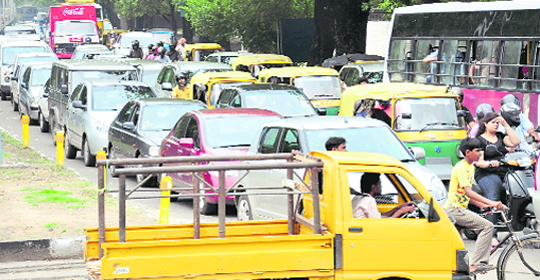 Vehicles stuck in a traffic jam on the road dividing Sectors 22 and 23 in Chandigarh
on Monday. Tribune photo: Manoj Mahajan
No escaping co-curricular activities
Participation mandatory, college students will be marked for internal assessment
Chandigarh, July 12
In a bid to promote extra curricular activities, UT department of higher education has integrated them in the main curriculum now.


| | |
| --- | --- |
| Artistes perform in the street play 'Rishma' at the Sector 17 Plaza in Chandigarh on Monday. Tribune photo: Manoj Mahajan | LEARNING IN THE RAIN: Schoolchildren on their way to school in rain on Monday. Tribune photo: Vinay Malik |
4 new courses at govt crafts institute
Chandigarh, July 12
A meeting of the state steering committee for the upgradation of Government Central Crafts Institute for Women, Sector 11, through a public-private partnership was chaired by Ram Niwas, Home Secretary-cum-chairman, state steering committee, to review the progress made under the scheme.
PUTA poll schedule out
Chandigarh, July 12
The Panjab University Teachers' Association (PUTA) declared its election schedule today. Though the annual affair will start in the second week of August, while enrollment of members will begin from tomorrow.
PEC Counselling Day III: 269 seats filled
Chandigarh, July 12
On the third day of ongoing PEC counselling, a total of 269 seats were reported to be filled at institutes like UIET, UICET, SSGPURC and CCET. Students with rank up to 30,000 in AIEEE were alloted seats today, while counselling for students with rank up to 70,000 will be held tomorrow. — TNS