Fight for justice to Meena goes on
The social activist from Baintwala village was 'killed' for standing up to her family and villagers. Now, activists fight to bring the culprits to book
Sandeep Rana
Tribune News Service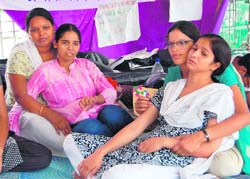 Jyoti and Rajni on an indefinite fast outside the Gandhi Park in Dehradun on Friday. A Tribune photograph
Dehradun, July 16
Workers of the Parivartankami Chatra Sangathan and Krantikari Lokadhikar Sanghathan continue their fight to seek justice for the alleged murder of Meena Gola on October 4 last year in Udham Singh Nagar district.
Today, a delegation of workers met Governor Margaret Alva. At the Gandhi Park, the indefinite hunger strike of two girls Jyoti and Rajni entered its 10th day today. The health of these determined girls was reported as deteriorating.
Meena Gola was an active social worker who wanted to be a self dependent but her family wanted to marry her off since the time she turned 15.
Her orthodox family stooped so low that it allegedly killed its daughter along with some relatives and villagers.
Meena Gola, a native of Baintwala village at Jaspur of Udham Singh Nagar district, was famed in her area for being an active social activist. She would help students, girls and deprived people with every means that she could.
Though the family had enough money to pay the fees for her studies, but would never give it as it wanted Meena to get married and stay at home. This cut no ice with her because she wanted to be independent.
She would impart tuitions, give coaching of kathak in which she was adept and worked in factories to earn money for her fees and help needy people. She had also been honoured by several dignitaries including former Chief Minister of Uttarakhand ND Tiwari.
All this should have made her family proud, but the family of Meena took it very differently. Besides her family, she was also a problem for her area's liquor mafias for she, uniting the local women, would launch drives against them.
The majority in this male-dominated village also stood in her opposition and there used to be quarrels at her place often over these issues. Hence, her family wanted her to quit all this and get married.
"Meena had indicated to us that her family was against her and could do 'anything'. Fearing her family, she stayed with us for two nights. The next day, she went back to her house and stayed there at night," Rajni, a friend of Meena and a co-worker at the Parivartankami Chatra Sangathan told The Tribune.
"But as we were apprehensive about her, we called her up in morning. Her mother picked up the phone and said she had gone to the market. This, we believe, was not true.
"After a few hours, we came to know that she was killed and was being cremated. All of us rushed to the spot where the family claimed that she had committed suicide.
"Later in the FIR, they stated that she died of a heart attack," Rajni added.
"Some villagers, including the Gram Pradhan, were involved in the killing. According to local persons, she was raped and electrocuted. To get rid of the evidence, they, without the knowledge of the police, cremated the body.
"The culprits got away as the SDM and CO took no action due to the alleged political connections of the Gram Pradhan," added Bhupal Singh, a worker of Krantikari Lokadhikar Sanghathan.
"We have a CD which exposes the false claims of the family. In it, the family is seen first saying that she committed suicide and later that she had a heart attack. We are distributing these CDs among people. This is to ask the police that why the post-mortem examination of the body was not done... and why it was allowed to be burnt," Nitin Mudepi, general secretary of Parivartankami Chatra Sangathan, said.
Surender Bhagat, DIG (Law and Order), whom a delegation of workers met a few days earlier told The Tribune, "The matter is under probe. We are looking into it and nothing can be said at present."
The delegation has already met the DGP, DM, CO, SDM of Kashipur but in vain.