PUNJAB
HARYANA
JAMMU & KASHMIR
HIMACHAL
REGIONAL BRIEFS
NATION
OPINIONS
LETTERS
BUSINESS
SPORTS
WORLD
D E H R A D U N P L U S
Doon Hospital increases user charges by 30 per cent
Dehradun, July 2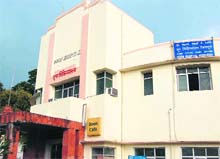 For now onwards patients availing treatment at the District Doon Hospital will have to loosen their purse strings a bit, not only have the rates of diagnostic tests been revised but the above poverty line (APL) patients will also have to pay for their food too.
Stalemate between DMC, contractors over tenders continues
Dehradun, July 2
The stalemate between contractors and the Dehradun Municipal Corporation (DMC) over clearance to tenders of 89 development work for 55 wards continued even on Friday. The contractors were called by Executive Engineer Ravi Pandey, but they refused to budge from their stance.
Grey Areas in DMC working - III
Sanitation goals get lost in politics
Dehradun, July 2
Heaps of garbage on every nook and corner of the city is the grim reality of Dehradun. No wonder the garbage also lies strewn on roads as well.
Dehradun bids adieu to valiant Jatin
July 2, 2010
Peaceful ending to Haridwar self-immolation drama
July 1, 2010
Rains forecast has Disaster Mitigation officials on toes
June 30, 2010
Anglers have day out at Maund
June 29, 2010
BJP bigwigs to push for industrial package extension
June 28, 2010
Fruits of labour elude hill orchard owners
June 27, 2010
WII documents flora, fauna of Milam valley
June 26, 2010
Nainital tourist season peaks, so does fleecing by hotels, eating joints
June 25, 2010
Army chief seeks legal protection for force
June 24, 2010
Dust storm fury continues
June 23, 2010
Rain, dust storm batter city; 1 dies
June 22, 2010
Doon forests invaded by alien flora
June 21, 2010