There it goes!


A demolition drive in progress at Upkaar Nagar in Ludhiana on Friday. Tribune photo: Himanshu Mahajan
Housefed society water samples fail
Ludhiana, July 2
All five water samples collected from the Housefed society in E block of Saheed Bhagat Singh Nagar have failed.
Banks take over partially built mall
Ludhiana, July 2
City's first theme-based project, Festival City, is in troubled waters as Allahabad Bank, Indian Overseas Bank and Bank of Rajasthan Ltd took the possession of the under-constructed mall on the GT Road here yesterday.
Style Check
Dressing up in wedding gowns
Ludhiana, July 2
West is now making its impact on the Indian wedding scene in a big way with wedding gowns that have made a thumping entry into the trousseau and are here to stay.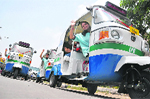 Eco-friendly autos hit city roads
Ludhiana, July 2
Eco-friendly auto service was launched in the city today. Residents can call autos directly to their office or homes by dialling 0161-6535353. These autos run on gas and would accommodate three passengers.


What the Act says
Peculation rife in gram panchayats
Mandi Ahmedgarh, July 2
If the working of gram panchayats in the region is any indicator, misappropriation of public funds and income of these civic bodies is commonplace in the state. Elected office-bearers swindle lakhs of rupees turn by turn and then the matter is buried by declaring the records stolen. Government officials, instead of safeguarding the interest of villagers, act as rubber stamps of leaders of party in power.
RTI
Preservation/destruction of records
DTO office has no rules to follow
Jagraon, July 2
The district transport officer's (DTO) office, Ludhiana, has no rules to follow regarding the time period for preserving or destroying its records.
Revenue records of 31 villages computerised
Amloh, July 2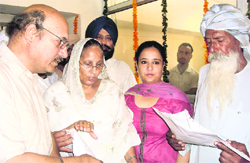 With the computerisation of revenue records, farmers of 31 villages of Amloh sub-division will be able to get the "farad" (zamabandi) of their land from a single window at the Amloh Suvidha Kendra.



Planning board chairperson Satwider Kaur Dhaliwal and Ludhiana Deputy Commissioner Yashveer Mahajan during the inauguration of a Amloh Suvidha Kendra at Amloh on Friday. Photo: Bhushan Sood
Determined to survive against all odds
Ludhiana, July 2
In a powerful example of the indomitable human spirit, Bhupinder Kaur, a former national volleyball player, agreed to simultaneously undergo a caesarian section to deliver a six months premature baby and an aortic root replacement, a major heart surgery, in spite of doctors giving her a 50 per cent chance of survival.
Harvest academy to host AITA tourney
Jagraon, July 2
Harvest Tennis Academy will play host to the HTA-AITA Men's and Women's Tournament 2010 starting July 5. The matches will be held on six synthetic courts at the academy. The tournament will carry Rs 50,000 in prize money. The finals will take place on July 9.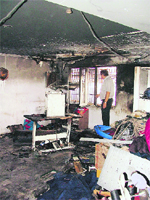 Fire at shop near Clock Tower
Ludhiana, July 2
A fire broke at a shop near Clock Tower here last night. The fire was caused by a short-circuit and was first noticed by a watchman on duty. The fire broke out around 2.30 am in Om Parkash and Company and it took two fire tenders around an hour to douse the flames. Shopkeeper Mukesh Chugh, who deals in the sale of bags and suitcases, said he got a call from the watchman about the fire in his shop.




The shop where a fire broke out in Ludhiana on Friday. Photo: Inderjeet Verma
Laparoscopic surgery camp
Mandi Gobindgarh, July 2
Two-day laparoscopic surgery camp was inaugurated at Desh Bhagat Ayurvedic College and Hospital, here today.
Spreading message on drug de-addiction
Ludhiana, July 2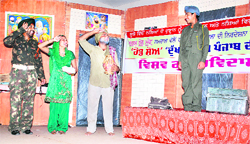 In a campaign against drug addiction, the Vishwa Guru Ravidass Mission today organised a road show. The mission activists carried out a massive rally on scooters and cars, which started from Shri Guru Ravidas Bhawan and culminated on the Rahon road with the staging of a play "Dukhdi Rag Punjab Di".

Dukhdi Rag Punjab Di, a play on drug menace, being enacted in Ludhiana on Friday. A Tribune photograph
Seminar on yarn dyeing
Ludhiana, July 2
DyStar India Private Limited and ATE Enterprises conducted a seminar on "Best Practices in Yarn Dyeing" to uplift technical competency of local textile industry. While DyStar is the world leader in textile dyes and chemical, the ATE is the pioneer in supplying textile machinery to world's most reputed companies.
Teachers claiming salaries without work
Mandi Ahmedgarh, July 2
Ever heard about claiming salary for a part of the year without working for even a single day?
Fence to come around SCD college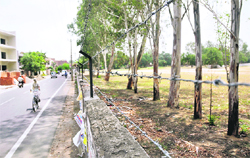 Ludhiana, July 2
Perturbed by the repeated incidents of trespass by anti- social elements at SCD Government College, the authorities have decided to put up a fence around the college boundary wall, spreading across 51 acres.


Barbed fencing outside SCD Government College to keep anti-social elements at bay in Ludhiana. Tribune photo: Himanshu Mahajan



2 held with poppy husk
Raikot, July 2
The Jagraon CIA staff arrested two persons with 101 bags (41quintal) of poppy husk here today. The police also impounded a truck used in transporting the contraband.
17-year old booked for rape bid
Ludhiana, July 2
A 17-year-old boy was arrested for attempting to rape a married woman at Model Town extension.
Chemist shop raided, one nabbed
Phillaur, July 2
In a campaign against drug abuse, including the illegal use and sale of drugs, a joint team of the health department and the Phillaur police raided a chemist shop, Harpreet Medicos, being run without a valid drug licence on the Phillaur-Garrha road.
Molestation charge against realtor
Ludhiana, July 2
A woman has levelled allegations of molestation against a property dealer. The incident came to light when the victim and her fiance went to the police station to file a complaint against him.


C'wealth Games
College students to look after hospitality
Mandi Gobindgarh, July 2
Students from Desh Bhagat Institute of Hotel Management and Catering Technology, Mandi Gobindgarh, will assist the Commonwealth organising committee in the Commonwealth Games scheduled from September 20 to October 17 at New Delhi. Chairman Dr Zora Singh said the students would cater to the hospitality needs of sportspersons coming from various countries to participate in the games.