Married woman seeks protection from parents
Ghaziabad, July 2
A frightened young woman who had married against the wishes of her parents has sent a fax message to the senior superintendent of police seeking police protection from her parents who have threatened to kill her and her husband.
DERC tariff report unacceptable: Chief secy
New Delhi, July 2
Chairman of the Delhi Electricity Regulatory Commission, Berjinder Singh today submitted the power tariff report to the Delhi government which was not acceptable as its members, Venugopal K, Shyam Wadhera, had not given their consent to it.


Nigerian, 2 others held for visa racket
New Delhi, July 2
With the arrest of three youths, including a Nigerian, Delhi police has busted a gang involved in providing fake visa, police said today. The arrested were identified as Agu Rufus Ikechukwa (28), Gautam Kumar (26) and Riya Rosy Chettri (22).
The accused in police custody on Friday. Tribune photo
Use fewer pesticides, CM advises farmers
New Delhi, July 2
Chief Minister Sheila Dikshit today appealed to the farmers to use fewer pesticides for harvesting their crops. To make the crop better, the farmers should just sprinkle pesticide on fruits, Dikshit said. Dikshit was speaking at the inauguration of the 22nd Mango Festival. Opening the fest, she said that Mango Festival showcased how mango still held the prime position among fruits.
MCD to build 1,000 shelters for sanitation workers
New Delhi, July 2
In an attempt to control the agitating sanitation workers, the Municipal Corporation of Delhi (MCD) today announced to open over 1,000 shelters for them. The MCD standing committee chairman, Yogender Chandolia, said that the corporation would ensure timely release of salaries of the sanitation employees and would initiate the task of filling vacant posts of sanitation workers.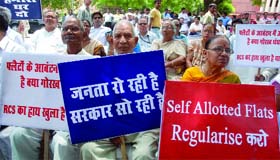 Members of various co-operative group housing societies of Dwarka along with BJP activists demonstrate against the Delhi government for delay in allotment of flats in Dwarka, at Jantar Mantar in New Delhi on Friday. Tribune photo: Manas Ranjan Bhui
Survey to identify homeless in Delhi
Surveyors will approach every homeless person at night
New Delhi, July 2
The Delhi government has started a survey of the homeless in the city. Chief Minister Sheila Dikshit today claimed that Delhi was the first state to undertake such a survey which would be completed in two months.
Godman's custody extended by 30 days
New Delhi, July 2
A Delhi court today extended the judicial custody of self-styled godman Shiv Murat Dwivedi by 30 days in a MCOCA case for allegedly running a flesh trade. Additional sessions judge S K Sarvaria extended the custody of the accused till July 31.
Missing realtor's body found floating in Yamuna
New Delhi, July 2
A 44-year-old property dealer, who had gone missing from his house a few days ago, was yesterday evening found dead floating in Yamuna river near ITO. According to the police, Satyapal Tuteja, a resident of Gandhi Nagar in east Delhi, had gone missing on the night of June 29.
Journalist assaulted in Gt Noida
Greater Noida, July 2
A journalist of a Hindi national daily was critically injured when a history sheeter assaulted him with a steel rod in the Rabupura area on Wednesday night. The condition of the scribe was serious till this evening.


Cop dies in accidental firing
New Delhi, July 2
A 49-year-old head constable with the Delhi police died in a police station when his colleague accidentally fired his service pistol during a routine inspection of weapons today morning. According to the police, the incident was reported from the Connaught Place police station around 11.15 am.

The wife and two daughters of head constable T.P. Illyas (inset), who died in an accidental firing, arrive at Ram Monohar Lohia Hospital in New Delhi on Friday. Tribune photo: Manas Ranjan Bhui
Police backed '84 rioters: Victim
New Delhi, July 2
Jagdish Kaur, a victim of the 1984 anti-Sikh riots, today revealed before a Delhi court the role of police which served as a puppet in the hands of the rioters. "I myself had gone through the time when police in front of the public openly supported the rioters…the Delhi police was with the killers and I have no faith in them," submitted Kaur before the additional sessions judge Sunita Gupta.



Gays celebrate the first anniversary of a court's ruling decriminalising gay sex in New Delhi on Friday. Tribune photo: Manas Ranjan Bhui
Delhi to remain hot
New Delhi, July 2
Delhiites are likely to experience another hot and humid day Saturday with the minimum temperature hovering around 29 degrees Celsius and the maximum temperature expected to touch 39 degrees, the weather office here said Friday adding that the city will have to wait for a few more days for the monsoon to arrive.
Seminar on saving water
Noida, July 2
Lioness Club today organised a seminar to spread awareness about water harvesting and the need to replenish water. Dr H.S.Kaprarwan, a member of a Nobel Peace Prize winner team of 2007, and Aditya Batra from Centre for Science and Environment were the eminent speakers .
Fake cold drink factory raided
New Delhi, July 2
In an early morning raid in Jyoti Nagar today, police has arrested six persons and busted a fake cold drink unit. The raid was conducted at 8 am. According to SN Yadav, DCP, cops seized more than 1,000 spurious bottles of known brands.