A charred police vehicle after a protest against the lathicharge on agitating safai karamcharis at Najafgarh in New Delhi on Wednesday. Tribune Photo
Jamia results placed on website
New Delhi, June 30
Jamia Millia Islamia is currently busy declaring results of entrance examinations and interviews conducted during this admission season.
Drizzle catches city unawares
New Delhi, June 30
Days after the meteorological department declared a backward shift in the onset of monsoon, Delhiites were caught unawares this afternoon when drizzle fell in several parts of the city. However, weather officials said the unexpected rain was not part of the regular monsoon, which generally hits the Capital around June 29.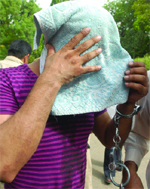 Rapist landlord in police custody
Sheila condemns incident
New Delhi, June 30
A Delhi court today sent a property dealer to one-day police custody for allegedly raping his 27-year-old Brazilian tenant twice in a week.





Amarjeet Singh, arrested for allegedly raping a Brazilian woman, being produced in Patiala House Court in New Delhi on Wednesday. Tribune photo
Two arrested for robbing, killing cab driver
Noida, June 30
The Noida police today arrested two persons for robbing a cab driver and killing him. The body of the driver was recovered from Meerut's Kharkhoda area a few days ago and it was identified last evening.
ED clerk found hanging
New Delhi, June 30
A 50-year-old clerk working at the Enforcement Directorate was found dead inside his office in New Delhi district this morning.
Cop's house in Gt Noida burgled
Greater Noida, June 30
Burglars on Monday struck at a policeman's house in the Kasna area of Greater Noida and decamped with cash, jewellery and other valuable goods.
SI shoots self in police station
New Delhi, June 30
A 47-year-old sub-inspector of Delhi police shot himself dead with his service revolver on the premises of police station in north Delhi, this morning.

Realtor shot dead
New Delhi, June 30
A 43-year-old property dealer was today shot dead by four unidentified motorcycle-borne men at a park where he had gone for morning walk in the Narela area of outer Delhi.
12-yr-old killed in celebratory firing
New Delhi, June 30
A 12-year-old boy attending his cousin sister's marriage was killed in celebratory firing by the groom's side in the Shahbad Dairy area of outer Delhi last night.
3 boys killed on highway
Ghaziabad, June 30
A speeding truck crushed three young boys to death on a highway here on Wednesday, the police said.
5 enjoy official security on forged documents
Ghaziabad, June 30
The police in Ghaziabad on Tuesday found that five men had been enjoying official security cover on the basis of forged government documents.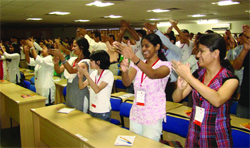 Commonwealth Games
30,000 volunteers get training
New Delhi, June 30
The excitement for the Commonwealth Games and a desire to serve the country is the only motivation that will drive thousands of young volunteers to work non-stop for hours during the Games.

Volunteers at a training session. Tribune photo
For timely completion, Sheila divides work
New Delhi, June 30
To make sure that the preparations of the Commonwealth Games are done in time, Chief Minister Sheila Dikshit today divided the responsibility among her ministers.
MCD cancels Kotla's certificate
Stadium unable to host any matches now
New Delhi, June 30
In a major setback to the Delhi and District Cricket Association, the Municipal Corporation of Delhi has cancelled the occupancy certificate of Ferozeshah Kotla Grounds, which means that it would not be able to host any matches now.
LG finalises seating, parking plan for JN stadium
New Delhi, June 30
Lieutenant-Governor of Delhi, Tejendra Khanna at a meeting held today finalized the seating plan in the Jawaharlal Nehru Stadium, parking for the public as well as VIPs and arrangements for opening and closing ceremonies.
MCD sanitation drive to ready city for Games
New Delhi, June 30
The Municipal Corporation of Delhi (MCD) today announced to launch special sanitation-cum-cleanliness drive to prepare the Capital for the Commonwealth Games.