Physics, chemistry make a comeback
Charu Singh
Tribune News Service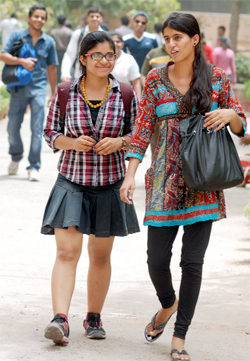 Students at Kirori Mal College. Tribune photo: Manas Ranjan Bhui
New Delhi, June 29
Admissions are going on at full pace in Delhi University. The most sought after courses are English (H), economics (H), history (H), political science (H), sociology (H) and B Com (H). However, students are showing a considerable interest in science courses as well, but most colleges have closed admission for popular science courses like physics and chemistry, and so, students are applying for botany and zoology.
Hindu College has admitted 757 students. Ramjas, one of the most popular colleges this season, has already admitted 975 students. At Khalsa College, 535 students have already taken admission. Similarly, Gargi College has given admission to some 890 students.
Kirori Mal College has admitted 105 students in the B. Com (H) programme that has just 85 seats. Overall, the college has admitted 310 students on the basis of the second cut-off list.
At Gargi College, students have shown a considerable interest in arts courses. The students have also got enrolled in science programmes other than physics and chemistry, admissions for which were closed after the first list itself. These include courses like microbiology, botany, zoology and applied psychology. Principal of Gargi College Meera Ramchandran says, "Students are opting for humanities and commerce programmes in the second list. This is because science courses, especially physics and chemistry, have made a comeback this season and their seats got filled in the first list itself. Also, the cut-offs for commerce and humanities, which were pegged very high in the first list, have come down in the second, and so, students are rushing to sign up for these courses."
Similarly, Miranda House, popular for arts courses like history, political science, philosophy and sociology, is attracting students as usual.
Pratibha Jolly, the principal of the college, says, "We are seeing a huge rush of students for humanities programmes. I don't think we will have any seat left for the third list."
Meanwhile, at Hansraj College, the BA pass course has got overbooked within two days of the announcement of the second cut-offs. This is because the cut-off for the programme was pegged at as low as 75 per cent. The B Com (H) course of the college is also very much in demand, and going by the trend, the possibility of a third cut-off list for the course seems unlikely.
At Hindu College, the most sought after courses are physics and chemistry. Other subjects like economics, sociology and political science are also popular here.
Seats for most courses, except for Hindi, Sanskrit and Bengali, are likely to be filled in the second list itself. Very few courses will need a third list.
However, almost all the colleges have seats left unfilled under the OBC quota for almost all courses. For instance, at Hindu College, only 86 out of the total 204 OBC seats have been filled.