Hope for diabetics
New Delhi, June 28
In what could herald a major positive development for diabetes patients, whose lives depend upon the regular doses of insulin and other drugs, doctors at Maulana Azad Medical College are at the final stages of the clinical trial of a new drug which could alleviate their sufferings to a great extent.
Warrants against real estate firm directors for cheating
New Delhi, June 28
A Delhi court today issued non-bailable warrants (NBWs) against three directors Delhi-based real estate company M/s Vighneshwara Developers Private Ltd for allegedly cheating a firm of over Rs 13 lakh in connection with a project.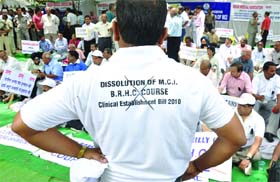 Members of the Indian Medical Association protest against the dissolution of MCI, Clinical Bill & BHRC programme, at Jantar Mantar in New Delhi on Monday. Tribune photo: Mukesh Aggarwal
Body of missing man recovered from canal
Greater Noida, June 28
The body of a missing man was yesterday recovered from Aligarh Canal. The victim had gone missing on June 20 from Nangla Patan village under Rabupura police station area.
Man killed by creditor's sons
Ghaziabad, June 28
A man in the Sahibabad area was last evening allegedly killed by the sons of his creditor. The police has arrested the two accused brothers. The victim, Sesh Narayan, hailed from Bihar's Darbhanga district.
MCD brings machine to repair potholes
News Service, June 28
The potholes on city's roads will now be repaired using a machine based on recycling technology and infra-red rays, said Municipal Corporation of Delhi (MCD) today. As part of an initiative towards maintaining smooth roads ahead of the Commonwealth Games, the MCD has purchased the machine for Rs1.10 crore.
Societies to face action for draw of lots
Power, water connections to be cut
New Delhi, June 28
Public works minister Raj Kumar Chauhan said today that the government would take action against the group housing societies which carried out a draw of flats yesterday in Dwarka without procuring a no-objection certificate (NOC) from the Registrar of Societies.
Exchange bulbs with energy-saving CFLs!
NDPL to give four CFLs in exchange for four working incandescent bulbs
New Delhi, June 28
The power distribution company North Delhi Power Limited (NDPL) today said that it will give four compact fluorescent lamps (CFLs) in exchange of equal number of working incandescent bulbs.


7 get 'People of the Year' award
New Delhi, June 28
The Limca Book of Records today launched its 21st edition and celebrated its anniversary at a function here. It awarded seven persons from different walks of life after they were chosen as "People of the Year" by a jury.
Prince Dance Group performs at the launch of the 21st edition of Limca Book of Records in New Delhi on Monday. Tribune photo: Manas Ranjan Bhui
3 held for US immigration racket
New Delhi, June 28
The crime branch of Delhi police has arrested three persons allegedly involved in a human trafficking racket sending people to the US through Latin American countries. According to police, the accused used to charge Rs 20 to Rs 30 lakh for the job.
Teacher held for car theft
New Delhi, June 28
The south Delhi police has arrested a trainer with a bar tendering institute and his friend for stealing a car. They were arrested while trying to dispose of the stolen car by posing as MNC executives.
Mystery shrouds woman's death
New Delhi, June 28
A 30-year-old woman was found dead in mysterious circumstances in the Mayur Vihar area of east Delhi amidst allegations from her family that she was killed by her husband and in-laws for want of dowry. The incident was reported from Pocket-2 of E block in Mayur Vihar phase 1.
Cop crushed by truck
New Delhi, June 28
A 42-year-old head constable posted with the Bara Hindu Rao police station was crushed to death by a speeding truck in North Delhi last night. According to the police, the incident took place last night around 10.30 pm near Pul Mithai Chowk in the area.
Joint panel to check waterlogging at Games sites
New Delhi, June 28
The Delhi government has constituted a joint committee of PWD, MCD and flood and irrigation department to work in coordination with one another so that there would be no waterlogging at the CWG venues.
DTC starts buses from Qutab Metro station to Badarpur today
New Delhi, June 28
In a bid to make commuting easier for Metro commuters, the Delhi Transport Corporation (DTC) will from Tuesday run a bus between the Qutab Minar Metro station and Badarpur.
Meerut trader shot in Ghaziabad
Ghaziabad, June 28
A trader of Meerut, who had gone to Ghaziabad to attend a marriage, was shot at by unknown assailants on Saturday night. He was rushed to a Delhi hospital where he died on Sunday.