State heads for record apple crop
Shimla, June 28
Despite frequent spell of hailstorms, the hill state is heading for a record apple crop. The latest estimates indicate that the total production could touch 3 crore boxes.
Scientists use female pheromones to kill male fruit flies
Dharamsala, June 28


A team of entomologists at Palampur Agriculture University here has developed an innovative method to manage fruit fly, a hazardous pest that causes extensive damage to fruits and vegetable crops. Fruit flies of genus Bactrocera are one of the most severe pest problems of orchard and vegetable crops. The insect has a peculiar damaging potential. As its maggots are hidden or concealed inside the fruit or plant parts, they mostly escape the insecticides applied for its management.
A female pheromone trap developed by scientists of Palampur Agriculture University. A Tribune photo
Farmers take up case with Guv
Sundernagar, June 28
The Keran Taryamber Kisan Kalyan Samiti has urged the Himachal Governor to direct the Sundernagar land acquisition officer (LAO) not to pass any consent award pertaining to acquisition of land to set up cement plant near here.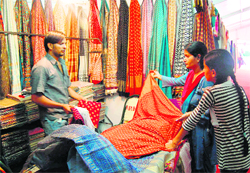 People buying clothes at the National Handloom Expo-2010 in Shimla on Monday. A Tribune photo
Govt policies behind growers' plight: Cong
Shimla, June 28
Jubbal-Kotkhai unit of the Congress has blamed wrong policies of the Dhumal government for sharp increase in price of apple packaging material during the current season. It said these policies were the reason behind growers' plight.
HC dismisses Virbhadra's plea
Shimla, June 28
The HP High Court today dismissed the application filed by Union Steel Minister Virbhadra Singh vide which he urged the court to implead Chief Minister PK Dhumal as party in the case filed by him and his wife Pratibha Singh for quashing of FIR registered against him in a CD case.
Satellite-based mobile services in tribal areas
Shimla, June 28
Encouraged by the success of pilot project using satellite-based VSAT (very small aperture terminal) technology to provide mobile phone services in remote locations like Sumdoh in Spiti and Rohtang tunnel project site, Bharat Sanchar Nigam Limited (BSNL) has decided to extend services to all-important far-flung places in the tribal areas within the current financial year.
Dilapidated building puts children to risk
Hamirpur, June 28
About 150 schoolchildren, studying at Rangad government high school, are under constant danger as the school building is in a dilapidated condition.
CM urged to ensure patients' welfare
Bilaspur, June 28
The Himachal Pradesh State Employees' Federation has urged Chief Minister PK Dhumal and Health Minister Dr Rajiv Bindal to order a high-level inquiry into ill-treatment of patients by staff and order suitable steps to make health institutes serve the common man.
ENT camp concludes
Kangra, June 28
Five ear surgeries were performed here today through endoscopic procedures during the two-day free ENT camp organised by the local branch of Vivekananda Kendra, a spiritually-oriented service mission with headquarters at Kanyakumari.
DC makes surprise visit
Hamirpur, June 28
Hamirpur Deputy Commissioner (DC) Abhishek Jain today made a surprise visit to primary health centre (PHC), Kot, and found the medical officer absent.
Timings at Secretariat changed
Shimla, June 28
The timings of entry in the state Secretariat has been increased for the conveniences of general public.
Two die as car falls into gorge
Chamba, June 28
Two persons were killed and two others wounded when the car in which they were travelling swerved off the road and fell into a deep gorge near Hamal in Chamba district on Sunday, according to a report received here today.
Two cars stolen
Palampur, June 28
Two cars were reportedly stolen from residential area of the town last night. One car was stolen from Thakurdwra and another from nearby locality Ghuggar Tanda.
Two booked
Mandi, June 28
Two persons collected a sum of Rs 17.98 lakh from eight investors from the Sarkaghat area promising them a good return from share market, but to their shock the duo disappeared into thin air.