CTU Conductors' Post
30,000 applicants for 127 vacancies
Chandigarh, June 28
Getting a huge response to its recruitment drive for bus conductors, the Chandigarh Transport Undertaking (CTU) has received over 30,000 applications against 127 vacancies. The qualifications required for the post was a pass in class 12.
Public Hearing
Patil expresses concern over low wages to outsourced staff
Chandigarh, June 28
While hearing grievances of the people, Punjab Governor and UT Administrator Shivraj V. Patil expressed his concern on low wages being paid by contractors to the outsourced employees, who are working under different categories with different UT departments.


RBI offices closed on July1
Chandigarh, June 28
On account of annual closing of it's accounts, the offices of the Reserve Bank Of India (RBI) will remain closed for public transaction on Thursday, July 1. Jasbir Singh, Regional Director, RBI, informed through a press note issued today. — TNS
35 years on, Mohali lacks public transport system
Mohali, June 28
As the Punjab Government credits itself by providing global link to Mohali by way of the upcoming airport, it has failed to put in place a public transport system for the city that was conceived 35 years ago.
Aerocity: 3.31 lakh forms sold
Mohali, June 28
Aerocity, a residential project launched by the Greater Mohali Area Development Authority (GMADA), has attracted seven times more response than expected by the authorities concerned. As many as 3.31 lakh forms were sold till today even when the closing time of the scheme is still a week away. The draw of lots will take two months time after the scheme closes on July 6.
Surge in rabies cases
Number may swell in monsoon, say experts
Panchkula, June 28
With a rise in the dog bite cases in city and its periphery, there has been a substantial increase in the number of rabies patients in the recent past.
Police inaction: Woman threatens to commit suicide
Panchkula, June 28
A woman from Yamunangar threatened to commit suicide near the office of the Director General of Police (DGP) here today. She was piqued over the inaction by the police in registering a case against a tent house owner for murdering her husband.
BJP burns effigy of Centre govt
Panchkula, June 28
The Bharatiya Janata Party (BJP) burnt the effigy of the central government over the recent increase in prices of petrol and other petroleum products near the office of the Deputy Commissioner here today.
Journey of faith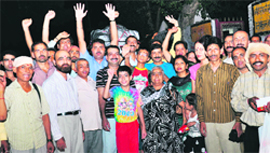 The Tribune employees, along with their family members, who left for Amarnath Yatra from Chandigarh on Monday.
A Tribune photograph
Rain cheers residents
Monsoon likely by weekend
Chandigarh, June 28
The rainfall that started in the city early this morning continued till 9 am, bringing respite from the hot weather. Chandigarh received 9.4 mm of rainfall in the period, which was the second highest in June. The highest rainfall in the city was recorded on May 8. At that time, the city had received 75.3 mm rainfall. Meteorologists said that was caused by the western disturbances over Rajasthan.
City to have subways along major roads
Chandigarh, June 28
At a time when the city is bursting at its seams with about 900,000 vehicles for a population of about 1.1 million in Chandigarh alone, not to mention the count of vehicles and residents of neighbouring Mohali and Panchkula, the UT administration is considering a proposal to build subways alongside the main roads.


Want some more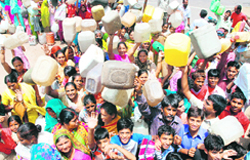 Residents of different colonies protest against interrupted supply of kerosene in front of the kerosene pump at Sector 37 in Chandigarh on Monday. Tribune photo: S. Chandan
Traffic snarls on Ambala-Chandigarh highway
Zirakpur, June 28 Traffic came to a halt on the Ambala-Chandigarh highway for more than three hours due to haphazardly parked trucks along the roadside near sales tax barrier this morning. The traffic police had a tough time, as more than hundreds of vehicles were stuck in the jam.
Chinks in cops' armour exposed
Chandigarh, June 27
The recent rumour of a terrorist attack in Burail village on Tuesday night exposed lacunae in the combating skills of the Chandigarh Police.
Mélange of classical dances
Chandigarh, June 28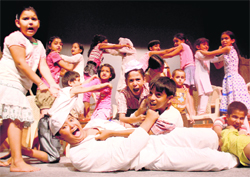 A cohesive blend of traditional folk culture and puritanical rigidity of classical dances remained a delightful feature of the cultural bonanza presented by 70 participants on the concluding function of the 18 month-long production oriented workshop of the Pracheen Kala Kendra at Randhwa auditorium here today.

Children perform a play 'Bal Sansad' during a workshop of the Pracheen Kala Kendra at the Randhwa auditorium on Monday. Tribune photo: Pradeep Tewari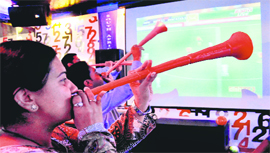 Vuvuzela fever picks up in city
Chandigarh, June 28
The Vuvuzela's melody, which has virtually drowned all other sounds at the Soccer City, Johannesburg, has landed in the City Beautiful.

Fans blow vuvuzelas while watching a World Cup football match on large screen at a hotel in Chandigarh on Monday. Tribune photo: Manoj Mahajan
SGPC ELECTIONS
July 15 last date for enrolment
Chandigarh, June 28
The last date for enrolment as voters for the SGPC elections is July 15.
Guv releases book
Chandigarh, June 28
Governor Shivraj Patil today released a book "Seasons of Life: Extraordinary Life of an Ordinary Soldier" authored by Maj Gen Purshotam Vig (retd), here today.


PUTA urged to get answersheets evaluated in 2 days
Chandigarh, June 28
At a meeting today, RC Sobti, Vice-Chancellor, Panjab University, today appealed the president and the secretary of Panjab University Teachers' Association (PUTA) to get the remaining answersheets in different courses evaluated by teachers within two days.
Exemption for PhD entrance exam scrapped
Chandigarh, June 28
All exemptions for PhD entrance exam at Panjab University will now be scrapped from this academic session.
ABVP discuss students' issues
Chandigarh, June 28
Akhil Bhartiya Vidhyarthi Parishad (ABVP), Chandigarh, today called a meeting of executive body to discuss various students' related problems at Panjab University.
BCom merit list out
Chandigarh, June 28
The merit list for centralised admission to BCom in affiliated colleges of Panjab University has been declared today.