Runaway Couple's Allegation
Brawl over poll behind attack: Cops
Sirsa, June 30
The police here has denied the allegations of a runaway couple, Manmohan and Shakti, who met National Women's Commission chairperson Girja Vyas in New Delhi yesterday, seeking security for the family members of the boy.
State's clean chit to Kanda
Tells HC an attempt was made to kill him
Chandigarh, June 30
The state of Haryana today virtually gave a clean chit to Minister of State for Home Gopal Kanda. In a reply submitted to the Punjab and Haryana High Court on a petition for the registration of a criminal case against him, the state said the allegations were false and baseless. Portraying Kanda as a victim, the state claimed an attempt was made to kill him.
Gurgaon school not to lose playground
HC quashes land acquisition proceedings
Chandigarh, June 30
For nearly two decades, Haryana did not file a reply to a petition challenging the move to acquire a school's playground in Gurgaon. The objections raised by a parents' body against the land acquisition process also remained undecided, and even when the matter came up for final hearing before a Division Bench of the Punjab and Haryana High Court, no one from the Gurgaon Improvement Trust appeared to defend the move. Eventually, the acquisition proceedings were quashed by the high court.
HC orders 'Y' security for Bishnoi
Chandigarh, June 30
Just over four months after the security cover of former parliamentarian Kuldeep Bishnoi was scaled down from the "Z" category to the "X" category, Justice Surya Kant of the Punjab and Haryana High Court today directed the state of Haryana to provide him with "Y" category security for the time being. Bishnoi, a former MP and son of former Chief Minister Bhajan Lal, now heads the Haryana Janhit Congress.
Parliamentary panel to visit Mirchpur
Chandigarh, June 30
Despite strenuous efforts by the state government to provide succour to victims of violence, Mirchpur refuses to remain off news headlines.
Woman delivers a 'miracle'
First-of-its-kind case in country, claims doctor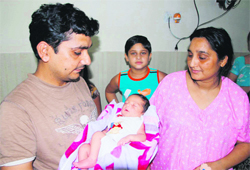 Karnal, June 30
It was a unique case of the proverbial "hope sustains life" that a woman in her late twenties, suffering from documented ovarian failure with follicle stimulation hormone ranging at 128.60 and tubes damaged, delivered a normal male child at Guru Nanak Hospital here.



Seema (right) with her newborn in Karnal on Wednesday. Tribune photo: Ravi Kumar
Dharohar Museum's website launched
Kurukshetra, June 30
Dharohar Museum at Kurukshetra University has launched its website www.dharoharmuseum.com providing a virtual access to the museum's extensive collection.
STF Extortion Case
Complainant dies in Delhi
Karnal, June 30
Panipat-based jeweller VK Malhotra, main complainant in the STF extortion case, died in Jaipur Golden Hospital in Delhi late last night. He was admitted to the hospital yesterday afternoon.
3 of family die in fire
Faridabad, June 30
Three of a family, including a five-year-old girl, died in a fire incident in Jeevan Nagar here today.
Attack on Dera Chief's Convoy
Police remand for prime accused
Karnal, June 30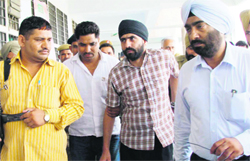 Baksheesh Singh, the key accused in the case pertaining to the bomb blast on a convoy of Dera Sacha Sauda chief Gurmeet Ram Rahim Singh near Nilokheri on February 2, 2008, was today produced in the court of Duty Magistrate Puneet Sehgal (Civil Judge, Junior Division), who remanded him in 14 days' police custody.
Baksheesh Singh (second from right) being produced in a court in Karnal on Wednesday. Tribune photo: Ravi Kumar
MLA's car attacked
Karnal, June 30
A villager was found hanging from the high voltage power transmission lines near Dera Mangal Gari in Barsat village, 30 km from here, today.