M A I N N E W S
Day after, the war of words begins
Blame game: India came ill-prepared, claims Pak
Krishna says can't compare Hafiz with Pillai
Ashok Tuteja
Tribune News Service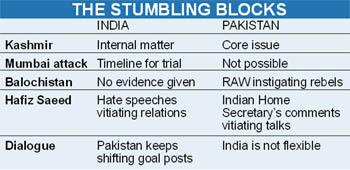 New Delhi/ Islamabad, July 16
A war of words broke out between India and Pakistan, a day after External Affairs Minister SM Krishna and his Pakistani counterpart Shah Mehmud Qureshi failed to achieve any result at their eagerly awaited meeting in the Pakistani capital.
Obviously not pleased with some of the comments made to the media by Qureshi on their meeting when Krishna was still in Islamabad, the Indian minister held an impromptu press conference at the Delhi Airport soon after his return from Pakistan.
Krishna rejected Qureshi's charge that he excused himself from yesterday's marathon talks several times to receive instructions on phone from New Delhi. "I never used any telephone. I was totally cut-off from India. It is an extraordinary statement. I did not speak to Delhi. In diplomatic parlance, we are always in touch," he said and went on to add that even if this was true, there was nothing wrong with it.
"It is a fact that foreign ministers have to be and are in touch with their political leaderships. The mandate given to me (by Prime Minister Manmohan Singh) was so precise and so clear, that I did not need any further instructions from Delhi," he added. Qureshi had alleged that Krishna kept receiving telephone calls from New Delhi during their talks, and that he was "directed".
Krishna also rebutted the Pakistani minister's attempt to make a comparison between the statements made by Jamaat-ud-Dawa chief Hafiz Saeed, said to be the mastermind of the Mumbai attacks, and Indian Home Secretary GK Pillai, saying there was no question of drawing a parallel between the two.
"Where is the comparison? Hafiz Saeed - He is a person speaking out of turn against India, crying for jihad against India. We have always said that such people inside Pakistan, who incite anti-India propaganda, anti-India statements and feelings, will not help to smoothen ties between our two countries," said Krishna.
Commenting on remarks made by Pillai linking ISI with the Mumbai conspiracy, Krishna said his statement was not anything new, and was already in the public domain. Pillai's statement was based on revelations made by terror suspect David Coleman Headley during his interrogation by FBI investigators. Krishna also denied Qureshi's claim that India wanted a time-bound investigations into the Mumbai incidents. "We did not insist on any time frame…We told them as long as this (Mumbai probe) is not done, all other efforts would be futile."
Krishna said he was not going to score debating points with his Pakistani counterpart while claiming that the two sides have made some headway in their talks. "I have invited the Pakistan Foreign Minister to India…I am looking forward to resume the dialogue from where we left," he added.
Meanwhile, top government sources emphatically denied the Pakistani charge that India did not go into the talks with a clear mandate and was ill-prepared. "We were very clear about our mandate…we were fully prepared. The Pakistani side was fully aware of where we stood. Our core concern was the issue of terrorism and the attack on Mumbai…you can't brush it under the carpet. People in India are seeking answers for Mumbai," they said. They observed that Pakistan continued to suffer from 'tormented psychology' when it came to dealing with India.
The sources also pointed out that it was undiplomatic on the part of Qureshi to hold a media conference when Krishna was still there in Islamabad. "It is not normal diplomatic behaviour but then there is a school of Pakistani diplomatic behaviour, which we don't subscribe to. They had done it in Agra also when the Vajpayee-Musharraf meeting failed, " they added. The sources were, however, at pains to emphasise that the talks between the two countries had not broken down. The two countries now have a better understanding of each other's concerns, they claimed.
Krishna's Pak Visit
BJP condemns, Cong praises
Faraz Ahmed and Vibha Sharma
Tribune News Service
New Delhi, July 16
Even as the BJP has asked India to call off talks with Pakistan, the Congress has appreciated the dignified behaviour of External Affairs Minister SM Krishna and favoured continuation of Indo-Pak dialogue. The two parties were reacting to Krishna's two-day visit to Islamabad that concluded with his return here today.
BJP spokesperson Ravi Shankar Prasad delayed his daily briefing today awaiting Krishna's press conference and then declared: "Why should India talk under pressure? We cannot have talks at any cost. Pakistan has no desire to tackle terrorism".
The BJP took serious objection to Pakistan Foreign Minister SM Qureshi comparing JuD terrorist Hafiz Saeed to Indian Home secretary GK Pillai. He also criticised Krishna for being a mute spectator while Qureshi tarnished Pillai's image.
Prasad said: "The Government of India should introspect why it should continue talks with Pakistan. Pakistan should be told that till it acts against the perpetrators of Mumbai attack, and destroys the entire terror network on its land, there will be no talks with it," said the BJP leader.
Referring to Krishna's assertion in Islamabad that there was no evidence of any Indian hand in Balochistan trouble, Prasad asked Prime Minister Manmohan Singh to explain how he allowed Balochistan issue to be raised at Sharm-el-Sheikh last year.
Juxtaposed to that Congress spokesperson Jayanthi Natarjan insisted: "Talks should continue. Talks with neighbours should always continue. It has always been our stand that effort should be made to bridge the trust deficit (between India and Pakistan)," she added.
Though even Jayanti partly agreed with Prasad saying, "Talks would be meaningful only after acts of terror from Pakistani soil stop and the culprits of 26/11 are brought to justice." She pointed out that the high on the list of the priorities India mentioned in these talks was India's insistence that Pakistan should immediately stop cross-border terrorism and follow up leads on interrogation of David Coleman Headley with substantive action. "No composite dialogue is possible unless that happens," she said.