Villagers block road over labourer's death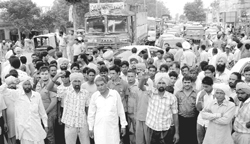 Rajpura, July 19
Villagers from Roh Majra, around 10 km from Rajpura, today blocked the Patiala-Rajpura road after a labourer died under mysterious circumstance late last night.



Agitated villagers block the Patiala-Rajpura road to protest against the mysterious death of a labourer near Rajpura on Monday. Photo: JS Virdi
Met Department Warning
Patiala admn on high alert
Patiala, July 19
Following the warning issued by the Met Department of isolated heavy to very heavy rainfall in Himachal Pradesh, Haryana, New Delhi and Chandigarh in the next 48 hours, Patiala Deputy Commissioner Dipinder Singh has put the district administration on high alert.
Rs 8.2 cr given in loan to farmers
Bassi Pathana, July 19
Various agricultural development branches (ADB) of the State Bank of Patiala organised a kisan meeting-cum-loan mela here today.
CGC-Gharuan offers diploma courses in engineering
Kharar, July 19
Chandigarh Group of Colleges, Mohali, today announced opening of Chandigarh Polytechnic College on Gharuan campus.


Aggrieved people gherao the tractor-trailer of the MC and (right) illegal khokhas being demolished by the municipal council during an anti-encroachment drive on the Ambala-Chandigarh highway at Dera Bassi on Monday. Tribune photos: Nitin Mittal

200 selected at job fest
Ambala, July 19
As many as 200 students were selected during a placement drive organised by Guru Nanak Institutions at Mulana.

'Stepmotherly treatment to Shivalik area'
Kalka, July 19
Taking a note of a letter sent by the Shivalik Vikas Manch (SVM), the Prime Minister office has directed to the Chief Secretary, Haryana, to take an appropriate action in connection with the various demands.



Parking Blues
HC notice to HS, SSP
Chandigarh, July 19
Just over two months after the Punjab and Haryana High Court asked the UT administration to expedite the process of setting up a multi-level parking for lawyers, litigants and other visitors, city lawyer Ranjan Lakhanpal today placed the UT Home Secretary (HS) and the Senior Superintendent of Police (SSP) in the dock by filing a contempt petition.

Delhi man held for aiding Pak spy
Chandigarh, July 19
The UT police today arrested a Delhi resident, who allegedly stood as guarantor while opening a bank account of suspected Pakistan spy Kashif Ali on fake identification in October, 2005 in Syndicate Bank's branch in Delhi.

Swindler nabbed within minutes
Chandigarh, July 19
A Mauli Jagran resident today landed in the police net minutes after he allegedly duped a family of Rs 3,000 and some gold ornaments.

10 arrested for drinking at public places
Chandigarh, July 19
The police has arrested 10 persons from different parts of the city on charges of consuming liquor at public places in the past 24 hours.

652 cases of liquor seized
Panchkula, July 19
The police arrested a person for smuggling 652 cases of illegal English liquor of different brands worth Rs 6 lakh near Raipur Rani late last night.

Minor boy dies mysteriously
Zirakpur, July 19
A minor boy died under mysterious circumstances last night. The police said Monu, a resident of Dhakoli, had a sudden stomach ache and was rushed to the Government Hospital, Sector 6, Panchkula, where he was declared dead on arrival.



Jharkhand puts city to 10-0 rout


HP take 30-0 pounding from Sikkim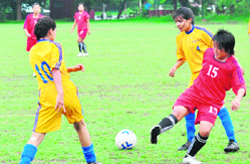 Chandigarh, July 19
Continuing with their dismal showing, city junior girls' soccer team got a sound 10-0 thrashing at the hands of Jharkhand in their last league match of the ongoing 9th Junior National Championship for Girls here today.



A Sikkim player charges during their match against Himachal Pradesh in Chandigarh on Monday. Tribune photo: Manoj Mahajan

Rusty Chandigarh eves crash out
Chandigarh, July 19
Two defeats, one draw and the Chandigarh soccer team is out of the fray. The journey of the local team in the 63rd Senior National Football Tournament for Santosh Trophy ended following the 1-2 defeat at the hands of Andhra Pradesh in their last league match at Howrah Stadium, Kolkata, today.

Aditya claims backstroke gold
Chandigarh, July 19
Aditya Gulati of Hansraj Public School, Panchkula, secured first position in boys' (under-19) 50m-backstroke category of the District-Level Swimming Competition being held at Gymkhana Club, Sector 3.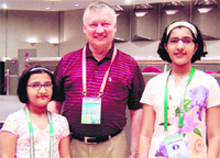 Goyal sisters strike gold in China
Chandigarh, July 19
Chandigarh's golden Goyal sisters — Tarini Goyal and Arunima Goyal — created ripples by bagging gold medals in two Asian chess meets that concluded at Beijing, China, recently.



Tarini and Arunima Goyal pose with former world champion Anatoly Karpov during the Asian Youth Chess Championship in Beijing.
Tandon, Bawa on dope panel
Chandigarh, July 19
City-based Rajeev Tandon and Harmanpreet Singh Bawa have been selected as technical officials of the doping committee in the forthcoming Commonwealth Games-2010 to be held at New Delhi from October 3 to 14.
Farheen, Aakansha book semifinal berth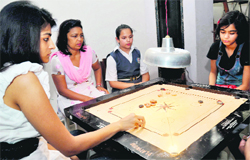 Chandigarh, July19
Ankush Taneja defeated Shail Shikhar 20-0, 16-0 in the second round of the XII Raj Kumar Babuta Prize Money Carrom Tournament organised by the Chandigarh Carrom Association at St Stephen's School, Sector 45, here today.


A match in progress during the XII Raj Kumar Babuta Prize Money Carrom Tournament in Chandigarh on Monday. A Tribune photograph