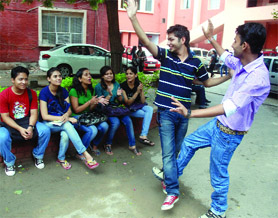 Day 1: DU freshers high on style and fun
No fear of ragging
New Delhi, July 21
Donning the latest fashion along with oodles of attitude, fuchchas entered the gates of Delhi University (DU) colleges on Wednesday as the university opened for the new academic session. While most girls sported hot pants, short skirts, denims and three-fourths, boys stuck to cool T-shirts, denims and bermudas.
ON SONG: Freshers at Kirori Mal College enjoy their first day. Tribune photos: Manas Ranjan Bhui

DC withdraws powers of naib tehsildar
Gurgaon, July 21
Local deputy commissioner Rajender Kataria has withdrawn the registration powers of a naib tehsildar posted in Gurgaon tehsil after he found irregularities in his functioning. A show-cause notice has also been issued to the tehsildar, asking him to reply within seven days.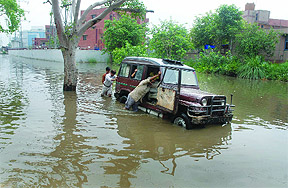 The driver and passengers push a van through a waterlogged street near Shastri Park Metro station in New Delhi on Wednesday. Tribune photo: Manas Ranjan Bhui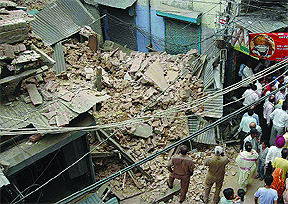 Rescue workers and policemen at the site where a building collapsed at Kashmere Gate in Old Delhi on Wednesday. Tribune photo: Mukesh Aggarwal

Government schools 'foist' Sanskrit on pupils
New Delhi, July 21
Even as the RTE Act will change the face of school education across India, especially urban India, many students in government schools across the Capital have complained that they are being forced to take Sanskrit in place of English as the former is a scoring subject.
Next rain may bring bigger mess
Contractors responsible for removing debris go on strike
New Delhi, July 21
Brace yourself for a bigger mess the next time it rains in Delhi as contractors responsible for removing construction debris from across the city have gone on a strike. The contractors have alleged that the Municipal Corporation of Delhi (MCD) has not released their payments for more than 18 months.
Two arms dealers arrested in Delhi
New Delhi, July 21
The north-east district police has arrested two arms dealers from the Nandnagri area last night. According to the police, they were apprehended with five sophisticated pistols and 15 live cartridges after a tip-off.
Madhuri's custody extended by 3 days
New Delhi, July 21
A city court today extended the judicial custody of Madhuri Gupta, a junior diplomat in the Indian Foreign Service (IFS), by three days. The link magistrate extended the judicial custody of IFS Grade-B officer till July 24 as the chief metropolitan magistrate was on leave.
Labourer killed in demolition work
New Delhi, July 21
A 30-year-old labourer, hired by the Municipal Corporation of Delhi (MCD) to carry out a demolition work, was killed today after getting buried under the debris in Mori Gate.
Blueline passengers robbed
New Delhi, July 21
About seven persons robbed the passengers of a Blueline bus at knifepoint today. They committed the crime in the moving bus, plying on route number 724 from Uttam Nagar to Janakpuri, for over two kilometers and fled after forcing the bus driver to stop.
'84 riots: Withdrawal of advocate 'unfortunate'
New Delhi, July 21
The withdrawal of advocate H. S. Phoolka from the 1984 riot cases is unfortunate for the Sikh community, said Delhi unit chief of the Shiromani Akali Dal (Badal), Manjit Singh G.K.
Realtor shot at by nephew of Sahib Singh Verma
New Delhi, July 21
A property dealer was last night allegedly shot at by a person over a money dispute in the Dichaon kalan area of Najafgarh. According to the police, the incident was reported around 11 pm and the victim, Billu, was shot at twice. He is undergoing treatment at the Mata Chanan Devi Hospital in Janakpuri. The accused, Pawan Lakra, is reportedly a nephew of former Delhi Chief Minister Sahib Singh Verma.
13-yr-old girl drowns
New Delhi, July 21
A 13-year-old girl was allegedly drowned in a swimming pool at old Jawaharlal Nehru University (JNU) campus here, the police said today.
City sees yet another cool and cloudy day
New Delhi, July 21
Delhiites experienced a cloudy and comparatively cool day today as the maximum temperature settled two notches below average for this time of the year at 35 degree Celsius.
5 held with Rs 25-lakh brass scrap
New Delhi, July 21
Five persons, including a young transporter, were arrested with stolen copper and brass scrap worth Rs 25 lakh in north-east Delhi yesterday.
2 bodies found
Noida, July 21
Two bodies were today recovered from different places here. However, the bodies could not be identified. The first body was found in Sector 105. One hand and one leg of the body had been eaten by some animal. It appeared that the person was killed somewhere else and his body dumped in Sector 105.