What a way to go!
n Murali creates cricketing history
n First to take 800 Test wickets
n Retires in glory
n India lose first match to Lanka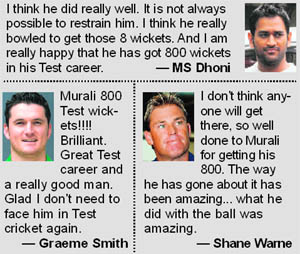 Galle (Sri Lanka), July 22
Sri Lankan off-spinner Muttiah Muralitharan today became the first bowler to take 800 Test wickets, reaching the milestone in the last Test of his illustrous cricket career.
The 38-year-old spin wizard got Indian tailender Pragyan Ojha caught at slip by Mahela Jayawardene to reach the magical figure, which puts him several pedestals above his contemporaries.
The enigmatic off-spinner needed eight wickets going into the match and as he marched towards the mark, he was made to feel special by some emotional gestures along the way from both the Indian and Sri Lankan players. He was given a guard of honour on the third day of the rain-hit match by both teams and firecrackers were set off at the start of play everyday to celebrate his acheivement.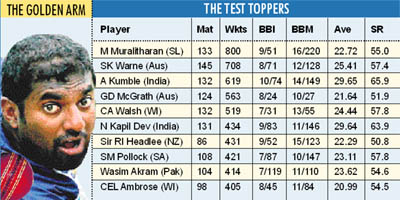 His entire family turned to watch him get to the record on the final day and no less than President Mahinda Rajapakse flew in to congratulate him.
Rajapakse, who met players from both teams, presented a special memento to Muralitharan to show his admiration for the iconic cricketer. — PTI